Star Wars Bits: Han Solo Spin-Off Movie Rumors; Clone Wars, Lupita Nyong'o And Force Awakens Concept Art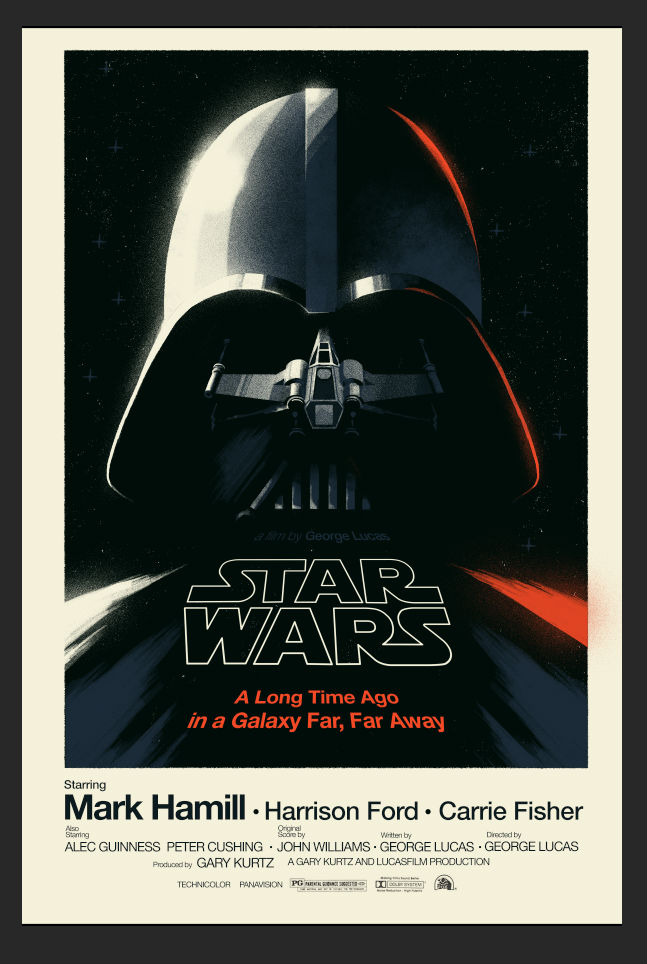 Star Wars Bits is back with a vengeance. We've got The Force Awakens, we've got the spinoffs, we've got Clone Wars, comic books, art and so much more. Below, read about the following:
New spin-off rumors suggest it's about Han Solo, Aaron Paul is involved and filming starts after Spectre.
Watch a sueded version of the Star Wars: The Force Awakens trailer.
The stunt actor playing Chewbacca in The Force Awakens may have been revealed.
Marvel will rerelease their original Star Wars comics in remastered editions.
Watch a trailer for the Star Wars Fan Film Awards.
See the animated Lucasfilm holiday card.
Matt Lanter recorded some new Anakin Skywalker Clone Wars voice over last week.
Oscar Isaac got his Star Wars obsessed uncle a role in The Force Awakens.
A new rumor says Lupita Nyong'o's Force Awakens character is nothing like you've heard.
What box office records could Star Wars: The Force Awakens break?
Han Solo and Chewbacca Force Awakens concept art, villain rumors, Imperial ships and more.
Header image: A new Star Wars poster by Olly Moss, made exclusively for his friends. Damn you Moss!!
A few months back, we at /Film reported on a possible plot for Gareth Edwards' 2016 Star Wars standalone movie. There still has been no confirmation or rebuttal to those claims (which we still believe to be accurate) but a few new details may have surfaced. Making Star Wars reports a source believes the film will somehow feature Han Solo, that Aaron Paul is somehow involved, and that production will overlap with Episode VIII. Solo would hypothetically fit into the idea we told you about (we even heard his ship was involved) but again, these are all rumors. Plus, Aaron Paul just did the Empire Strikes Back Live Read, so that timing is weird. Either way, read more at the site.
Also, once the new James Bond movie Spectre finishes filming at Pinewood Studios outside London, Edwards' standalone film is supposedly the next one to go into production there. So within the next few months, we'll likely know more about it.
Here's a sweded version of the Star Wars: The Force Awakens trailer by Dumb Drum.
In the Thank You video released last week, a very tall man with black makeup around his eyes was spotted briefly. His name is Ian Whyte, a 7 foot 1 inch tall actor. Now, as you can see in the below photo, he's in a black body suit with black around his eyes. This seems highly suggestive that he's doing stunts, or something of that nature, for Chewbacca or maybe another Wookie/alien in the film. Making Star Wars has more.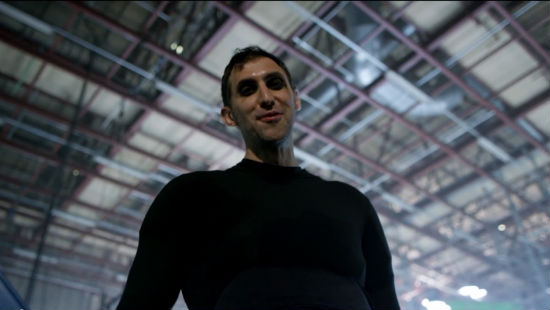 In a move that would make George Lucas proud, Marvel announced they'll release remastered editions of their original Star Wars comic books from the '70s and '80s. The first one, A New Hope, will be released in May. Read more at The Force.net.
The Star Wars Fan Film Awards take place at Star Wars Celebration in April and, here's an official trailer.
Click here to watch the animated holiday card Lucasfilm employees got sent to their inboxes.
Matt Lanter is the voice of Anakin Skywalker on Star Wars: The Clone Wars. We all assumed that series was done, but Lanter took to his Facebook last week to reveal he was recording some new stuff. What could it be for? A promo? A game? New episodes? We have no idea, but it's a very interesting tidbit.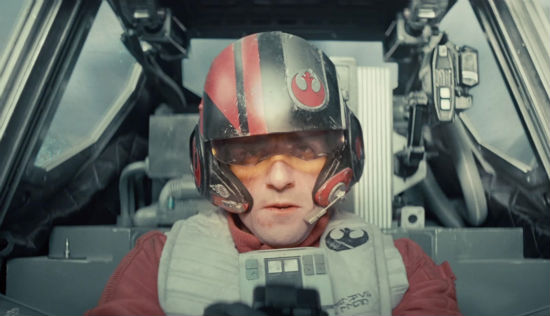 This is a great story. Speaking to Vulture, Poe Dameron himself, Oscar Isaac, explained that his family was so excited he got cast in Star Wars, he even got his Uncle – a massive fan – a visit to the set. There, J.J. Abrams asked him if he wanted to be in the movie as an extra. Talk about a dream come true. Isaac also let the detail that he's flying an X-Wing slip on the set of A Most Violent Year, but director JC Chandor kept it secret.
A funny meme that was going around last week during The Interview controversy:
Star Wars Underground posted a podcast where they claim Lupita Nyong'o's character in Star Wars: The Force Awakens is "an elderly, female alien with orange skin." Um, what? Head there for more.
Last week's issue of Entertainment Weekly was all about 2015 and in their Force Awakens article, they made a "bold prediction." That prediction was the film would gross $225 million opening weekend and end up at $3 billion overall. That would be the #1 opening of all time and top grossing movie of all time. Thoughts?
Finally, Making Star Wars and Star Wars 7 News have a bunch of very interesting, potentially spoilery, new concept art descriptions, rumors and plot points for Star Wars: The Force Awakens. Here's the gist of each one, with a link, if you'd like to read more. We suggest you do but only at your own peril.
New concept art of Han Solo and Chewbacca in The Force Awakens.