Geek Deal: Dark Horse 'Star Wars' Digital Comics Bundle Now 80% Off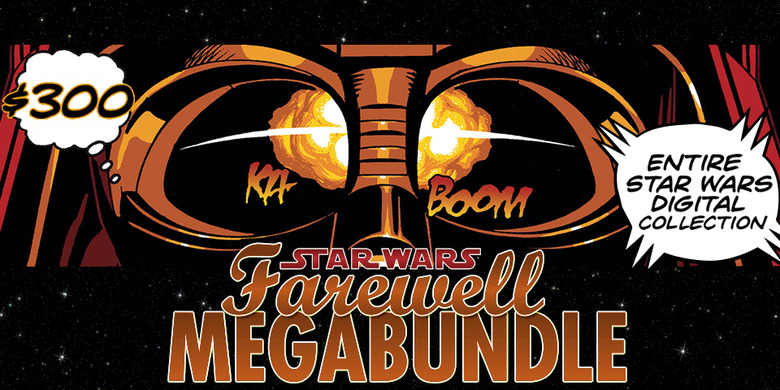 Dark Horse Comics is offering a pretty killer deal for those who want to have every Star Wars comic published by the company. You can now get the full digital Star Wars collection for $300, which represents an 80% discount off the cover price.
For decades, Dark Horse has published licensed Star Wars comics, but the company loses the rights to the title in 2015, with Star Wars going back to Marvel. (It was Marvel that published the original run of Star Wars comics starting in the late '70s.) So Dark Horse is having a year-end blowout sale, with 50% off the cover price for individual story arcs, and the big 80% for those who buy everything at once. All the details on the digital Star Wars comics bundle are below.
Here's the press release, which explains the situation and features a link to the purchase page.
For the final days of Star Wars, Dark Horse Digital will offer every single Star Wars comic for $300! Over 80% off digital retail value!December 26, MILWAUKIE, OR—Dark Horse Comics is sending its Star Wars comics off with a very exclusive limited offer for its digital-comics readers . . .  For the final five days of 2014, Dark Horse is offering all digital Star Wars comics at 50% off. Or pick up the Farewell MegaBundle that includes every single Star Wars comic published for the ultra-low price of only $300—over 28,353 pages of Star Wars goodness!As the end of an era closes, we say a fond farewell to Star Wars. The Wookiees will be missed, and bounty hunters will be sad. But take heart, young Jedi, for in these last few days, you can seal in carbonite the entire Dark Horse Digital library of Star Wars. Get every comic, every panel, and every battle in perfect digital format in your collection. Access via the Cloud City whenever you want. Many of these comics may never be in print again, and this is your chance to get over twenty years of Star Wars comics history at a once-in-a-lifetime price.This digital sale will begin at midnight (PST), Friday, December 26, and runs through 11:00 p.m. (PST), Wednesday, December 31. Get the Star Wars Farewell MegaBundle before it is gone like the Death Star. Please note: all Star Wars comics purchased before 1/1/2015 will remain in your digital collection.The free Dark Horse Digital comics app is now available worldwide through all modern web browsers and features cloud storage in both Google Play and iOS apps.