'The Interview' Now Streaming Via YouTube, Google Play, And Xbox [Updated]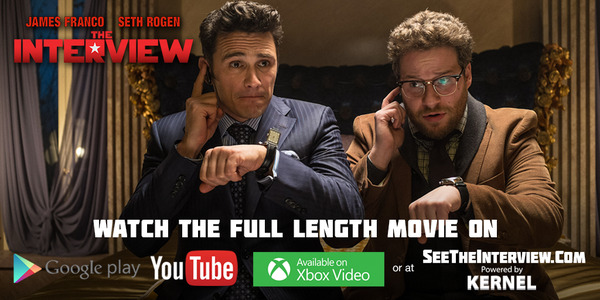 UPDATE: The Interview is now available to watch on YouTube, Google Play and XBox. Links for each are below.It will also become available on Netflix, though not day and date with this week's release.UPDATE: The Interview is now streaming online via the following links:
Pricing for each is $5.99, and the film is available for purchase for $14.99 in HD.
Sony's own site www.seetheinterview.com will also stream the film.Why Sony isn't making the film available on the Playstation Network is something of a mystery, though we wonder if that has to do with PSN's history of being hacked.
Variety also reports there's a deal in the works to stream the film via Netflix, though the date for a Netflix debut (it won't be today or tomorrow) has yet to be announced.Original article follows.
The strangest and most fluctuating subject of the last week has been Sony's film The Interview – threatened, pulled by theaters, canceled altogether by Sony, then said to be only postponed, and now set to play an ever-expanding set of indie theaters starting tomorrow, Christmas Day. In the latter half of that chain of events there was also the report that we'll be able to see The Interview on VOD this week, but no details have been forthcoming, until now. A new report says Sony is finalizing a deal that will put The Interview on YouTube — for a price — starting Christmas Day.
CNN and Variety report that the YouTube deal is tentative right now, and that other digital/VOD providers could also follow suit. So the film won't only be on YouTube. No price point has been reported. (One of the other digital outlets is said to be Google Play.)
We don't know how big theater chain owners are communicating with Sony on this point as a VOD plan emerges. There is contradictory reporting about how communications have gone between Sony and the theater chains so far, but chains have been very resistant to anything like a day and date VOD release for major studio films. While The Interview wasn't planned as a day and date VOD pioneer, it is turning out to be such a thing, which is significant, even if the deal doesn't end up being a huge paradigm shift.