Mike Colter Cast As 'Luke Cage' For Marvel And Netflix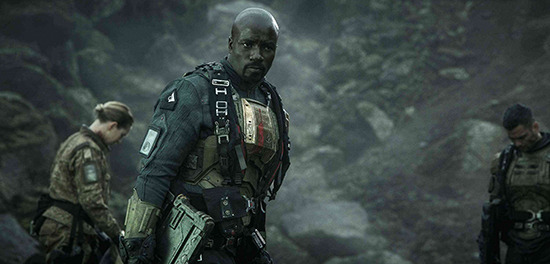 The first collaboration between Marvel Studios and Netflix is Daredevil, which features Charlie Cox as blind New York City attorney Matt Murdock, who assumes a heroic alter-ego to fight crime in Hell's Kitchen. The second collaboration will be A.K.A. Jessica Jones, which will star Krysten Ritter as the title character, a former superhero turned private investigator. And the third will be Luke Cage, featuring a guy who, in Marvel Comics lore, gained powers through experiments done to him in prison. Now we've got the primary Luke Cage casting, as Mike Colter — long rumored for the part — has been cast in the title role. 
Marvel reports that Colter, of Halo: Nightfall, The Following and The Good Wife, will play Cage. He'll show up first in A.K.A. Jessica Jones, as a man Jones runs across while doing a job. As Marvel says,
During the course of an investigation in New York, private investigator Jessica Jones encounters the enigmatic Luke Cage — a man whose past has secrets that will dramatically alter Jessica herself in ways she could never have imagined.
Cage won't just be a guest character on Jessica Jones's show, but a recurring role. In comics, Cage and Jones have a romantic relationship, but we don't know just how that will be written here. In fact, we don't know who the main creatives will be on Luke Cage. Melissa Rosenberg is the Executive Producer/Showrunner for A.K.A. Jessica Jones, so she'll help launch the character on TV.
After the 13-epiode A.K.A. Jessica Jones series runs, Cage will get his own series. Then all three lead characters will team up with Iron Fist, the lead of the fourth Marvel Netflix series, for the limited series The Defenders.