VOTD: Mike Myers' Dr. Evil Returns To Talk 'The Interview'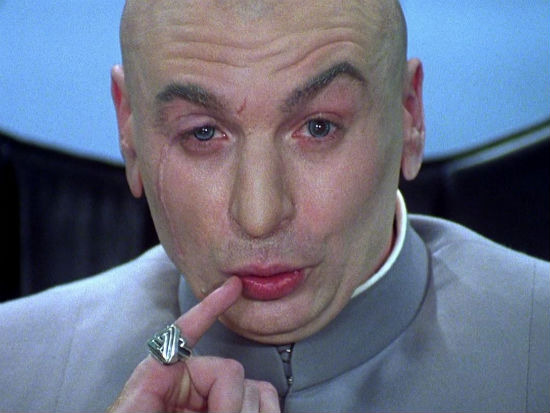 2002 was the last time Mike Myers graced audiences with a new Austin Powers movie. Which means not only haven't we seen the shagadellic super spy in over a decade, we haven't seen his sworn enemy Dr. Evil, either.
Most would agree that it was Evil who really became the break out character of the series. His hairless cat, rebellious son and ludicrous demands were just some of the hilarious running jokes the character provided. Even so, no one who turned on their TV Saturday night would have expected to see him in anything but an Austin Powers rerun. But they caught him on NBC.
During the cold open of the Amy Adams-hosted Saturday Night Live, alum Myers, as the evil dictator, hijacked the skit. And what did the would-be power monger want? To talk about the Sony Hack, North Korea and The Interview, of course. Check out the Dr. Evil SNL video below.
Thanks to Hulu for the video. If the embed doesn't work, try the direct NBC link.
Dr Evil SNL Skit
I mean, that pretty much speaks for itself, right? What did you think about seeing Dr. Evil again? Wasn't it nice to hear he has a sense of humor about his missteps? Did you miss him as much as I did?
Oh, and this is just as about as good a time as any to let remind everyone what Myers has been doing the past few years. He directed an absolutely amazing documentary called Supermensch: The Legend of Shep Gordon. It's an outstanding, must-see about a man whose life intersected with the most famous celebrities in the world for several decades. The film is a great Hollywood movie, it's a great music movie, and it's a great humanitarian movie as Gordon's life transitions from iconic manager to private do-gooder. And Myers directed it. Highly recommended,