'Focus' Trailer And Posters: Margot Robbie Flirts With Will Smith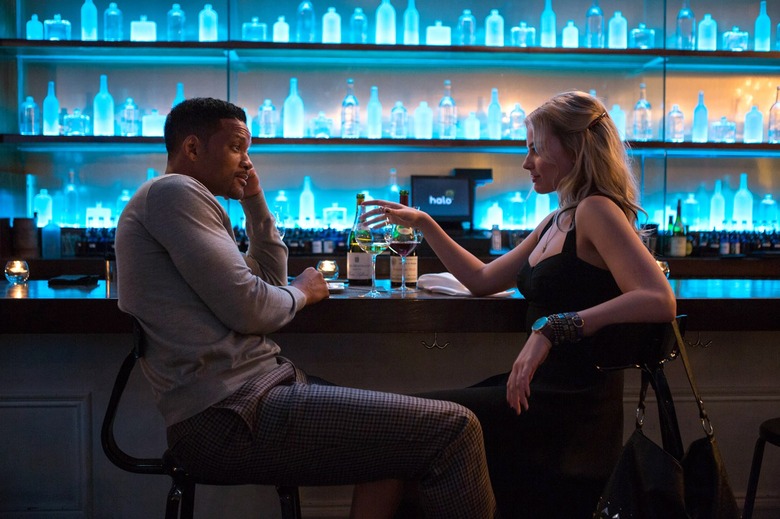 Before Will Smith and Margot Robbie team up in Suicide Squad, they'll go head-to-head in Focus. The "comedy-caper-love story" stars the future supervillains as two con artists with a complicated history. Three years after their last encounter, they cross paths again in Buenos Aires, where Nicky (Smith) is planning to pull off his biggest scheme yet.
See the new Focus trailer and posters after the jump.
Warner Bros. unveiled the latest Focus trailer and posters.
Glenn Ficarra and John Requa wrote and directed Focus, and they have a good track record with clever love stories. They made their feature filmmaking debut on the Jim Carrey / Ewan McGregor prison romance I Love You Phillip Morris, and they followed it up with the endearing comedy Crazy, Stupid, Love. In addition, they scripted (but did not direct) Bad Santa.
Besides that, Smith and Robbie both have charisma in spades. If they have any chemistry at all — and the trailer looks pretty promising on that front — Focus should make for an enjoyable romp. Interestingly, Focus was originally intended as a reunion for Ficarra and Requa's Crazy, Stupid, Love. stars Ryan Gosling and Emma Stone. When they opted out, Ben Affleck and Kristen Stewart stepped in to replace them, only to eventually drop out as well.
Focus opens February 27, 2015.
Will Smith stars as Nicky, a seasoned master of misdirection who becomes romantically involved with novice con artist Jess (Margot Robbie). As he's teaching her the tricks of the trade, she gets too close for comfort and he abruptly breaks it off. Three years later, the former flame—now an accomplished femme fatale—shows up in Buenos Aires in the middle of the high stakes racecar circuit. In the midst of Nicky's latest, very dangerous scheme, she throws his plans for a loop... and the consummate con man off his game.