'Kill Me Three Times' Trailer: Simon Pegg Is An Assassin With A Major Problem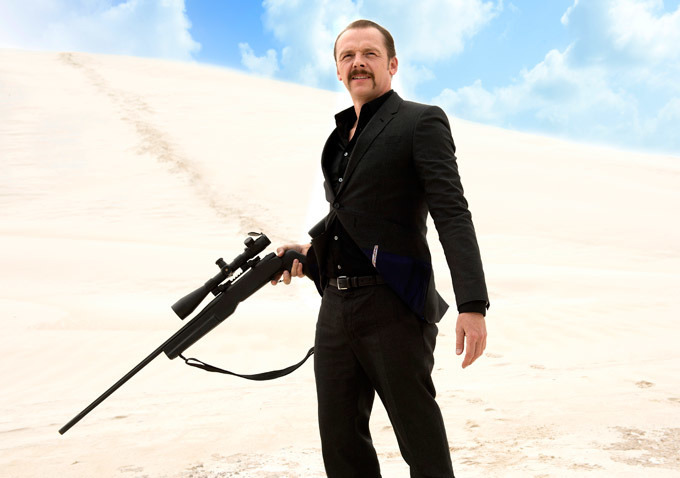 Kill Me Three Times stars Simon Pegg as an assassin. Already, you're probably interested. But Kill Me Three Times apparently has much, much more to offer than just that. Directed by Kriv Stenders, the film stars Pegg as an assassin hired by a husband (Callan Mulvey) to kill his wife (Alice Braga). The problem is, Pegg isn't the only assassin on the lady's tail. An assassin team, Sullivan Stapleton and Teresa Palmer, are also trying to kill her and that seems like the first of a multitude of escalating issues for everyone involved.
The film hits iTunes and on demand March 26 before going to theaters April 10. Now, the first Kill Me Three Times trailer has been released. Check out the hilarious, NSFW trailer below.
Thanks to Magnet for the trailer. Beware, there is language and brief nudity so it might be NSFW.
Kill Me Three Times trailer
I'll tell you what. Simon Pegg as an assassin got me interested, but this trailer got me fired up. That's a great trailer. Awesome energy, a fun tone, I'm genuinely interested in seeing what the rest of the movie holds. The cast is a great mix of up and coming stars (you probably know Stapelton from 300: Rise of an Empire, Mulvey from Captain America: The Winter Soldier and Braga from Elysium) as well as established character actors (Where has Bryan Brown been? Great to see him). The action and plot seem pretty fun, I'm excited. What about you?
Here's the official plot description of Kill me Three Times, which stars Sullivan Stapleton, Alice Braga, Teresa Palmer, Callan Mulvey, Luke Hemsworth, Bryan Brown and Simon Pegg. It was written by James McFarland.
A mercurial assassin (Simon Pegg) discovers he isn't the only person trying to kill the siren (Alice Braga) of a sun-drenched surfing town. In this darkly comedic thriller, the hitman finds himself unravelling three tales of mayhem, murder, blackmail and revenge.