Is The '24' Movie Dead? Kiefer Sutherland Doesn't Think He'll Play Jack Bauer Again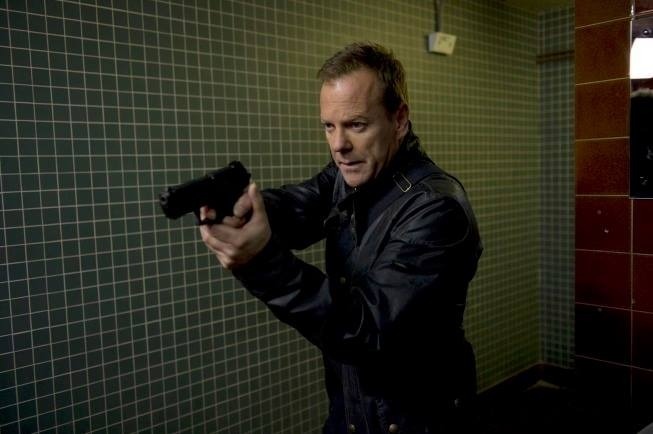 Over 8 seasons and a miniseries, we've seen Jack Bauer survive some pretty nasty stuff. But even he may not be able to win the fight against his deadliest foe ever: Kiefer Sutherland's apparent disinterest in revisiting the franchise. In an interview, the 24 star stated that he didn't expect to play Jack Bauer ever again, despite recent(ish) talk of a possible 24 movie. Read the 24 movie Kiefer Sutherland comments after the jump. 
Speaking with The Telegraph (via TV Line), Sutherland suggested he was done with the character. "Me, I don't see going back to it," he told the publication. "We had set out to do 12 episodes [of Live Another Day] to end the show and deal with some of the past history of the show. It was also an irresistible opportunity to go shoot in England. So for all of those reasons it made sense to do that last season."
Of course, Sutherland's thought he was done with Jack before, only to be pulled back in. The actor willingly admitted as much. "I think I said the same thing at the end of Season 8," he said. "So I would hate to be held to that."
24 ended for the first time in 2010. A movie sequel was in the works for years, but never got off the ground. Eventually, 24's return took the form of 24: Live Another Day. The limited series aired for 12 episodes this year, ending in July. Not long after, executive producer Jon Cassar told press they were "still talking about the movie." Last we heard in September, discussions were "gathering steam" but as of now nothing's been officially confirmed. 
Sutherland himself has changed his tune a couple of times. While promoting 24: Live Another Day, he called the potential 24 movie "an ongoing situation." "There's always an opportunity to do that," he said at the time. And at Comic-Con this year he admitted it was "hard" to say goodbye to Jack Bauer. But perhaps now that he has, he's not eager to go crawling back again.
There are lots of reasons a 24 return — whether in the form of a movie, or another season — makes sense on paper. The 24: Live Another Day finale left things open-ended for Jack, so it wouldn't be too difficult to pick up his storyline where it left off. The miniseries also received mostly positive reviews throughout, and drew strong ratings.
On the other hand, the story has to end sometime. It'd be understandable if Sutherland wanted to go out on a high note and move on with his life, instead of returning to 24 again and again until Fox has driven it into the ground again.
Would you be up for a 24 movie?