Han Solo And Princess Leia Cast For 'Empire Strikes Back' Live Read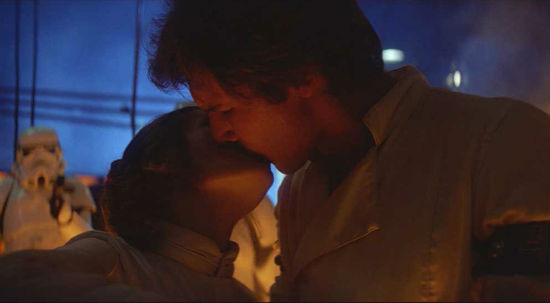 Thursday night is Jason Reitman's biggest live read yet. Literally. He and his cast will read Irvin Kershner's landmark sci-fi sequel, Star Wars: The Empire Strikes Back, and the venue has been changed from the Los Angeles County Museum of Art to the Ace Hotel Theater in Downtown Los Angeles. Earlier this week, several members of the main cast were revealed. Aaron Paul will be reading the role of Luke Skywalker, and J.K Simmons the role of Darth Vader. But two of the main characters had yet to be revealed: Han Solo and Princess Leia.
The actors for those roles have now been revealed, and they're pretty surprising. Han Solo will be read by Oscar-nominated actress Ellen Page and Princess Leia will be read by Jessica Alba. We'll have a full report from the event Friday. For now, read more about the Empire Strikes Back live read below.
Entertainment Weekly made the announcement. That means the full cast is as follows:
Aaron Paul as Luke Skywalker
Ellen Page as Han Solo
Jessica Alba as Princess Leia
J.K. Simmons as Darth Vader
Stephen Merchant as C3P0
Dennis Haysbert as Lando Calrissian
Kevin Pollack as Yoda
Again, I'll be on hand at Thursday's event, presented by Film Independent at LACMA, with a full recap for anyone who can't make it. Which is almost everyone since these events are not taped or recorded. They're once in a lifetime things.
On the topic of the Han Solo casting, Reitman said the following to EW:
The Han Solo character is fascinating in that the approach to every other character in Star Wars is earnest and kind of sweet and old-fashioned. The heroes are heroes, and the villains are villains. And within this world, we're introduced to one human being who looks at it all with irony. He's the guy who doesn't give a crap.
In casting Han, the most important thing is: Who has the most interesting, ironic approach to life? And when I think of that, I think of Ellen Page. She's a small human being who has the energy to fill Madison Square Garden.
And here's his quote on Alba:
For Leia, I just wanted to find an actress who was beautiful and also had the ability to be tough and funny, and I've seen Alba do all of that. And I needed somebody who would have chemistry with Ellen....Chemistry is chemistry, whether it be between a man and a woman, two women, or two men. I have no doubt that Ellen Page could have chemistry with anybody.
Last reminder, we'll have a full report from the event Friday morning. For now, what do you think of the casting?