Jon Favreau's 'Jungle Book': See Behind-The-Scenes Snaps Of Bill Murray, Christopher Walken And More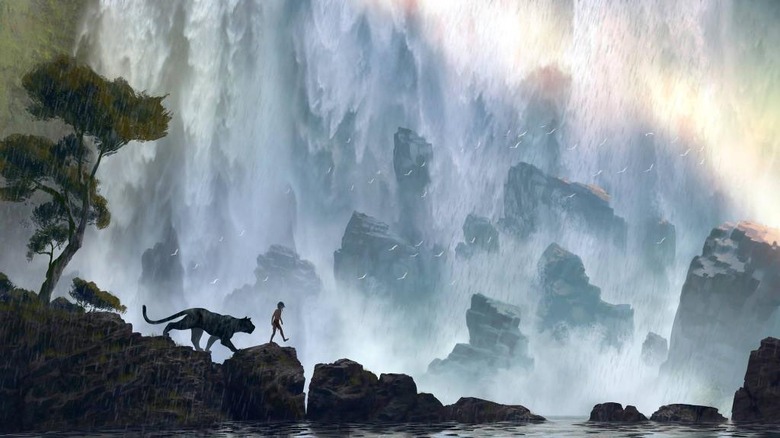 The first piece of concept art from Jon Favreau's The Jungle Book revealed what the project might look like once it is done. A new batch of behind-the-scenes images show what it looks like now, while it's still in progress.
Favreau himself shared these casual snaps, showing actors like Bill Murray, Christopher Walken, and Scarlett Johansson at work. See the Jungle Book behind the scenes photos after the jump. 
Favreau posted the Jungle Book behind the scenes pics on Instagram.
Mr. Murray Mr. Walken and the Doctor #nola #junglebook A photo posted by Jon Favreau (@jonfavreau) on
Kermit Ruffins and Bill Murray #nola #junglebook Ein von Jon Favreau (@jonfavreau) gepostetes Foto am
Russo Bros visiting the set of #JungleBook
Ssscarlett voicing the role of Kaa #Disney #JungleBook
The Jungle Book is "live-action" in that it's not an animated film, but it's really a blend of live-action and photorealistic CGI. Think Life of Pi, or Dawn of the Planet of the Apes. It's also aiming to be a family film, in contrast to the dark and gritty version in development at Warner Bros.Neel Sethi stars as Mowgli, after beating out thousands of other kids for the part. Murray plays Mowgli's bear buddy Baloo, Walken is the orangutan King Louie, and Johansson is Kaa the villainous python. Also starring, though not seen here, are Idris Elba as the tiger Shere Khan, Ben Kingsley as the panther Bagheera, Lupita Nyong'o as mother wolf Raksha, and Giancarlo Esposito as alpha male wolf Akela.The Jungle Book opens in 3D on October 9, 2015.
Directed by Jon Favreau ("Chef," "Iron Man," "Elf"), based on Rudyard Kipling's timeless stories and inspired by Disney's classic animated film, "The Jungle Book" is an all-new live-action epic adventure about Mowgli (newcomer Neel Sethi), a man-cub who's been raised by a family of wolves. But Mowgli finds he is no longer welcome in the jungle when fearsome tiger Shere Khan (voice of Idris Elba), who bears the scars of Man, promises to eliminate what he sees as a threat. Urged to abandon the only home he's ever known, Mowgli embarks on a captivating journey of self-discovery, guided by panther-turned-stern mentor Bagheera (voice of Ben Kingsley), and the free-spirited bear Baloo (voice of Bill Murray). Along the way, Mowgli encounters jungle creatures who don't exactly have his best interests at heart, including Kaa (voice of Scarlett Johannsson), a python whose seductive voice and gaze hypnotizes the man-cub, and the smooth-talking King Louie (voice of Christopher Walken), who tries to coerce Mowgli into giving up the secret to the elusive and deadly red flower: fire.