Sony Cancels 'The Interview' Release, Has No Plans For VOD/DVD; U.S. Links North Korea To Sony Hacking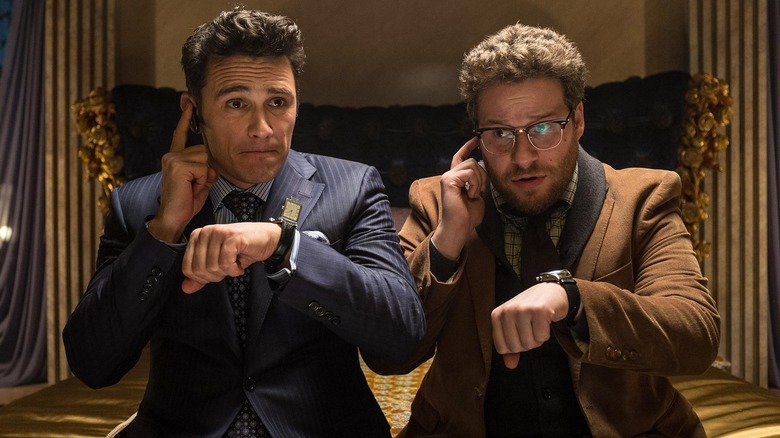 Tuesday, the hackers that exposed Sony's internal workings went a step further and issued a big threat, invoking 9/11 in a statement that promised action against theaters showing The Interview. But the Department of Homeland Security — a group that really doesn't mess around when it comes to this sort of thing — said there was no credible information to indicate an actual threat. Sony was fairly magnanimous about the situation, saying it would allow theaters to make the decision to show the film or not, even if bookings had already been locked in.
Last night Carmike Cinemas and Bow Tie Cinemas pulled the film, and today in a precedent-setting move, the five major theater chains in the US and Canada all dropped The Interview.
Update: Sony is now considering a VOD release of the film; more info below.Update #2: Sony has canceled the December theatrical release of The Interview. Full statement below.Update #3: Sony has now confirmed they have "no further release plans" for the film while American Intelligence has officially linked North Korea to the Sony hack. Details below.
As of press time, Regal Cinemas, Cinemark, Cineplex and AMC Theatres will no longer show The Interview.
The Wrap says that Arclight Cinemas will also pull the film. (Earlier this morning, the chain tweeted that no decision had yet been made about the film.)
We haven't confirmed that the Alamo Drafthouse will continue with plans to show the film, but one primary Drafthouse employee said plans had not changed, and I can't imagine Tim League backing down now:
@russfischer @drafthouse we've already sold tickets. This is happening.

— Greg MacLennan (@themaclennan) December 17, 2014


Tickets are still on sale for Drafthouse theaters in Austin.
It doesn't need to be explained that this is a terrible move. Top US officials have said there is no real threat. Now there is a precedent showing that major companies will back down in the face of even an insubstantial threat. (Did lawyers for the theater chains make this call, based on the idea that there would be culpability on the theater side in the outlandish event something did happen?)
What ramifications will this have on future films that might have political content? Don't expect Sony to follow through on calls to release The Interview online, even though that would ensure that whoever wants to see it can do so, and simultaneously push back against the theater chains that caved today.
Update: While the idea to just throw The Interview on the internet isn't likely to happen, Sony is now reportedly considering a "premium VOD" release plan, per Variety, which would possibly be day-and-date with the planned theatrical release. What that premium tag means for pricing is unknown at this point.Update #2: Here's Sony's statement on the scrapped December release of The Interview. Given that all major theater chains in the US had already pulled the film, this was all but inevitable. But then, Sony opened the door for that in the first place by saying it would be fine with chains deciding to drop the movie.In light of the decision by the majority of our exhibitors not to show the film The Interview, we have decided not to move forward with the planned December 25 theatrical release. We respect and understand our partners' decision and, of course, completely share their paramount interest in the safety of employees and theater-goers.Sony Pictures has been the victim of an unprecedented criminal assault against our employees, our customers, and our business. Those who attacked us stole our intellectual property, private emails, and sensitive and proprietary material, and sought to destroy our spirit and our morale – all apparently to thwart the release of a movie they did not like. We are deeply saddened at this brazen effort to suppress the distribution of a movie, and in the process do damage to our company, our employees, and the American public. We stand by our filmmakers and their right to free expression and are extremely disappointed by this outcome.Update #3: The New York Times reports that intelligence now confirms that the Sony hack that start this whole event, and brought terror threats against theaters who would show the interview, can officially be linked to North Korea. They were "centrally involved."
Meanwhile, despite some earlier speculation, the latest update as of December 17, 4:30 p.m. PST is that Sony has "no further release plans for the film." That includes VOD or DVD. Variety reported.