Cool Stuff: Hot Toys Reveals Amazingly Detailed Baby Groot Collectible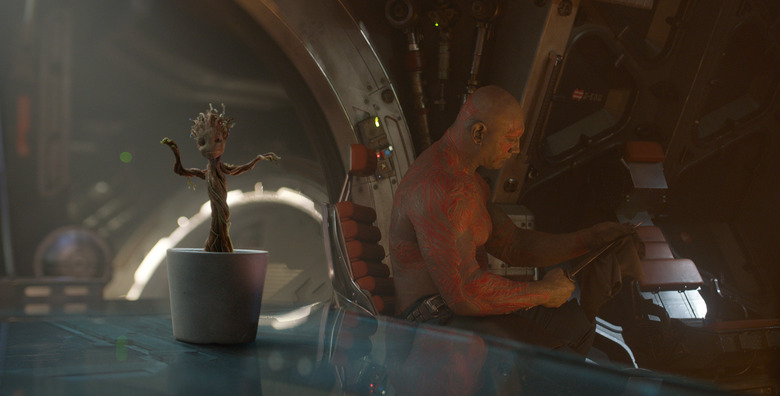 It feels like every single week there's a new story about Baby Groot. Whether it be a new toy version of the character, a piece of art, or discussion of the scene itself, everyone just wants more information about the hilarious ending to Guardians of the Galaxy. If you've been on the fence about which version of the character to buy, you're in luck. Hot Toys has revealed their version of Baby Groot and it's pretty easy to say this is a close to definitive as we have. Unfortunately, it's only 1:4 scale (which is so disappointing. Not 1:1?) but comes with interchangeable heads and bendable arms so you can set him in whatever dancing pose you like. Check out the Hot Toys Baby Groot toy below.
Here are a bunch of images of the Hot Toys Baby Groot via Facebook. The 1:4 scale means it's only 12 cm tall, which is only about 5 inches.
And here's their write up on the collectible.
"We are Groot." Marvel Studios' blockbuster, Guardians of the Galaxy, has taken the world by storm earlier this year. Groot has become many fans' favorite character and the special scene of Little Groot dancing to The Jackson 5's "I Want You Back" has been one of the most memorable and cutest scenes from the movie!
Now Hot Toys is excited to present one of the cutest 1/4 scale collectible you'll ever see – Little Groot from Guardians of the Galaxy! The movie-accurate Little Groot Collectible features 3 interchangeable head sculpts, special paint application to reflect his distinctive appearance, and movable arms and body to recreate Little Groot's dancing scene.
This Little Groot collectible will be a great addition to your display that will bring smiles to people!
Fans in Hong Kong can firstly purchase it directly at Hot Toys' booth (F01-12) in Toy Soul 2014 from Dec 19 – 21. Please visit Hot Toys-Secret Base Facebook Page for details.
You can pre-order the toy on Sideshow for $45. You've got to think there will eventually be a 1:1 version, which would over a foot tall like it appears to be in the movie.
What do you think of the first Hot Toys Baby Groot?