Is 'Pirates 5' Conceived As A Soft Franchise Reboot?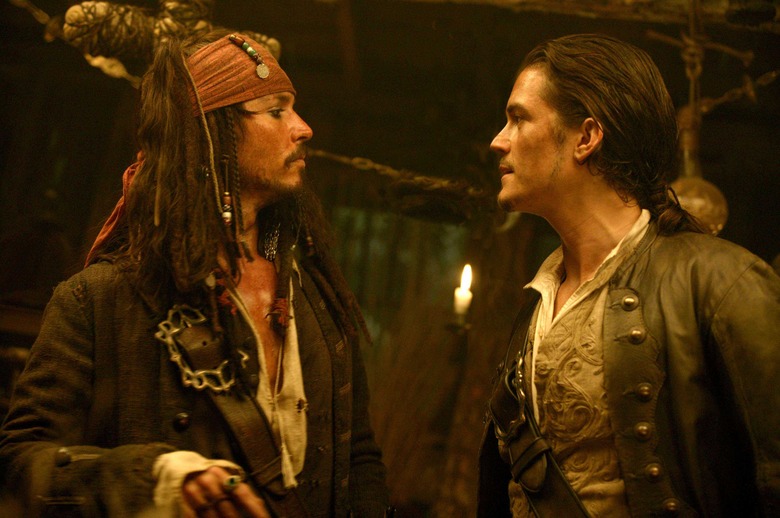 After the lackluster fourth film in the Pirates of the Caribbean series, Disney has been taking its time developing the fifth movie. But here we are, with Pirates 5 — aka Pirates of the Caribbean: Dead Men Tell No Tales — set to be directed by Joachim Ronning and Espen Sandberg (Kon-Tiki) in Australia early next year. Johnny Depp returns as Captain Jack Sparrow, but now there's the suggestion that this fifth film may actually be a soft Pirates of the Caribbean reboot. 
Orlando Bloom, who factored into the first three films in the series, talked to IGN, and when asked about returning to the series he explained,
I'm not entirely sure that [I'll be back] just yet, but there are talks. Basically they want to reboot the whole franchise, I think, and do something with me and the relationship with my son... I'm of course Davey Jones now, so I'm down the bottom of the ocean. It might be kind of fun to do something where I'm rumbling round the bottom of the ocean, because I won't look anything like me. [Gestures to face] Get all gnarly.
In this case "reboot the whole franchise" may just mean "pretend like the fourth film never happened." After all, if Depp is back as Sparrow, and Bloom comes back as Will Turner, it isn't a reboot at all.
Brenton Thwaites (Oculus, The Giver, The Signal) is playing a new role, as a British solider, while Kaya Scodelario (The Maze Runner), Gabriella Wilde (Carrie), Lucy Boynton (Miss Potter), Alexandra Dowling (The Musketeers), and Jenna Thiam (the original French version of The Returned) are all said to be in contention for the role that could be Thwaites' love interest. And if Bloom is back, will Thwaits be revealed as his character's son? Likely.
Geoffrey Rush is rumoured to return as Barbossa, while Javier Bardem is said to be set to play Captain Brand, "a ghost bent on revenge against Sparrow, who blames Sparrow for the death of his brother and is searching for a supernatural object to aid him." In other words, more pirates, more supernatural stuff, and more familiar faces. Just don't expect Kiera Knightley, who rose to fame thanks to the Pirates movies, but isn't likely to be back for another turn.
Pirates 5 is currently set for a July 2017 release.