Exclusive: Holiday Classic 'It's A Wonderful Life' Immortalized By Artist Laurent Durieux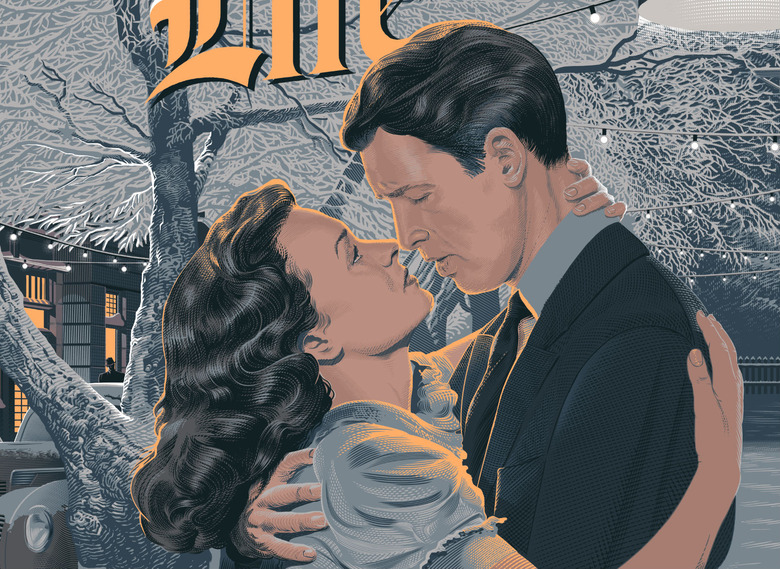 The holidays are here and that means tons of people are going to watch Frank Capra's iconic film, It's A Wonderful Life. Starring Jimmy Stewart and Donna Reed, this fantasy tale is a staple of the season and Dark Hall Mansion has decided to pay tribute in the best way possible. They've hired artist Laurent Durieux to do an officially licensed poster for the film, which will go on sale as a timed edition beginning Friday December 19 through December 22. There will also be more limited variant editions on paper, foil and wood. Below, see /Film's exclusive reveal of the beautiful It's a Wonderful Life posters and read all the details.
Here are the regular and variant editions of It's A Wonderful Life by Laurent Durieux courtesy of Dark Hall Mansion. The regular is the orange – that's the timed edition, and the variant is the blue one. More details below.
It's a Wonderful Life Poster
And here are a few close ups.
Finally, here is all the information courtesy of the official press release.
 Dark Hall Mansion is proud to wrap its 2014 year with a very special surprise for all, we've invited back artist, Laurent Durieux, who DHM first introduced to the US market some years back, to create a piece for what is undeniably one of American cinema's greatest achievements, Frank Capra's 1946 masterpiece, "It's a Wonderful Life" starring Jimmy Stewart and Donna Reed.Dark Hall Mansion, under license from Paramount Pictures, the Stewart Family. LLC, and the Children of Donna Reed, will be offering a very special stocking stuffer indeed by way of one of the most moving and profoundly touching films ever created, one that reminds us not only what the true meaning of Christmas and the Holidays is but that which is most important and to be held dearest in life.PLEASE READ ALL CAREFULLY: Beginning THIS Friday, December 19th, 2014 and lasting until 11:59 PM Monday evening, December 22nd, 2014, DHM will make its Standard edition Laurent Durieux "It's a Wonderful Life" print available to all buyers via a timed edition. For those not familiar with timed editions the process is quite simple: By midday (PST) Friday, Dec 19th, the Standard edition print will be available for purchase in our DHM store page here: http://darkhallmansionstore.co
m Buyers may purchase and check out anytime to secure a print(s) up till 11:59 PM PST Monday, December 22, when the window to purchase will close. The final size of the Standard edition will thus be determined by how many prints are purchased during that time. If 300 sold, then the final edition is of course 300, if 3000 sold, then 3000. Buyers may purchase as many prints as they wish but must place each order individually. So to be clear, a buyer may purchase 1 print, 3 prints, 5 prints, whatever they desire, but need make each purchase individually as we cannot combine multiple orders. DHM usually combines orders for its customers where possible but will not be able to do so for this timed edition release as it would considerably slow the processing and shipping of orders when time comes to post out client purchases. The prints will ship in the first quarter of 2015 after settling the final edition run size and providing all figures to our printers on their return from the Holidays. Please understand, in advance, there will be NO cancellations or refunds-all orders are FINAL.
There will also be a select Variant, Foil and Wood edition of Laurent Durieux's "It's a Wonderful Life" piece. These will go on sale THIS Friday morning at 9:30 AM (PST) in our store here:http://darkhallmansionstore.co
m Expect heavy traffic as Laurent's pieces are always very much in demand. Our store is now hosted on Shopify, a major platform utilized by varied publishers, and per Shopify's request we have notified them in advance of the expected surge in traffic, but PLEASE be aware there is nothing DHM can do once the prints go on sale via their site. Different buyers have different experiences with Shopify, for most Shopify proves outstanding, quick and smooth, for others it's a challenge, so please direct your queries to Shopify vis a vis your browsers or other questions in advance so they might better address your concerns as there is nothing we can control as to their processing of customer orders. All purchases will be via Paypal only and we urge you to pre-register with Shopify.
Please see Dark Hall Mansion's "It's a Wonderful Life" Laurent Durieux prints, attached, or see all editions on Dark Hall Mansion's Facebook page here: https://www.facebook.com/pages
/Dark-Hall-Mansion/21239475213
4162
or via our DHM Blog on: http://www.darkhallmansion.com
/?page_id=476
"It's a Wonderful Life" VARIANT, FOIL and WOOD editions will go on sale THIS Friday, December 19th, on Dark Hall Mansion's store page here: http://www.darkhallmansionstor
e.com at 9:30 AM PST.
"It's a Wonderful Life" Variant Edition of 150 $100"It's a Wonderful Life" Foil Edition of     75 $150"It's a Wonderful Life" Wood Edition of     15 $300 (based on Std edition colorway)"It's a Wonderful Life" Wood Edition of     15 $300 (based on Var edition colorway)"It's a Wonderful Life" TIMED STANDARD EDITION PRINT: $65*NOTE: The timed edition Standard print will be available in our store by midday, Friday, Dec 19th, and the window to purchase this Standard edition print will close Monday at 11:59 PM (PST).All editions measure 24" x 36" and are fully screen printed.We look forward to seeing you THIS FRIDAY, Dec 19th, in our DHM store right here:http://www.darkhallmansionstor
e.com
We hope collectors are pleased and excited to be able to secure an officially licensed print for one of THE most beloved films of all time in a manner in which all who wish to purchase a print will be assured one. We thank you all for an exciting 2014, for your most gracious support of DHM's projects, and for your many kind emails and posts, we're humbled and grateful to you all! We have exciting projects and surprises in store for 2015 on many officially licensed Hollywood studio properties, as well as officially licensed music properties, so stay tuned as it's going to be an exciting new year.To all, most importantly, as we do each season from everyone here at the Mansion, we wish all of you, your families and your loved ones, the things that truly matter in life-all health, happiness and peace for a beautiful Holiday season, a Most Merry Christmas and a wonderful New Year, God bless you all.*In fairness to all collectors wishing to purchase DHM's official Laurent Durieux "It's a Wonderful Life" editions: PLEASE UNDERSTAND ALL SALES ARE FINAL.NO CANCELLATIONS OR REFUNDS OF ANY EDITION.Dark Hall Mansion is a labor of love. We are passionate about art, about the work of print and poster artists present and past, here and abroad, we are committed to bringing their skills to the forefront on projects both compelling and exciting, bridging their studios and creations directly with your walls and personal collections.More information can be found on these and other editions available from Dark Hall Mansion at www.DarkHallMansion.com