Iron Man's 'Avengers: Age Of Ultron' Mark 43 Armor Revealed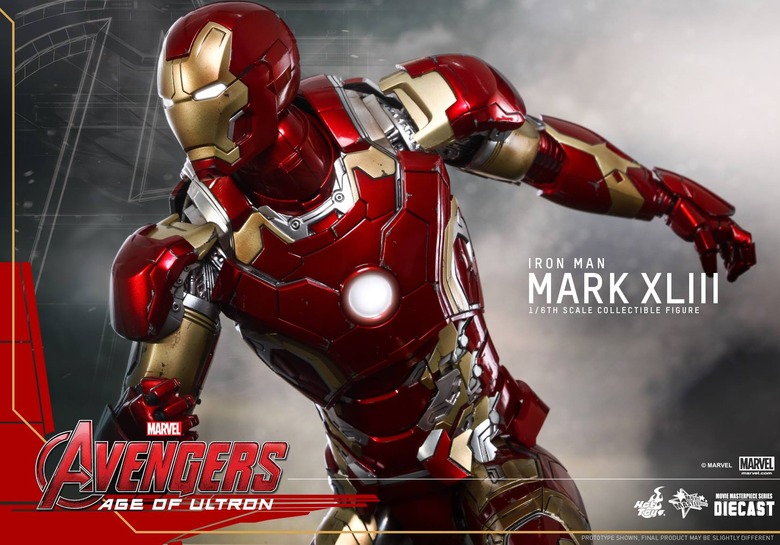 In all the excitement over the past few weeks, be it Star Wars trailers, Jurassic World trailers, the holidays or major studio leaks, it's almost hard to believe 2015 is nearly upon us. It should be an excellent year filled with blockbusters the likes of which we have never seen. As time moves on though we're going to be seeing lots and lots more of those blockbusters and, now, you can finally analyze Tony Stark's new armor in Avengers: Age of Ultron.
This Age of Ultron Iron Man suit comes courtesy of everyone's favorite high end collectible company, Hot Toys. They've released a ton of images of the Avengers: Age of Ultron Iron Man Mark XLIII suit which even comes with an Ultron accessory.
Check out the Avengers: Age of Ultron Iron Man suit below.
Thanks to Hot Toys for all these images. We'd seen glimpses of this slightly altered armor in Age of Ultron set photos, but this is our best look yet.
Avengers: Age of Ultron Iron Man Suit Mark XLII
And that's just some of the images. Head to their Facebook for even more. Here's how they describe the release:
The extremely-anticipated, Avengers: Age of Ultron, is only a few months away! Our favorite superhero team is assembled again when Tony Stark's peacekeeping program goes awry and it is up to the Avengers to stop the villainous Ultron from enacting his terrible plans...
To get fans ready for this super exciting film, Hot Toys is thrilled to jump start the Avengers: Age of Ultron collectible series by presenting the 1/6th scale Mark XLIII Collectible Figure! It is also the newest addition to our MMS Diecast Series which the collectible figures are made of diecast material, and realistically designed to look even more like the armor as it appears in the blockbuster.
The movie-accurate Mark XLIII Collectible Figure is highly detailed and specially crafted based on the image of Robert Downey Jr as Tony Stark/Mark XLIII in Avengers: Age of Ultron, featuring a newly painted Tony Stark helmeted head sculpt, metallic red, gold and silver armor with weathered effects, LED light-up functions, and a specially designed diorama base with a damaged Ultron Mark I. A special edition will be available for selected markets which includes a LED lighted battle damaged helmet as bonus accessory.
Pre-order this amazing collectible figure to kick-off your Avengers: Age of Ultron collection!
For Hong Kong customers, please stay tuned on Hot Toys-Secret Base Facebook Page for pre-order details.
Overseas customers, please stay tuned on Hot Toys Facebook Page for update.