Star Wars Bits: 'Star Tours' To Get Force Awakens Update? Plus Rebels Season 2, Trailer Secrets, Teaser Poster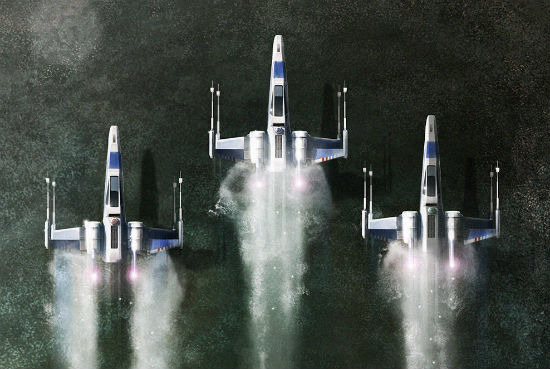 I have to say, this is a particularly good edition of Star Wars Bits. Dare I say, it's a must read. Let's get right to it. Below, read about the following:
Watch how Ben Burtt created the sound for the Millennium Falcon hyperdrive failure.
Star Wars Rebels Season 2 will debut at Star Wars Celebration Anaheim.
Sunday afternoon, Disney XD will air a video revealing new secrets of The Force Awakens trailer.
A Star Wars: The Force Awakens teaser poster could be coming next week.
And while you wait, see some really awesome new Force Awakens fan art.
Disney's ride Star Tours: The Adventures Continue could get A Force Awakens upgrade.
An interesting piece of speculation about Luke Skywalker's purpose in The Force Awakens.
Do the Force Awakens Topps card number match with the old Topps Star Wars cards?
What do the Star Wars: The Force Awakens names actually mean?
Eyes on Cinema uncovered this super cool older video of Star Wars sound designer Ben Burtt talking about designing the sound for when the Millennium Falcon's hyperdrive doesn't work. Eight sounds were mixed to create it. So cool.
StarWars.com revealed that the second season of Star Wars Rebels will debut at Star Wars Celebration Anaheim in April. Along with it, the full cast and crew will be on hand for multiple events and panels. Head to this link for more information.
If you haven't seen Star Wars Rebels yet, a quick reminder that there are three marathons coming up this weekend.
Saturday, 12/13 (11:20am-4:00pm ET/PT) on Disney Channel
Saturday, 12/13 (4:00pm-8:30pm ET/PT) on Disney XD
Sunday, 12/14 (12:00pm-4:30pm ET/PT) on Disney XD
Now, that last one is particularly significant in that they say "After Sunday's Rebels marathon, go "INSIDE THE FORCE AWAKENS" with Disney XD for official trailer secrets you may have missed. Disney XD's Jacob Bertrand ("Kirby Buckets") will reveal a few fun tidbits of the latest STAR WARS: THE FORCE AWAKENS trailer."
Can they really surprise us with something from the trailer we don't know? I guess we'll find out Sunday.
Speaking of surprise, JediNews reports Disney might reveal the Star Wars: The Force Awakens teaser poster next week . The timing would make sense with The Hobbit: The Battle of the Five Armies bringing people into theaters but this is unconfirmed. Star Wars teaser posters in the past have been things of beauty. If it does come out, you'll see it here immediately.
Some truly awesome new Force Awakens fan art has hit the net over the last few days, as has been the case every day since the trailer came out. Here are a few of our favorite new ones thanks to Paul Shipper and the Poster Posse. Head to that link for more.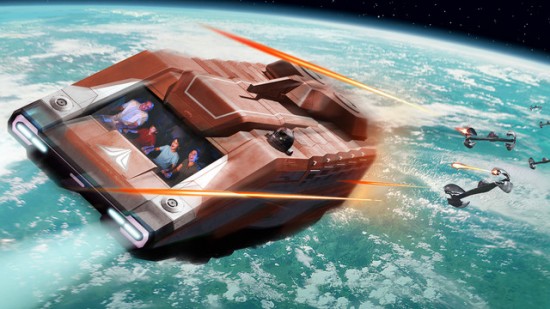 Star Wars Underworld is reporting that Disney's current, popular Star Wars ride, Star Tours, will get a Force Awakens upgrade in the near future. Now, this isn't confirmed, but since the ride was upgraded itself a few years ago, it seems like it would be a relatively simple change to add a few new planets or scenarios into the over 50 plus scenarios one may encounter on the ride. At least, it's easier than building a new ride from the ground up. This is speculative but you'd imagine this could happen by next year when The Force Awakens opens. You can hear more about it at the above link.
Making Star Wars is at is again, this time reporting an interesting piece of speculation about Luke Skywalker and what his mental state, and physical location, could be important to the plot of The Force Awakens. There are major spoilers there so only click if you are ready.
When we were the new Star Wars The Force Awakens names were revealed via some cool Topps type trading cards, J.J. Abrams said each number on each card was significant. No one has cracked the code yet but Still Playing With Toys went back to the old, original Star Wars cards and matched them up. The results aren't mindblowing, but it's still very interesting. Here's one example. These are both the same number.
Speaking of those names, Screencrush put them into an online name analyzer and the results are...actually pretty spot on. Head to that link to read them all but, here's just one, for new villain Kylo Ren:
"Your name of Kylo has created a most expressive nature, idealistic and inspirational, driven with a strong inner urge to be of service in some way that would uplift humanity as a whole. However, there is a tendency to assume too heavy a burden of responsibility for others, which leads to worry and undue concern."
"People with problems are drawn to you as they recognize you as one who has understanding and gives not only sympathy and comfort but provides also some constructive advice or assistance."