VOTD: Stephen Colbert Interviews Smaug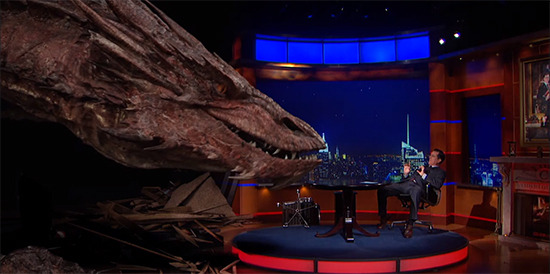 Stephen Colbert is finishing up his long run on The Colbert Report, and the guy is going out with a bang. Colbert is a tolkien super-fan — his enthusiasm for Tolkien got him a role in The Hobbit, and has seen him grace the cover of Entertainment Weekly in costume as several Hobbit characters. One of his last interviews is among his biggest, as he got the dragon Smaug to show up for a chat. To the credit of everyone involved, from the WETA animation team to Smaug mo-cap and voice actor Benedict Cumberbatch, this goes all the way. A couple jokes edge toward serious territory, but they play right into Colbert's long-standing conservative character. And Cumberbatch, er, Smaug, gets in a few choice lines at the expense of his Hobbit co-stars. Below, check out the video in which Colbert interviews Smaug.
Colbert Interviews Smaug
You might want a still image of Smaug in the mo-cap rig, so here you go: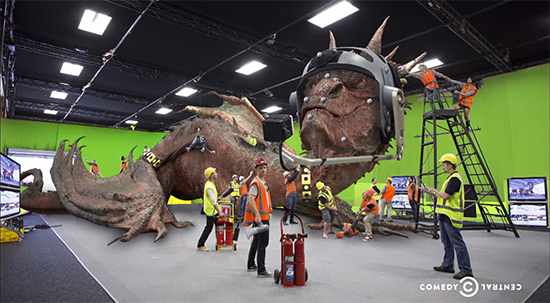 Thanks to Comedy Central for going to the effort to make this happen.