'The Divergent Series: Insurgent' Trailer: Shailene Woodley's Fight Continues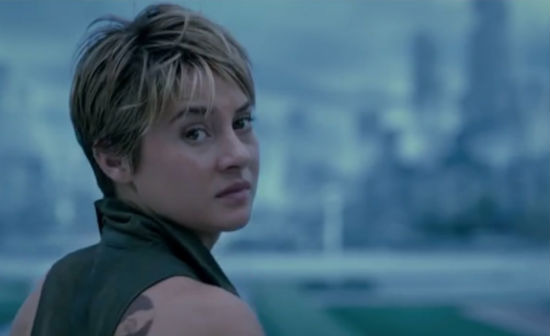 When last we left Tris (Shailene Woodley) and Four (Theo James) their whole world was different and they had no idea what was coming next. Well, fans finally can get in on the secret of what is to come as the first The Divergent Series: Insurgent trailer hits the Internet. The second part in the Divergent Series sees Tris and Four as fugitives on the run from the leader of the world they're rebelling against, played by Kate Winslet.
Directed by Robert Schwentke and written by Brian Duffield, Insurgent opens on March 20. Watch the first trailer below.
Thanks to Summit, here's the first Insurgent trailer.
The Divergent Series: Insurgent Trailer
While I love the idea of Divergent, the first movie didn't really do it for me. It was underwhelming and oddly paced, even though Woodley, Winslet and the story were good. Those factors give me enough curiosity about the next chapter, which looks like an improvement. Fans will surely lap it up, but it'll be interesting to see if the film surprises more than the last one, which offered little more than a huge opening. There are two more films to come following this, after all.
Here's the official plot synopsis of The Divergent Series: Insurgent:
THE DIVERGENT SERIES: INSURGENT raises the stakes for Tris as she searches for allies and answers in the ruins of a futuristic Chicago. Tris (Woodley) and Four (James) are now fugitives on the run, hunted by Jeanine (Winslet), the leader of the power-hungry Erudite elite. Racing against time, they must find out what Tris's family sacrificed their lives to protect, and why the Erudite leaders will do anything to stop them. Haunted by her past choices but desperate to protect the ones she loves, Tris, with Four at her side, faces one impossible challenge after another as they unlock the truth about the past and ultimately the future of their world.
It stars Shailene Woodley, Theo James, Octavia Spencer, Jai Courtney, Ray Stevenson, Zoe Kravitz, Miles Teller, Ansel Elgort, Maggie Q, Mekhi Phifer, Daniel Dae Kim, Naomi Watts, and Kate Winslet.
The Divergent Series: Insurgent opens March 20. It'll be followed by The Divergent Series: Allegiant Part 1 on March 18, 2016 and then The Divergent Series: Allegiant Part 2 on March 24, 2017.