George Clooney And Bennett Miller Making TV Show About '90s Movie Biz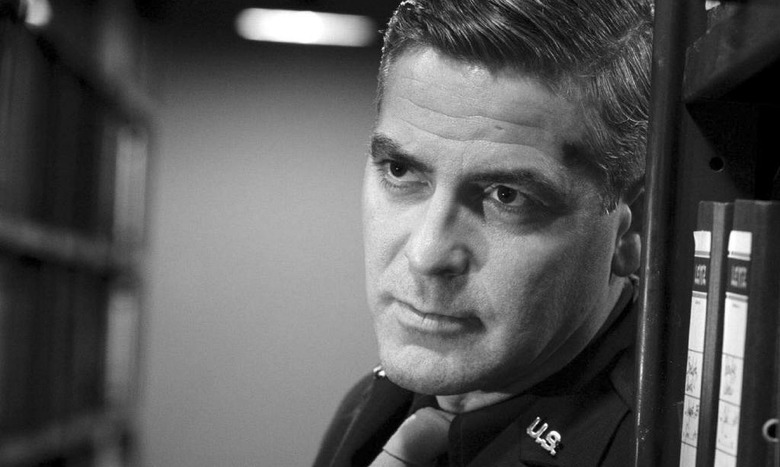 The '90s were a special time for George Clooney. That was when he broke through on TV with ER, and then transitioned into movies with projects like From Dusk Til Dawn. Now he's set to return to television, and to that decade, with a brand-new show about '90s showbiz.
Clooney is teaming with Rescue Me creator Peter Tolan and director Bennett Miller on the project, described as a dark comedy. Get all the details on the George Clooney TV show after the jump.
Vulture reports the as-yet-untitled show will be an hourlong comedic drama set in the early '90s. It'll explore the movie business of that era, from the perspective of the studio executives who ran it. Clooney and his partner Grant Heslov will executive produce the pilot along with Tolan. In addition, Tolan will write the script. Miller is set to direct the pilot episode.
The characters are expected to be fictional, although Clooney's memories from the time are likely to inform the show. Tolan previously took on Hollywood as head writer of HBO's The Larry Sanders Show, which also aired during that period. Tolan is coming off of Rake, which lasted just one season on Fox.
Clooney also has prior experience chronicling the goings-on in Hollywood — he executive produced the HBO dramedy Unscripted with Heslov and Steven Soderbergh in 2005. More recently, he served as an executive producer on the TNT cop drama Memphis Beat.
While Clooney's new show doesn't yet have a home, it's expected to find one quickly. Sources tell Vulture a deal is a matter of when, where, and how much, not if. Producer Sony Pictures Television has started meeting with basic and premium cable networks, and "at least one" streaming service.
If everything comes together, the series will be Miller's first foray into television. He made his narrative feature debut in 2005 with Capote and followed it up with Moneyball in 2011. His most recent movie is Foxcatcher, which has already been nominated for the SAG and Golden Globe Awards.