Star Wars Theme Park Rides To Be Based On New Films, Not Original Or Prequel Trilogies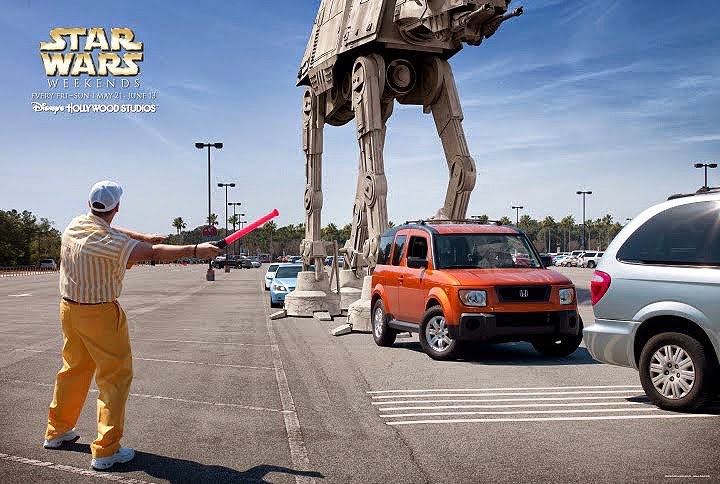 Ever since Disney acquired Lucasfilm and Star Wars fans have been clamoring for a bigger Galactic and Rebel presence in the Disney theme parks. We've posted many rumors about a new Star Wars land being planned for Disneyland in Anaheim — at one point they were even testing out an idea for a third park which would've combined Star Wars and Marvel, but word has it didn't test well with females. The latest rumor is that a Star Wars themed land will replace Disneyland's Toon Town with construction beginning in 2016.
Today we learn a bit more about what the future of Star Wars holds in Disney Parks with a confirmation that any Star Wars theme park rides and attractions will be based on the new films, and not the older original (boo) and prequel (yay) trilogies.
Walt Disney Co. chief Bob Iger revealed the detail during a Question and Answer session at Variety's Dealmakers Breakfast today.
"There will be a much larger 'Star Wars' presence in our parks globally. But we want to do this big, which takes time, and to do it right."
Iger confirmed that Disney Imagineering did conduct early development on new rides revolving around the first six Star Wars movies, but eventually decided that to "do it right" they would wait until JJ Abrams could reveal his plans for Star Wars: The Force Awakens so that park guests wouldn't be disappointed that the attraction was based on the older stories rather than the current ones.
"I didn't want someone to say, 'I just saw the movie and there's nothing in that movie in this (attraction). We waited to see what this film would have in it. We couldn't tell them what was new. I slowed it all down so what we come forward with will have a blend of the past, present and maybe the future. Now we have a sense of what's in 'Star Wars 8,' and what some of the standalone films will have in them."
Remember, that saying that the attractions will be based within the new films doesn't mean we won't see things from the older films. Many of our favorite characters, vehicles and planets will appear in Force Awakens, the sequels and the spinoffs so kids may still get a chance to board the Millennium Falcon or fly an X-Wing. And I think this is what Iger means when he says all the Star Wars theme park rides and attractions "will have a blend of the past, present and maybe the future. "
Iger has previously publicly said that Star Wars would have "a significant presence" inside the company's theme parks and resorts but has been slow to offer any announcements. I'm hoping we will either get an announcement at Star Wars Celebration in April 2015 or Disney's fan convention D23 Expo 2015 in August 2015.