Cool Stuff: Mondo's Home Alone Print By DKNG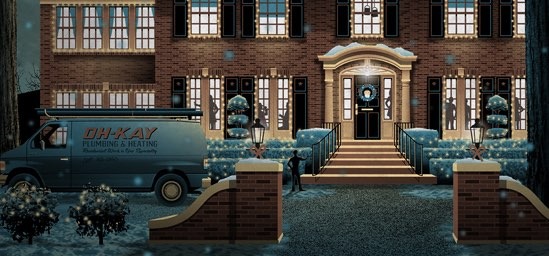 Earlier this week we posted Matt Ryan's poster for Angels With Filthy Souls, inspired by the movie that was made inside the movie Home Alone. Now Mondo has announced they are also releasing a Home Alone screen printed poster, this one by our friends at DKNG. The four color screenprint perfectly honors the John Hughes penned Chris Columbus modern holiday classic by showcasing the iconic McCallister home, and is filled with some fun easter eggs that fans of the film will love. Check out the DKNG Home Alone poster after the jump.
DKNG Home Alone Poster
Here's the full DKNG Home Alone poster print from Mondo: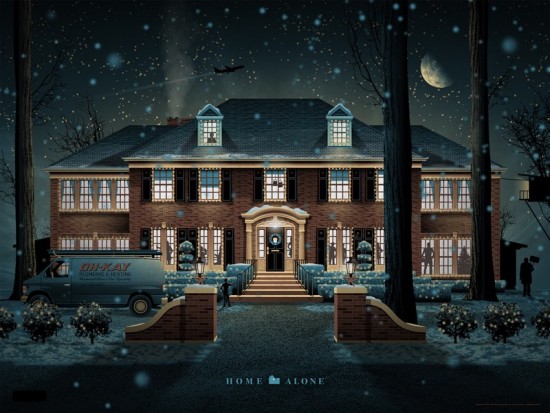 Here is what DKNG has to say about the Home Alone print:
"When approaching a concept for Home Alone, we knew the interior of the McCallister home and all of Kevin's tricks to foil the Wet Bandits were likely to be the focus of our design. However, we also wanted to incorporate the exterior of the house and provide a different perspective on some of the movie's most iconic scenes. We took some liberties with the architecture of the house and the layout of the property, but in the end the exterior allowed us to include some of our favorite imagery from Home Alone including the Oh-Kay Plumbing van, the perpetually knocked over bronze statue, and off course, Old Man Marley. This poster was an interesting challenge for us as we've typically been using two-color printing for this more realistic style. This time around, we stepped up to a four-color design that looks great with the fine halftones blending the colors. The poster is printed on a subtle metallic paper that will give the snow an extra shimmer as well."
The DKNG Home Alone poster print is an 18×24 screen print with an edition of only 275. The poster is printed on a subtle metallic paper and will cost $40 when it goes on sale at a random time on Thursday, December 11th. Of course, you need to keep refreshing @MondoNews to find out when it goes on sale and act faster than the sticky bandits.