The '22 Jump Street' Sequel Has Been Considered As A 'Men In Black' Crossover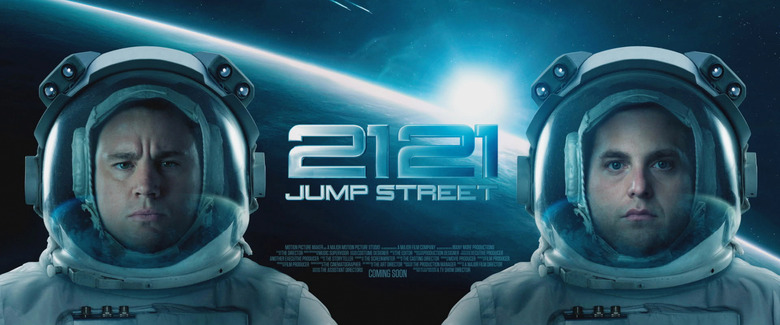 Sony's first two Jump Street movies were a cinematic comedy reboot of a TV drama popular in the '80s and '90s. The next Jump Street pic will be that, too, of course, but it might also be a revival of a sci-fi film series dating back to 1997.
The studio is reportedly considering making 23 Jump Street (or whatever it winds up being called) a Men in Black crossover. Maybe the space-set 2121 Jump Street wasn't such a farfetched idea after all. Hit the jump for more on the potential Jump Street Men in Black crossover. 
The Jump Street Men in Black crossover news is one of many, many reveals from the massive Sony email hack that took place last month. According to THR, Jonah Hill and Sony Pictures co-chairman Amy Pascal discussed the idea. However, no script is in place and the project has not yet been greenlit.
According to those messages, original Men in Black stars Will Smith and Tommy Lee Jones are not expected to be involved. Steven Spielberg's participation was sought (he served as executive producer on all three MIB movies) but it's unclear how or if the filmmaker responded.
On the Jump Street side, both Hill and Channing Tatum would reprise their roles, and 21 and 22 Jump Street directors Phil Lord and Chris Miller will return to produce. The last we heard about the new Jump Street, Rodney Rothman had been tapped to write. Sony's hope right now is to get the next Jump Street out in 2015 or 2017.
A Jump Street / Men in Black crossover sounds so crazy it just might work. The Jump Street films haven't really included any sci-fi elements, but their overall tone is weird enough that aliens and secret government agents wouldn't be a huge stretch.
Meanwhile, the Men in Black series hasn't really gone anywhere since 2012's Men in Black 3. The long-delayed sequel lost money for the studio, despite taking in over $600 million worldwide, and failed to build buzz for a follow-up, despite earning pretty decent reviews.
A marriage of the two franchises could pave the way for a bigger Marvel-style universe (there's that phrase again). If the mash-up goes well, it'd open up a whole new universe for the Jump Street series and could essentially reboot the Men in Black one.
Funnily enough, the WSJ points out that like Spider-Man, Men in Black is also technically a Marvel property — it's based on a series published by Malibu Comics, which was bought out by Marvel Comics in the '90s.