Cuba Gooding Jr To Play O.J. Simpson In New TV Miniseries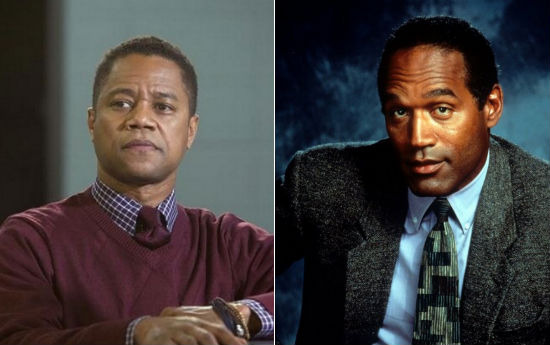 Showrunner Ryan Murphy has made a name for himself by freaking people out. Whether it's the twists of American Horror Story, the tension of Nip/Tuck or the singing in Glee, he loves to put something provocative on the screen. His latest project is going to do something similar, but in a very different way. We already knew he was starting a new miniseries called American Crime Story for which each season will be about one specific real-life crime drama from American history. We also knew season one would be about arguably the most famous case in recent memory, titled American Crime Story: The People v. O.J. Simpson.
Now we know the players. Cuba Gooding Jr. will play Simpson in the FX miniseries and Sarah Paulson (American Horror Story) has been cast as lawyer Marcia Clarke. Read more about the OJ Simpson TV series below.
The Hollywood Reporter was among the outlets reporting on the casting for this OJ Simpson TV series:American Crime Story: The People v O.J. Simpson will be based on the book The Run of His Life: The People v. O.J. Simpson. by Jeffrey Toobin. Award-winning writers Scott Alexander and Larry Karaszewski will pen the first two episodes.
Here's how the trade describes the show:
The 10-episode first season examines the O.J. Simpson trial as told from the perspective of the lawyers, and is poised to explore the chaotic behind-the-scenes dealings and maneuvering on both sides of the court. More significantly, it will display how a combination of prosecution confidence, defense wiliness and the LAPD's history with the city's African-American community gave a jury what it needed: reasonable doubt.
That sounds like it won't start any controversy at all, right?
Paulson as Clarke is a no-brainer, she's just awesome in everything she does. Gooding Jr. is obviously a wonderful actor too, but this is by far is highest profile role in some time. Plus, you have to wonder how big his role will be once the story gets into the courtroom and Simpson just sits there. That's the beauty of TV, though. We'll surely hear what the NFL Hall of Famer had to say once the cameras were off and doors were closed.
What do you think of the casting and idea of this show? Which true crime story would you like to see on following seasons?