Aaron Sorkin Wanted Tom Cruise For Steve Jobs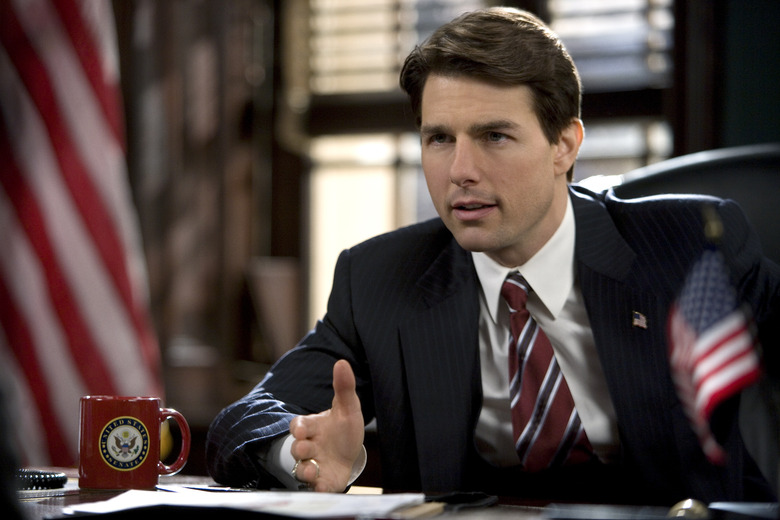 That Steve Jobs biopic has been through a quite a few potential Steve Jobs-es already. Christian Bale was one of the first names we heard, followed by Leonardo DiCaprio, Bale again, and now Michael Fassbender. But we've now learned there was yet another A-list actor in contention as of a couple months ago.
Sony apparently wanted Tom Cruise for the part, as revealed by emails from the Sony hack. In addition, Tobey Maguire and Matthew McConaughey reportedly also lobbied for the part. More details after the jump on the Tom Cruise Steve Jobs casting that never happened.
The Steve Jobs biopic has had a tumultuous development process with several stars and directors coming and going over the years. Just a few weeks ago, Sony finally dumped the project and Universal swooped in to scoop it up. It was a surprising development in what sounded like a potentially great film, but as details have emerged we're getting a better sense of how the project went off the rails.
In the weeks leading up to that change, Sorkin pushed for Cruise to be cast as Jobs. In emails, he praised the actor's talent and charisma, assuaged Boyle's concerns that Cruise was "too commercial," and insisted the actor's age wouldn't be an issue. Cruise is 52, a decade older than most of the other candidates and almost as old as Jobs was when he passed. He's also 20 years older than Seth Rogen, who's playing Jobs' colleague and contemporary Steve Wozniak.
In the end, of course, Cruise didn't wind up getting the job. Fassbender won the role in early November, just a few weeks before Sony cut the film loose, and is still attached along with Rogen. Also likely to board is Jeff Daniels as former Apple CEO John Sculley, a part that Tom Hanks wanted at some point. Meanwhile, casting woes for the other parts continue – just days ago, Natalie Portman decided to pass on a supporting role.
[Sources: CNN, Ars Technica]