Aaron Sorkin Alum Jeff Daniels Up For Role In Steve Jobs Biopic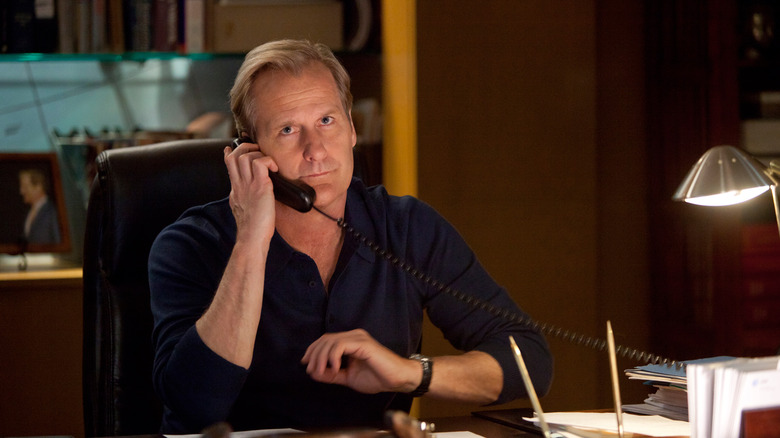 Even before a single image is captured, the Aaron Sorkin-written, Danny Boyle-directed Steve Jobs biopic has featured plenty of drama. It changed studios, had a leading man exit, and several A-list actresses pass on some choice roles. As it stands now, Universal has the rights to the film, Michael Fassbender will play Jobs and Seth Rogen is his Apple co-founder, Steve Wozniak.
The latest actor to potentially join the mix is Jeff Daniels. He's being tapped to play former Apple CEO John Sculley and being as he's already in good with Sorkin having starred on three seasons of The Newsroom, he certainly seems like a good fit. Read more about Jeff Daniels joining the Aaron Sorkin Steve Jobs movie cast
The Wrap broke the news of this potential casting. "While Daniels does not have an official offer yet," they write, "one is expected to materialize soon, as he's considered Boyle's top choice for the key supporting role."
Sculley was the CEO of Apple from 1983 to 1993 and, in that time, sales at the company increased from $800 million to $8 billion. He and Jobs were a perfect one-two punch, with Jobs providing the products and Sculley marketing them to the masses. Eventually, that lead to a power struggle for the company, which you'd think would be part of the movie.
In the other Jobs movie, Matthew Modine played Sculley and his and Jobs' differences were definitely more on display than their friendship. With Sorkin's unique structure in this film, it could go either way though as he'd probably be more on the sidelines than in the boardrooms.
Though this film has gone through some very public behind the scenes issues, I'm still very curious and excited about it. Sorkin's words, Boyle's visuals and the tale of a technology titan? It's a great, great mix and every actor they're courting – Daniels included – will just make the movie better.
What do you think about Jeff Daniels joining the film?