'Still Alice' Trailer: Here's The Film Getting Julianne Moore All That Oscar Buzz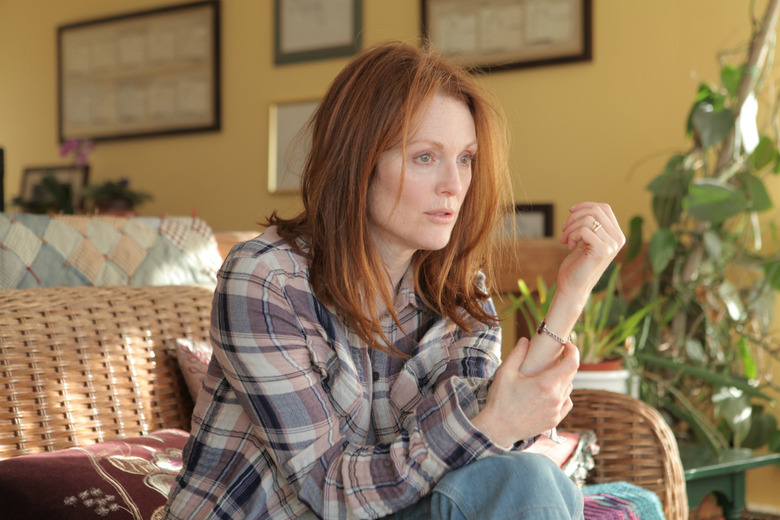 With just three weeks to go until the end of the year, we've still got several noteworthy pictures to look forward to. Among them is Still Alice, an indie drama that emerged as one of the brightest gems from this year's TIFF crop.
Julianne Moore leads as Alice Howland, a professor and married mother of three who is diagnosed with early onset Alzheimer's Disease. Alec Baldwin plays her husband, and Kristen Stewart, Kate Bosworth, and Hunter Parrish play her children. Hit the jump to watch the new Still Alice trailer. Yahoo debuted the Still Alice trailer.
Moore got some of the best reviews of her career for Still Alice at TIFF, which is saying a lot seeing as she's Julianne Freaking Moore. She's considered a likely Best Actress Oscar nominee by critics who've already seen the movie, though she'll have stiff competition from the likes of Rosamund Pike (Gone Girl) and Reese Witherspoon (Wild).
The premise has the potential to get saccharine or melodramatic, but based on the trailer it looks like Moore keeps it grounded. Her confusion and heartbreak are almost palpable, but Moore doesn't oversell it. Nor does she appear to fall into the trap of playing the disability instead of the character.
Still Alice premieres January 16, 2015, though if you're in New York or LA you may be able to catch it right now — it's currently in the middle of its Oscar-qualifying limited run in those territories. Wash Westmoreland and Richard Glatzer wrote and directed the film based on the book by Lisa Genova.
Alice Howland, happily married with three grown children, is a renowned linguistics professor who starts to forget words. When she receives a diagnosis of Early-Onset Alzheimer's Disease, Alice and her family find their bonds thoroughly tested. Her struggle to stay connected to who she once was is frightening, heartbreaking, and inspiring.