'Star Wars' Star Mark Hamill To Play A DC Comics Villain (Again) On 'The Flash'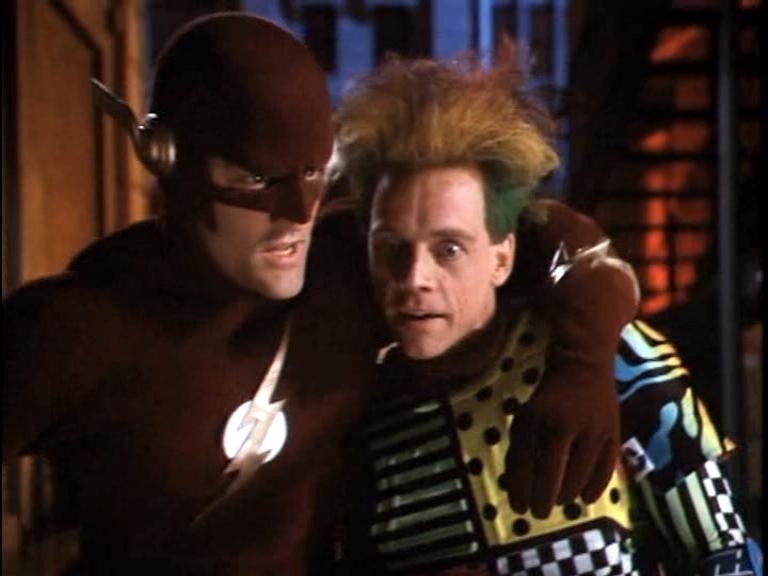 You've got to love the reverence the producers of CW's new hit, The Flash, have for the original show. That original show, which ran only one season in 1990, starred John Wesley Shipp as the super-fast DC hero. When CW revived the show as part of the DC TV Universe, they cast Shipp as the father of the 2014 Flash, played by Grant Gustin.
Now, another cast member from the original series is returning too, and he's fresh off a stint in a galaxy far, far away. Mark Hamill, who played the Trickster in a few episodes of the original show, is reprising that role in the 17th episode of the first season. Read more about the Mark Hamill Trickster casting below.
Hitfix broke the news of the casting and Hamill confirmed it on his Twitter. Here's a brief clip of him playing the character 25 years ago:
Mark Hamill Trickster clip
Andrew Kreisberg, the executive producer of The Flash, said this about the awesome casting:
Having Mark reprise his role as The Trickster was on our original wish list when we were planning our version of The Flash.  Christmas and Chanukah came early for us this year when he said yes!  We are beyond humbled and excited to have him joining us for another round of deadly trickery!
(Of note, he actually voiced the character on the Justice League cartoon too. Thanks.)
The twist on the character this time around is Hamill will play the original Trickster, serving a life sentence, who helps the Flash track down a modern copycat of his terrorist character.
I'm not sure if it's the fact Star Wars is coming back or what, but I'm enjoying this Mark Hamill resurgence. Next year we'll see him in Kingsman: The Secret Service, The Flash and then, of course, Star Wars: The Force Awakens. He's always done well with his voice, but I'm glad to see his face out there again.
Hamill's episode of The Flash is the 17th one of the season and will air at some point in 2015.