'It Follows' Trailer: A Terrifying New Vision Of Horror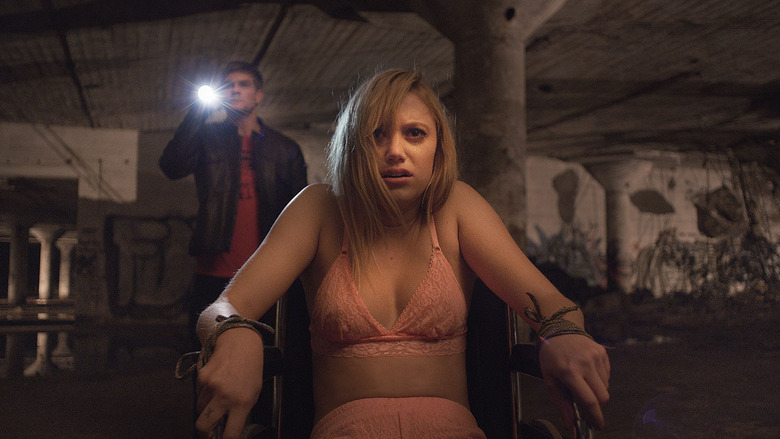 Maybe you've heard of It Follows. It's a small horror movie by director David Robert Mitchell. His previous film, The Myth of the American Sleepover, was a memorable look at teen life, and this film is in a similar vein. Similar in that it shows how some aspects of teen life – mainly sex – can become scary. It Follows played at Cannes, Fantastic Fest, AFI Fest and just got into the Sundance Film Festival. So there's a lot of buzz but, to date, no U.S. release date.
It'll get there though because It Follows is one of the scariest films I've ever seen. I'll tell you more in the coming weeks when we run our review (probably at Sundance) but for now, check out the first It Follows trailer.
Thanks to ScreenCrush for the great find. It's a French trailer (it opens there in February) so it has subtitles, and one or two quick NSFW flashes. Be aware.
It Follows Trailer
The conceit here is relatively simple and brilliant. There's an unstoppable force that follows you. It always follows you. You could fly to the other end of the world and slowly, surely, it would just keep walking towards you. The only way to get it to stop following you is to have sex with someone. Then it follows them.
Written and directed by David Robert Mitchell, It Follows stars Maika Monroe (The Guest) as the girl who gets the curse passed onto her, and then must decide how to get rid of it. We'll have more on It Follows as we get towards Sundance, and as it gets picked up for domestic distribution. It's very much a film to keep an eye on.
Here's the Sundance description:
It Follows / U.S.A. (Director and screenwriter: David Robert Mitchell) — After a strange sexual encounter, a teenager finds herself haunted by nightmarish visions and the inescapable sense that something is after her. Cast: Maika Monroe, Keir Gilchrist, Daniel Zovatto, Jake Weary, Olivia Luccardi, Lili Sepe.