Roberto Orci No Longer Directing 'Star Trek 3', Read His Comments On The Departure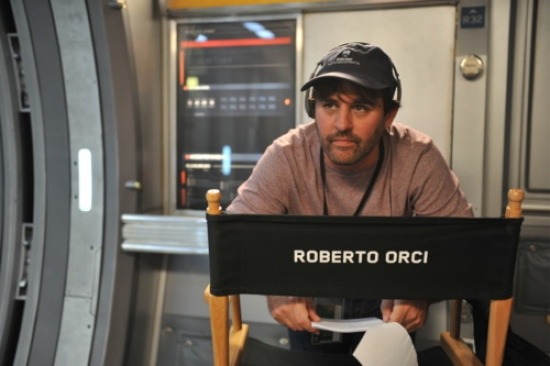 News first broke last week that Roberto Orci is no longer directing Star Trek 3. Orci is now talking about his departure from the project. Find out what he says, after the jump.
Roberto Orci posted the following comments on the Star Trek fansite TrekMovie.com:
I will be very involved:)
not at all. still excited to make Trek 3! And on time. We'll find the right director!
no time travel was ever considered, fyi
By claiming that time travel was not a part of his pitch, Orci is denying the claim by BadAssDigest that the story would have involved the Vulcans wanting to go back and stop the destruction of their planet, a time travel plot point that would have allowed Chris Pine and William Shatner to share the screen.
A user named OneBuckFilms wrote "You seem to have forgotten Kirk's advice to Picard: "Don't let them do ANYTHING to take you out of that chairs [sic]. Because while you're there, you can make a difference." to which Orci responded:
Have not forgotten. On the contrary, factored into decision. Their are bigger chairs to consider
Russ Fischer's original story from December 5th 2014 follows:
The film was set to be the first directorial gig for the writer who worked (with Alex Kurtzman) on the first two revamped Trek films directed by J.J. Abrams. Orci and Kurtzman split as creative partners earlier this year, and the Trek 3 job was Orci's bold step forward. Now Skydance and Paramount are making deals for a new director.
Deadline reports, saying that Orci will stay on as a producer. (THR has confirmed that Orci will still produce.) The site also reports that Paramount is prepping to go out to an array of potential new directors, noting that Edgar Wright's name is on a studio shortlist. (We've reached out to Wright in an attempt to confirm.) Maybe this is a new chance for Joe Cornish to take the job? We've heard that Cornish turned down the job, rather than being blocked from it, so it might not even be something he's any more interested in now than he was months ago.
There are no details on Orci's decision to vacate the director's chair, though the fact that he will stay on as a producer may indicate that it was his decision, at least in part. (Deadline mentions that "rampant rumors are swirling," but that's it.)
At this point we don't know much about Star Trek 3 other than the fact that Orci was writing with Patrick McKay and John D. Payne, and that the film was loosely set to go into production early next year for a 2016 release timed to Trek's 50th anniversary. The film has been rumored to be much more of a deep space adventure than the last two films, with William Shatner showing up as Kirk in some manner, probably not in quite as significant a part as the one that saw Leonard Nimoy appearing in the first Abrams film.
Indeed, Badass Digest says,
My sources tell me that the script Orci was working on saw the Enterprise, the Vulcans and a new alien race competing to get a time travel device. The Vulcans want to go back and stop the destruction of their planet, and the time travel schtick is what would allow Chris Pine and William Shatner to share the screen.
Devin has since updated to note that the script ideas above may have been the beginning of the end for the Orci-directed Trek, and that the whole thing is in flux now.
With this significant behind the scenes change we won't hold on to any particular ideas about the story until a new hire is are made.