Neil deGrasse Tyson Could Return For 'Cosmos' Season 2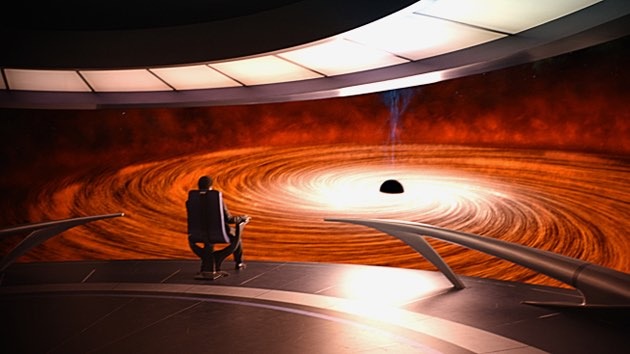 The cosmos is a big place. Like terrifyingly, staggeringly big. Really too big to be comprehended, and certainly too big to fit into one measly TV season. So it shouldn't come as a surprise that the people behind Cosmos: A Spacetime Odyssey are considering a second. Hit the jump for more on the possible Cosmos Season 2. 
Executive producer Seth MacFarlane shared the good news on Twitter today.https://twitter.com/SethMacFarlane/status/540391515596791808Cosmos host Neil deGrasse Tyson followed up with a confirmation of sorts.
Indeed, just dined with @SethMacFarlane in NYC. Though still recovering from the last one, I was feeling the #Cosmos love.

— Neil deGrasse Tyson (@neiltyson) December 4, 2014
The pair's comments follow a report earlier this week from a Reddit user who attended a presentation by Tyson in Newark, NJ. "During the Q&A portion, he told the audience that he's meeting with producers tomorrow in NYC to discuss the next 'season' (for lack of better term) of COSMOS," wrote the Redditor.
Cosmos: A Spacetime Odyssey was intended as a follow-up to Carl Sagan's 1980 documentary series Cosmos: A Personal Voyage. Like its predecessor, Cosmos: A Spacetime Odyssey consisted of 13 episodes. Should a second season go forward, it'd eclipse the run of the original.
Up until now, there's been little indication that Fox planned to extend Cosmos: A Spacetime Odyssey's run. That said, it makes sense that Fox is considering more Cosmos. The first season was well received by critics and consistently drew between 3 and 5.7 million viewers. In Seth MacFarlane terms, that's not Family Guy good, but it's miles ahead of latter-day American Dad!.
Perhaps more significantly, the show got Americans talking about science at a time when the culture wars continue to rage over things like evolution and climate change. The first season covered everything from the greenhouse effect to the possibility of life on other planets, looking at the past and present and speculating about the future.
MacFarlane's wording suggests it's up to Tyson to decide whether he'll return. Obviously, that'd be the ideal situation — but if Tyson's not up for it, the rumor mill has already started floating some other ideas about who else could captain the Ship of Imagination.