Pauly Shore Wants To Make 'Encino Man 2'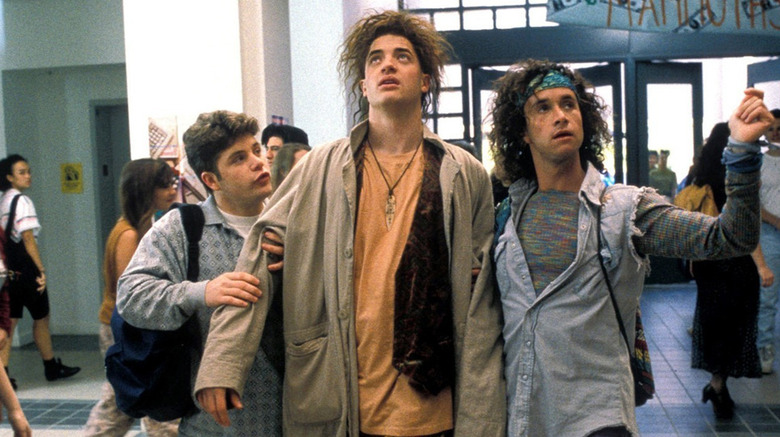 Long delayed sequels are practically flooding the cinemas right now, with Dumb and Dumber To still in theaters and the likes of Jurassic World and Terminator: Genisys on the horizon. And Pauly Shore, for one, hopes an Encino Man 2 will be part of that wave.
The actor confirmed that he's been "talking about it" to his agent, and called on fans to help make it happen. Hit the jump for more on the Pauly Shore Encino Man 2 statements.
Shore shared his hopes and dreams with Variety.
"Encino Man 2 — let's do it," he said. "My agent and I are talking about it."
Shore added that Shawn Schepps, who wrote the 1992 original, already has an idea for the story but hasn't written it yet.
The first Encino Man centered on two California teenagers (played by Shore and Sean Astin) who discover a frozen caveman (played by Brendan Fraser) in their backyard. Shore did not give details on the proposed sequel plot. "I think it would be fun," he continued. "It was a cute movie."
Which, sure, it was cute. Encino Man wasn't a great movie — critics downright hated in, in fact. Nevertheless, it was a critical hit, earning $40 million on a $7 million budget. It's still fondly remembered by millennials and occasionally gets mentioned on those "you're a '90s kid if..." or "where are they now?" type pieces.
But unlike with the other '80s and '90s movies currently getting sequelized, I don't think anyone's been clamoring for an Encino Man sequel. Dumb and Dumber, Jurassic Park, and Terminator are all regarded as classics. Encino Man is more of a nostalgia-inducing relic.
On the off chance you're one of those who want to see the further adventures of Link and company, though, Shore put forth a call for action. "Just Tweet at Brendan and Sean Astin and Disney," he advised.
Will you be demanding an Encino Man 2?