The World's First 4D Film Festival Is This Weekend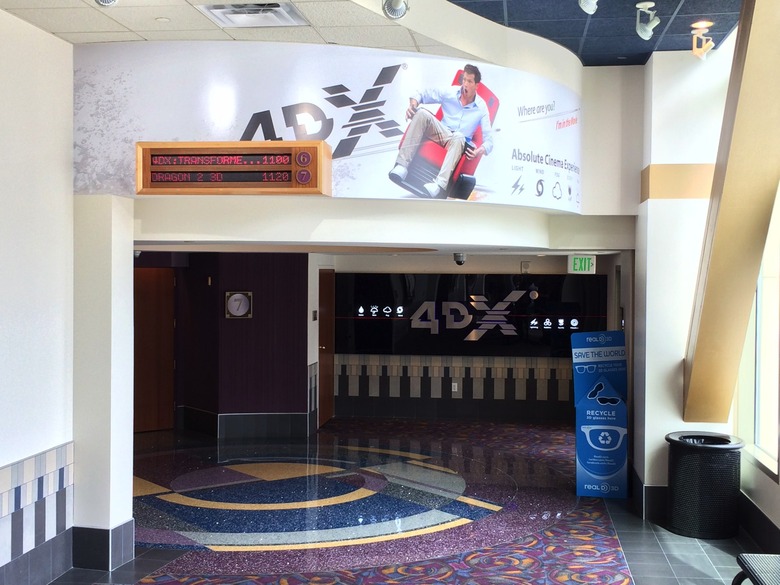 If you live in Los Angeles and have yet to check out the 4DX theater at the Regal Cinemas L.A. Live, this weekend is the perfect time to do it. You'll be making history as part of the world's first 4D Film Festival, taking place as part of the 3D Film Festival on Saturday November 6. Both Penguins of Madagascar and The Hunger Games: Mockingjay Part 1 will screen in 4D preceded by a mystery screening and followed by a panel discussing the technology along with virtual reality.
The whole event sounds like something that's a must attend if you have interest in the future of theatrical exhibition. Below, read more about the world's first 4D film festival and more.
Information on the 4D film festival can be found at 3DFF.org. There, you can buy tickets, ee the full schedule and more. The 4D stuff is described below:
3opolis is proud to welcome you to the world's first 4D Film Festival (4DFF) program at Regal Cinemas L.A. Live Stadium 14 in Downtown Los Angeles on Saturday December 6th 2014 from 10am to 7pm presented by 4DX! For our first year program we will feature three 4DX screenings including but not limited to: Dreamworks Animation's 20th Century Fox release of "Penguins of Madagascar in 4D" and Lionsgate's "Hunger Games Mockingjay Part 1 in 4D".4DFF MISSION STATEMENTThe 4D Film Festival is a community based organization dedicated to the development and expansion of 4D cinema technology for use by both studio and independent artists and their audiences. Through its live event programs, 4DFF seeks to inspire and support 4D independent film and theatre artists around the world and to introduce audiences to the magic and excitement of the 4D cinema going experience.STATE OF THE ART 4DX VENUERegal Cinemas L.A. Live Stadium 14 is the first cinema in the United States to feature a fully equipped 4DX® auditorium with technology created by CJ 4DPlex that incorporates a comfortable and bright 3D viewing experience and combines it with motion-based seating that is synchronized with over 20 different in theater special effects including motion, wind, bubbles, fog, lightning, and scents that enhance the visuals on-screen.
So what's 4DX? Read our original story here, and watch our video blog review below: