Rumor: Andrew Scott And Monica Bellucci Could Join 'Bond 24'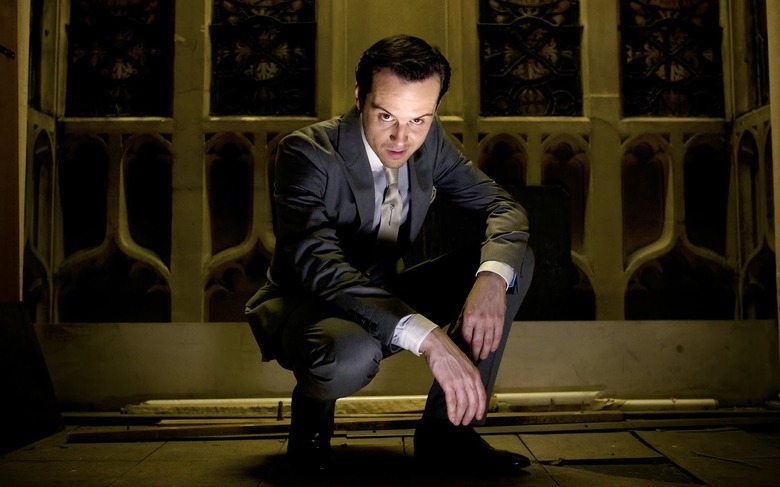 Sony, MGM, and Eon Productions will officially announce the cast and title of Bond 24 tomorrow. But in the meantime, here are two last casting rumors to keep you guessing.
A new story claims British actor Andrew Scott will play a villain in the new movie. Meanwhile, another source says Monica Bellucci may also be up for a part. Hit the jump for more on the Bond 24 Andrew Scott and Monica Belluci rumors.
Scott is probably best known right now for playing Moriarty in BBC's Sherlock, and that was apparently the role that convinced filmmakers to put him in Bond 24. His other notable roles include Saving Private Ryan, the John Adams HBO miniseries, and the upcoming Frankenstein retelling.
As for the Monica Bellucci rumor, that comes from the much more credible Deadline. However, they say only that she "may be in the mix," so it's unclear whether she's actually been cast or is simply gunning for a role.
The story doesn't seem too far-fetched. We've heard that Bond 24 will feature multiple "Bond girls" and that Bond 24 will shoot in Bellucci's native Italy. Bellucci's recent English-language credits include The Sorcerer's Apprentice and The Whistleblower.
What we know for sure is that Skyfall helmer Sam Mendes is returning to direct Bond 24, which will once again star Daniel Craig as the iconic spy. Ralph Fiennes, Ben Whishaw, Rory Kinnear, and Naomie Harris are all expected back, while Léa Seydoux, Dave Bautista and Christoph Waltz are reported to be joining them.
Bond 24 opens November 6, 2015 in the U.S. Check back at /Film tomorrow morning for all the officially confirmed details.