Sequel Bits: 'Mission: Impossible 5', 'Pitch Perfect 2', 'Paranormal Activity 5', 'Inferno', 'Creed'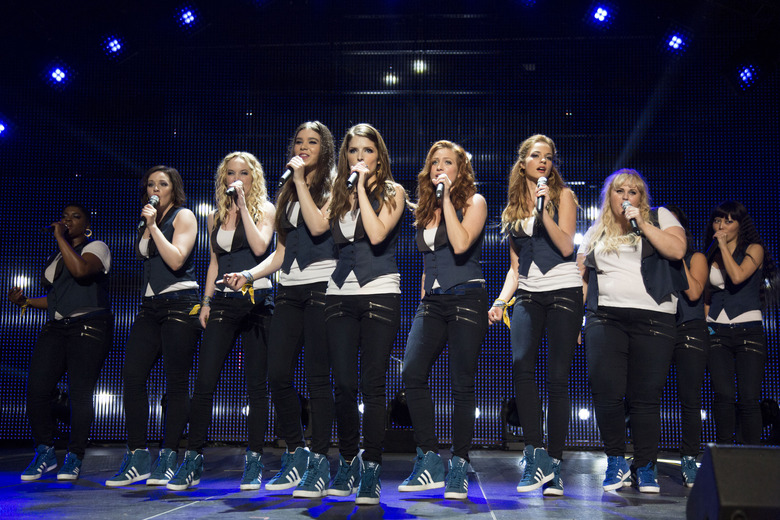 We may receive a commission on purchases made from links.
Not only is Beca back for Pitch Perfect 2, so is her signature plastic cup. Also after the jump:
Felicity Jones will join Tom Hanks in Inferno
Mel Brooks signs on for Hotel Transylvania 2
Stephen Hawking would like to be a Bond baddie
The Paranormal Activity franchise is going 3D
The Wanted 2 script is still being written
The Rocky spinoff Creed is looking for extras
Silent Night, Bloody Night 2 is in the works
Tom Cruise has a close call while shooting M:I 5
The latest film will have Harvard symbologist Henry Langdon (Hanks) waking up with amnesia in an Italian hospital. Jones will play a doctor who helps him recover his memory. The two then team up to stop a plague connected to Dante's Inferno. [Deadline]
In Hotel Transylvania, Adam Sandler voiced the vampire dad to a teenage daughter (Selena Gomez). In Hotel Transylvania 2, he'll be dealing with some daddy issues of his own. Mel Brooks has just been cast as Vlad, the estranged father of Sandler's Dracula.
The sequel has Vlad, a cranky "old school" type, coming to town after a mix-up. His arrival sends everyone's life into disarray, most of all Dracula's. "He doesn't treat Dracula with a lot of respect and they're often at odds. It makes for some wonderful comedy," said Brooks. Check out new pics from the animated sequel below.
Stephen Hawking has been in entertainment news a lot lately thanks to The Theory of Everything, a biopic in which he is played by Eddie Redmayne. But it sounds like Hawking wouldn't mind grabbing a little screen time of his own.
"My ideal role would be a baddie in James Bond," revealed the famed astrophysicist. "I think the wheelchair and the computer voice would fit the part." We can't say we disagree, though he's probably a little late for Bond 24. Good thing there's always Bond 25. [THR]
Paranormal Activity: The Ghost Dimension will go where no Paranormal Activity movie has ever gone before. And no, we're not talking about the "ghost dimension, whatever that is. What we mean is that the fifth Paranormal Activity film will be released in post-converted 3D — a first for the series.
3D seems somewhat contrary to the usual found-footage aesthetic, but we'll see how it pans out. Greg Plotkin is directing the next entry in the horror franchise from a script by Jason Pagan and Andrew Stark. Paramount Pictures is reportedly fast-tracking the film for release on March 13, 2015. [Bloody Disgusting]
A lot will have changed for the Bellas in Pitch Perfect 2, but Beca's affection for "Cups" apparently isn't one of them. The latest Pitch Perfect 2 poster has Anna Kendrick front and center, in the middle of performing her signature tune.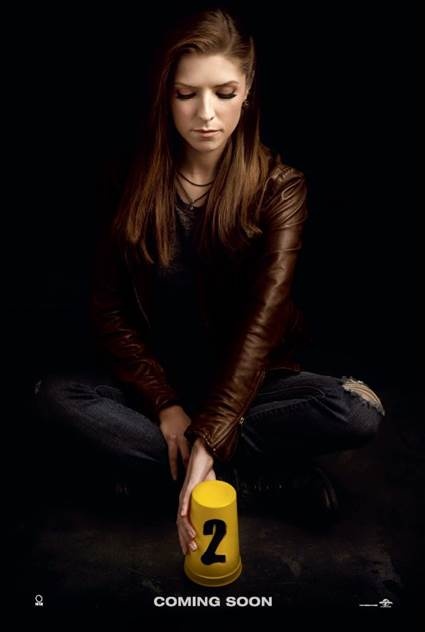 [MTV UK]
Wanted 2 entered development before Wanted even hit theaters, but six years later it's still in development. However, producer Marc Platt insists it isn't stuck there — the script is still moving forward.
We have a script that's getting pretty good. To do a sequel when it wasn't really set up for a sequel – one of our main characters dies in it. You don't want to just retread a similar story, but when we get the script to a certain bar, there will be a sequel. It's taken a while because it's challenging, as I said, because we lost a main, main character, so where that James McAvoy character goes now... we have good ideas though. It's coming along.
As for Mark Millar, who created the original Wanted comic book, Platt says he is "involved" in some capacity.
He's always going to be involved but he's not going to write the screenplay which is far along, as I said, but he's always going to be involved because the tone he puts forth is so much his tone and I think the film captured that dark humor of his really well.
Last we heard, the sequel was going to have McAvoy's Wesley bringing in a new female recruit, but it's unclear if that's still the plan. [Coming Soon]
Creed is coming to Rocky's hometown. The Ryan Coogler-directed spinoff is slated to start shooting in January, and the hunt is already on for extras in the Philadelphia area. More specific details can be found on Facebook.Michael B. Jordan leads the new movie as the grandson of Apollo Creed, the boxer played by Carl Weathers in earlier Rocky movies. Determined to follow in his grandfather's footsteps, the young Creed convinces Rocky Balboa (Sylvester Stallone) to train him in the ring. [On Location Vacations]Silent Night, Bloody Night is getting a sequel, four decades after the original hit theaters. Retrosploitation has announced that Silent Night, Bloody Night 2: Revival will shoot this month, with Jennifer Runyon (To All a Good Night) already booked in a supporting role.
This won't be the first attempt to bring back the 1974 classic. A remake called Silent Night, Bloody Night: The Homecoming was released last year but barely got any attention. [Facebook via Dread Central]
Tom Cruise doesn't mind a little danger, as evidenced by the fact that he does a lot of his own crazy stunts. Still, he probably wasn't expecting to find himself in peril off of the Mission: Impossible 5 set.
A new video shows Cruise nearly getting hit by a bus while shooting the action-packed sequel in London. He doesn't actually get injured, or you'd have heard about it already, but it looks like a pretty close call nonetheless.
Let this serve as a PSA to all Americans heading to England, famous or not: traffic goes the other way over there. [THR]