'Search Party' International Trailer Is A Mini 'Silicon Valley' Reunion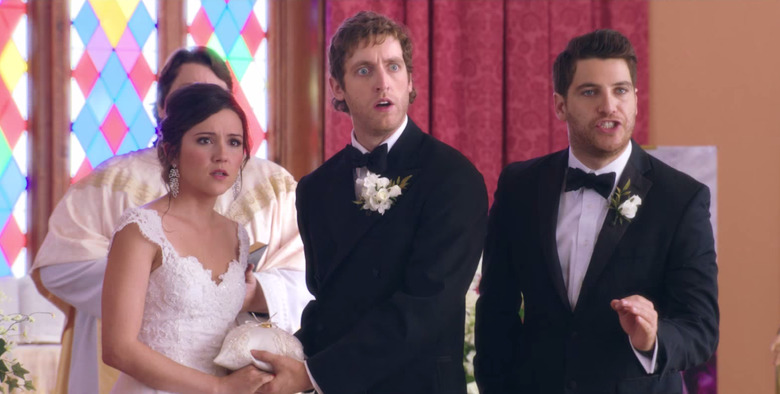 Silicon Valley isn't coming back for another several months, but in the meantime you can check in with two of the stars right here in the Search Party international trailer. Thomas Middleditch plays Nardo, a groom whose wedding day is ruined, and T.J. Miller plays Jason, the guy who ruins it.
Jason also happens to be Nardo's best friend, however, and when Nardo winds up naked and alone in Mexico it's up to Jason and their other pal Evan (Adam Pally) to rescue him. Watch the Search Party international trailer after the jump.
[via Collider]
Search Party is the directorial debut of writer/producer Scot Armstrong, and it shares the same themes and comic sensibilities we've seen in his scripts including The Hangover Part II, Semi-Pro, Old School, Road Trip. It's also got a very funny cast. In addition to the central trio of Pally, Middleditch, and Miller, it also features Krysten Ritter, Alison Brie, and Jason Mantzoukas.
Whether it all coalesces into something good remains to be seen. The first trailer isn't terribly memorable, but hopefully we'll get another, better look at the movie before long. Search Party was supposed to be released September 12, 2014 by Universal, but was quietly yanked off the calendar and has yet to be rescheduled.
24 hours ago, Nardo (Thomas Middleditch) was standing at the altar next to the love of his life. Now he's shivering in just a pair of gold leggings in the Mexican desert, and the only men who can save him are his best friends (TJ Miller, Adam Pally). Writer Scot Armstrong (Road Trip, Old School and The Hangover: Part II) makes his directorial debut in a comedy that follows a rescue by the guys you call when you've run out of all other options.