The Bond 24 Title Is 'Spectre'

Early this morning — well, late this morning in the U.K., but very early for us in the U.S. — Sony Pictures, MGM Studios, and Eon Productions teamed up to reveal some long-awaited details on the 24th James Bond movie. From the Bond stage at Pinewood ("where budgets go to die," joked director Sam Mendes) the first details of the film were revealed.
The Bond 24 title will be Spectre. More about the new title and cast after the jump.
The official James Bond Twitter account live-tweeted the big announcement this morning. Here's a great title treatment:
The 24th James Bond 007 film is called... #SPECTREhttps://t.co/g8CCxtk5ga

— James Bond (@007) December 4, 2014
Spectre is the fictional terrorist organization introduced in the novel Thunderball, and represented on screen beginning in Dr. No.
The name stands for SPecial Executive for Counter-intelligence, Terrorism, Revenge and Extortion. The organization's leader is Ernst Stavro Blofeld — the guy with the white cat who has been played by a few different actors over the years. A messy rights battle kept Blofeld and Spectre out of Bond films for many years. That issue was set right last year, clearing a path for their return to Bond films produced by EON Productions.
(The group called Quantum was introduced prior to that rights resolution, intended as a Spectre replacement. No doubt this new film will address that topic in some fashion.)
Also confirmed was the cast.
Christoph Waltz was brought out on stage at Pinewood, though not identified as Blofeld despite persistent speculation that he'll play the Spectre leader. But come on — the movie is called Spectre. Waltz's character is called Oberhauser by the official Twitter account:
And Christoph Waltz as Oberhauser! #SPECTRE pic.twitter.com/CPUXDDf0jt

— James Bond (@007) December 4, 2014
But not even Roger Moore is buying that:
So Blofeld is back!

— Sir Roger Moore (Legacy) (@sirrogermoore) December 4, 2014
Andrew Scott was confirmed to join as Denbigh, David Bautista will be Mr. Hinx, Monica Bellucci plays Lucia Sciarra, and Lea Seydoux is Madeleine Swann. In other words, the casting rumor mill had a far better track record with Spectre than with many past Bond films.
Here are tweeted shots of the new cast:
And welcoming... Andrew Scott as Denbigh pic.twitter.com/UNBlMoBmXz

— James Bond (@007) December 4, 2014
...David Bautista as Mr Hinx pic.twitter.com/tJxGnt5tct

— James Bond (@007) December 4, 2014
...Monica Bellucci as Lucia Sciarra pic.twitter.com/41klBClFzN

— James Bond (@007) December 4, 2014
...Léa Seydoux as Madeleine Swann. #SPECTRE pic.twitter.com/DR7DfAWkb1

— James Bond (@007) December 4, 2014
They will join returning stars Daniel Craig, Naomie Harris, Ralph Fiennes, Rory Kinneear, and Ben Whishaw.
Oh, and there's the new Aston Martin DB10: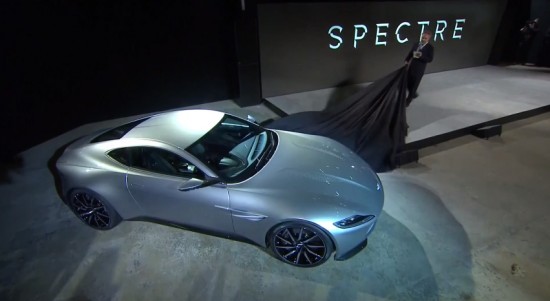 Returning to direct Spectre is Sam Mendes, whose Skyfall was the highest-grossing entry in the history of the Bond franchise — not to mention one of the best reviewed. Spectre also marks Craig's fourth outing as the iconic character.
Also back are screenwriter John Logan, who penned Skyfall, and screenwriters Neal Purvis and Robert Wade, who've been with the series since 1999's The World Is Not Enough. And as usual, Barbara Broccoli and Michael G. Wilson are producing.
Principal photography for Spectre begins Monday. The shoot is expected to hit London, Italy, Morocco, Mexico, and Austria. Spectre opens November 6, 2015.
Finally, here's the Spectre teaser poster. Obsess over the details of that strange bullet hole if you like. There's a clear resemblance to the old Spectre logo, seen in various versions on film and in video games, as on Blofeld's ring in From Russia With Love.