Could Peter Jackson Do More 'Lord Of The Rings' Movies?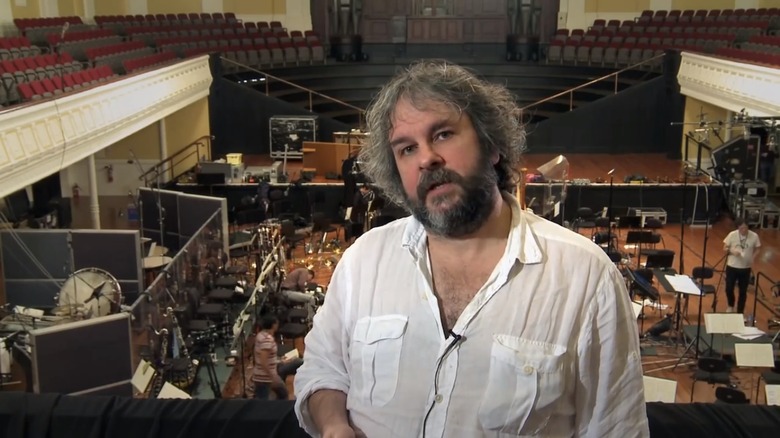 Peter Jackson has never quite been sure how many movies based on the world of J.R.R. Tolkien he was going to make. In his initial pitch, he combined the three Lord of the Rings novels into two movies. He then ended up making three. And even though those movies were long, he released extended editions of each. He then decided he didn't want to tackle The Hobbit, and passed the job to Guillermo del Toro. Del Toro dropped though and Jackson jumped back into the directors chair to make two movies based on the one book. As he was shooting though, he realized he had enough for three movies, and now we have both a Lord of the Rings Trilogy and a Hobbit Trilogy.
Both of those trilogies used information from Appendices Tolkien wrote later to add meat to the bone and that begs the question, is he really done? Well, at the press junket for The Hobbit: The Battle of the Five Armies that point was discussed. One actor seems to think more Lord of the Rings movies are possible but logistically, it's probably not. Read the quotes below.
The optimistic more Lord of the Rings movies quote comes from Ian McKellen who was talking to the BBC:
I was told by Peter, in 2001 that that was the end, that it was all over. Here we are 13 years later. So I don't believe necessarily that this is the end of the journey.
That's all well and good Sir Ian, but it'll take the cooperation of the Tolkien estate. Here's a quote from Jackson over the summer:
J.R.R. Tolkien sold the film rights to The Hobbit and The Lord of the Rings in the 1960s. The Silmarillion wasn't written yet. It wasn't even written in his lifetime. It was written by him and, partly, his son finished it after his death and published it after the professor had died. So, the film rights are with them, and the estate doesn't have any interest in discussing film rights with anybody. So that's the situation there. They're not as untangled as The Lord of the Rings and The Hobbit.
And he's reiterating that point at a recent press conference too.
So, unless the Tolkien's change their mind and want to make more movies, not only is Jackson not going to be making them, no one is.
Do you want to see more movies set in J.R.R. Tolkien's Middle Earth? Or is six enough?
Additional source: First Showing