Watch: Kevin Smith Reacts To 'Star Wars: The Force Awakens' Trailer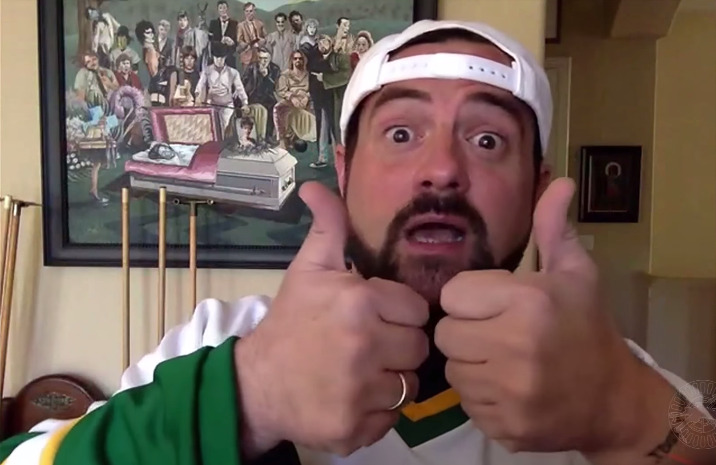 The most talked-about new release this Thanksgiving weekend wasn't an actual movie, but a teaser for one. The 88-second Star Wars: The Force Awakens trailer kept fans busy for days, as they picked it apart frame by frame and argued over its general merits.
Among the many who watched the trailer on repeat this weekend were longtime Star Wars fan Kevin Smith, who has now weighed in with his opinion. In typical Kevin Smith style, his video reaction takes him down memory lane and off into amusing tangents. Watch the Kevin Smith Star Wars The Force Awakens trailer reaction after the jump.
It seems Star Wars trailers are to Smith what madeleines were to Proust. Smith warns fans to "get ready for a f***ing anecdote" and then launches into a memory of seeing the Empire Strikes Back trailer in his youth, before circling back to his experience watching the Star Wars: The Force Awakens trailer.
I was really taken back to that moment. I remember sitting there watching the trailer for Empire Strikes Back and being electrified, being overjoyed. The cynicism and crap that comes along with being a fat, middle-aged man goes away in the face of [the Star Wars: The Force Awakens] trailer. At least it did for me, man. That's the best thing I can say about it is it took me back to that moment in my youth.
In conclusion, Smith says, "Jar-Jar Abrams, you did it!" But he's not completely satisfied, of course. Like all of us, he wants to see more, and he has some pretty specific ideas about what he'd like to get in the next trailer. "Hopefully we'll get to see Chewie. And Han. And Leia. And Luke," he says. "And I know I'm pushing it, but maybe Lando?"
Indeed, Smith even has some thoughts on what spinoffs should happen next. "You know what? I'd like to see Nien Nunb in these new sequels, in this new extended Star Wars," he says. "A whole f***ing Nien Nunb movie, man. Explain where that pussy-lipped motherf***er came from."
Okay, so the Nien Nunb thing may be a stretch. But we're willing to bet lots of people agree with Smith's overall assessment: "Thumbs up!"
Star Wars: The Force Awakens opens December 18, 2015.