'Better Call Saul' Clip Reveals Saul And Mike's First Meeting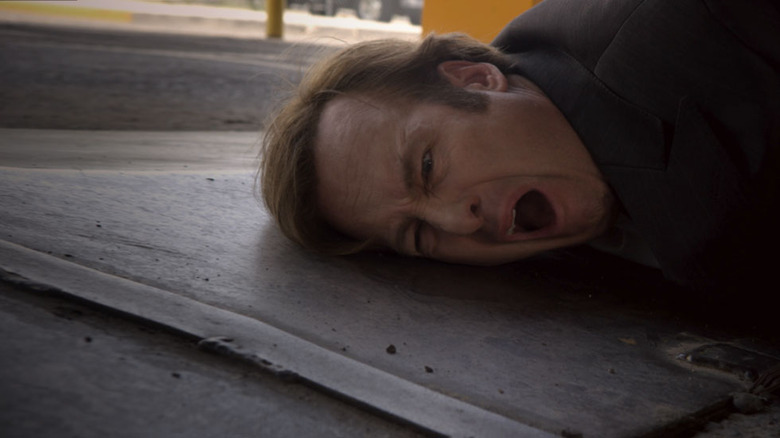 It's not like Saul Goodman (Bob Odenkirk) and Mike Ehrmentraut (Jonathan Banks) were BFFs when we knew them on Breaking Bad. But as it turns out, their Heisenberg-era relationship is downright cuddly compared to their earliest interactions.
AMC has revealed the first clip from its Breaking Bad spinoff Better Call Saul, showing them locking horns in one of their first meetings. Who'd have thought these two would go on to have such a long, fruitful professional relationship? Hit the jump for the new Better Call Saul clip, plus another Better Call Saul teaser.
[via AMC]
Though we've had hints and rumors about familiar character cameos in Better Call Saul, Mike is the only Breaking Bad alum to join Saul as a regular on Better Call Saul. Well, in front of the camera, anyway. Behind the camera will be Breaking Bad writer/producer Peter Gould and Breaking Bad creator Vince Gilligan, who will serve as co-showrunners on the first season of Better Call Saul.
The spinoff show promises to answer the question Gould put forth in a recent promo: "What kind of problem do you have that becoming Saul Goodman solves it?" It'll star Michael McKean, Rhea Seehorn, Patrick Fabian, and Michael Mando as "characters that will represent both legitimate and illegitimate sides of the law."
Better Call Saul kicks off on AMC with a two-night premiere on Sunday, February 8 at 10 PM (right after The Walking Dead's midseason premiere) and Monday, February 9 at 10 PM. That Monday slot will be Better Call Saul's regular home for the rest of the season.
Better Call Saul is the prequel to the award-winning series Breaking Bad, set six years before Saul Goodman (Bob Odenkirk) became Walter White's lawyer. When we meet him, the man who will become Saul Goodman is known as Jimmy McGill, a small-time lawyer searching for his destiny, and, more immediately, hustling to make ends meet. Working alongside, and often against, Jimmy is "fixer" Mike Erhmantraut (Jonathan Banks), a beloved character introduced in Breaking Bad. The series will track Jimmy's transformation into Saul Goodman, the man who puts "criminal" in "criminal lawyer."