The Best Miscellaneous Fun Movie/TV Gifts Of 2014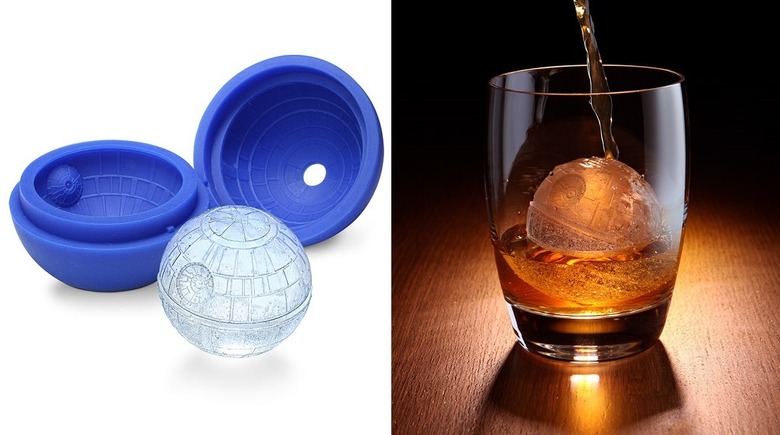 We may receive a commission on purchases made from links.
Welcome to the seventh part of /Film's Ultimate 2014 Film Geek Holiday Gift Guide. We hope we can help you find gifts for your pop culture-loving loved ones and friends (or, maybe even yourself).
This guide includes a ton of cool gifts, including a wide range of books, graphic novels, toys, collectibles, music, movies, games, art and other fun gifts, the majority of which were released this year. I've also tried to include a wide range of prices, from small stocking stuffers to blu-ray box sets to huge expensive collectibles for most of us to drool over. Everything included in the guide is something I either recommend, have been recommended by trusted friends, colleagues and readers, or something that just looks damn cool.
Today we bring you a look at some of the coolest other fun gifts released this year that your pop culture-loving loved ones and friends might enjoy as a gift this Holiday season.
Other Gifts
Inconceivable! A custom deck of unique playing cards based on The Princess Bride. This deck contains 54 custom cards manufactured by the USPCC. Unique court cards, gaffs, and jokers bring the The Princess Bride move to life right in your hand.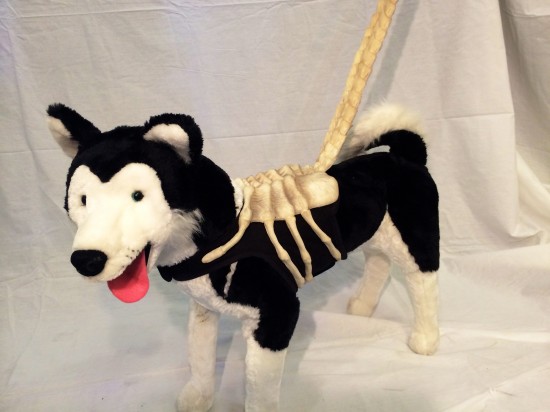 Alien Face Hugger dog leash with harness $150:
Designed to fit a small to medium sized dog, 15-35 pounds. This leash connects with velcro around the neck and chest of the dog securing the Face Hugger to your pets back. The alien is made of foam and airbrush painted, the harness is a light weight but durable mesh. The leash is hidden within the tail of the alien and ends with a loops for easy walking.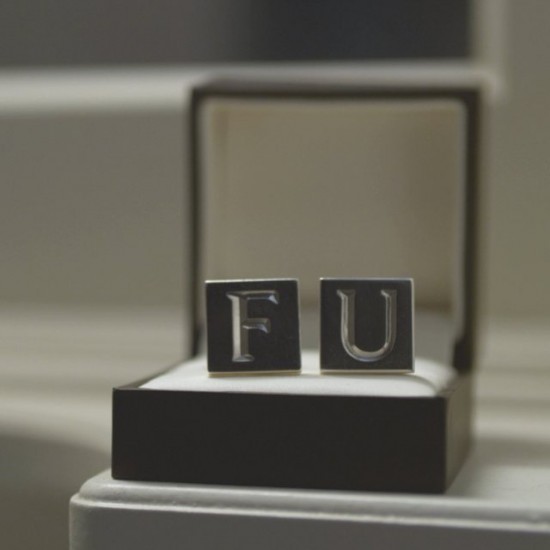 These silver cufflinks are replicas of the ones Frank receives as a birthday gift from his security guard at the end of the first episode of House of Cards, Season 2. Channel your inner Frank Underwood with these cufflinks on your sleeves and show them how you really feel. Custom molded sterling silver-plated FU cufflink set.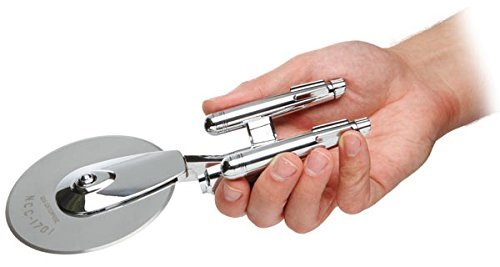 Star Trek Enterprise Pizza Cutter (Stainless Steel) $29
The classic design of the USS Enterprise, now as a pizza cutter Saucer cutter made of laser-etched stainless steel Zinc-chromium alloy secondary hull and warp nacelles for you to grip Officially licensed Star Trek collectable The only logical thing to use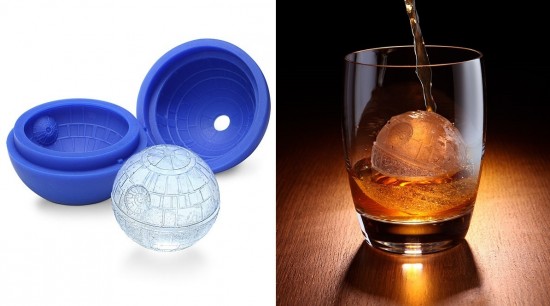 Kotobukiya Star Wars: Death Star Silicone Tray $8
A Kotobukiya Japanese import Makes a large ball of ice decorated in the shape of the first Death Star based on its appearance in Star Wars: A New Hope Made from heat- and cold-resistant silicone Freezer- and oven-safe for freezing and baking Comes packaged in a vinyl poly bag with unique art

Cult Movie Cards $20
Fifty-two cards. Fifty-two of your favourite cult movies. An awesome deck of playing cards for people who love cinema as much as we do.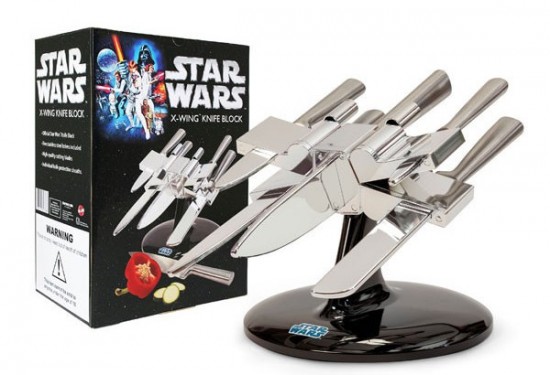 Star Wars X-Wing Knife Block $110
Star Wars Knife Block – X-Wing – Includes Full set of Knives. This set includes the block as well as a full set of knives! Looks just like an X-wing when all are stored in the block. Knives Included:Cook's Knife, Bread Knife, Carving Knife, Utility Knife, Paring Knife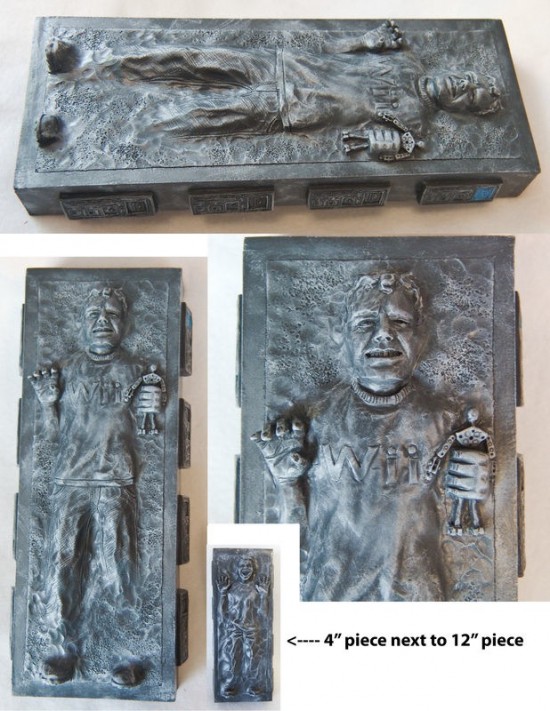 Custom Carbonites $75 or $300 depending on size: My girlfriend Alyssa got me one of these for Christmas a few years back and its awesome.
Be like your favorite outer space bounty hunter! With my Custom Carbonites, you can have yourself or a loved one (or even an enemy) forever encased in carbonite.  Now available in two sizes!  Small Custom Carbonites measure 4-1/4" H x 1-3/4" W x 3/4" Thick. Large Custom Carbonites measure 12" H x 4-3/4"W x 1-3/4" Thick.  Each are made of plastic and Super Sculpey. (They are not edible.) Each Custom Carbonite is sculpted to look like whomever you choose. Just send your picture to paulpape@gmail.com and I will sculpt the likeness, from the clothes, to the pose. WIll you choose the classic pose, or something more whimsical? The choice is yours.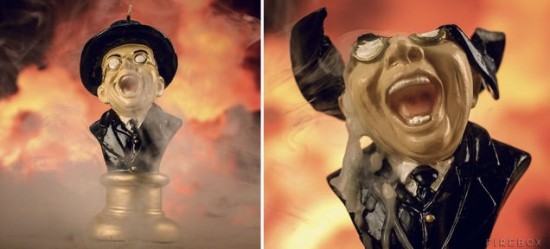 Raiders Of The Lost Ark Melting Nazi Face Candle $31
If you've seen Raiders of the Lost Ark, there's probably one scene that really sticks in the memory. No not that gigantic boulder tumbling after Indy, nor when he shoots that sword-twirling nutter in the market square, nor even when he has that uncomfortable staring contest with a cobra... No, we're talking about when ruthless Gestapo agent Toht gets his gory comeuppance at the end of the film – you know, when his eyes roll back like a couple of boiled eggs and he lets out a blood-curdling scream as his entire face dribbles off his skull. That bit. Just awesome. He did Nazi that coming. Whether it left you with nightmares for weeks or just had you repeatedly hitting the re-wind button, celebrate one of the greatest deaths in all of cinema history with the Melting Toht Candle. Thankfully this detailed replica won't melt quite as fast so you can really savor the moment.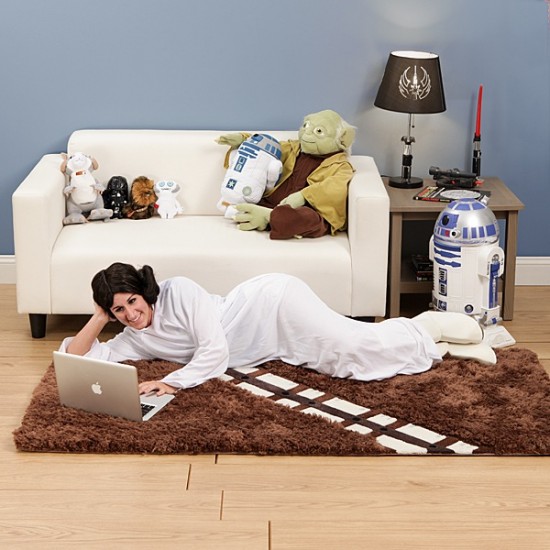 Chewbacca Rugs $100-150:
Princess Leia calls Chewie a walking carpet. Boba Fett wants to actually MAKE Chewbacca into a carpet. Well, a Wookiee carpet would be quite comfortable to roll around on, now that we think about it. But we couldn't hurt a Wookiee. Seriously, have you seen them – they're huge and strong! So, we made this synthetic version of a Wookiee, which we call Chewbacca Rugs. Chewbacca Rugs are soft and fluffy and even have his bandolier running diagonally across them. Two different sizes will make sure you have add the proper amount of Wookiee to the room you are decorating. And we promise, no Wookiees were harmed in the making of these rugs. Ewoks, on the other hand....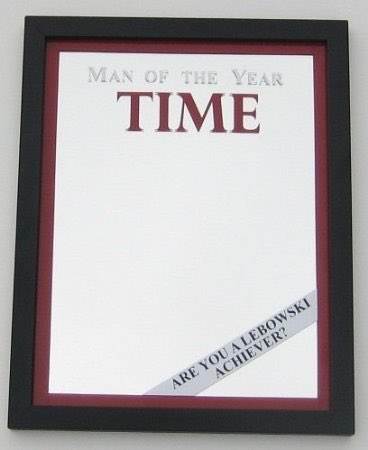 The Big Lebowski - TIME – Man of the Year Mirror $43: A replica of the prop as seen in the Coen Brothers classic, a great gift for any fan of The Dude.
The Firefly Serenity Flash Drive is a beautifully detailed, die-cast metal replica of the Firefly-class Serenity cargo ship. It weighs just over 2 ounces, and features light-up engine lights (when plugged into a USB port). But the Firefly Serenity Flash Drive is also a flash drive. Simply push the ejection button (top of the ship) and the ultra-thin, virtually indestructible flash drive is revealed. Use your Firefly Serenity Flash Drive to store 8GB of whatever your wish; we use ours to store our fanfic, including our opus, "The Return of Wash." Product Specifications A shiny (literally), die-cast metal replica of Serenity – and it's a flash drive! Light-up engines (when plugged into USB port) Push-button ejection USB flash drive (press the button, and the flash drive pops out the back) Loop, for your keychain Shiny box Officially-licensed, Firefly collectible USB 2.0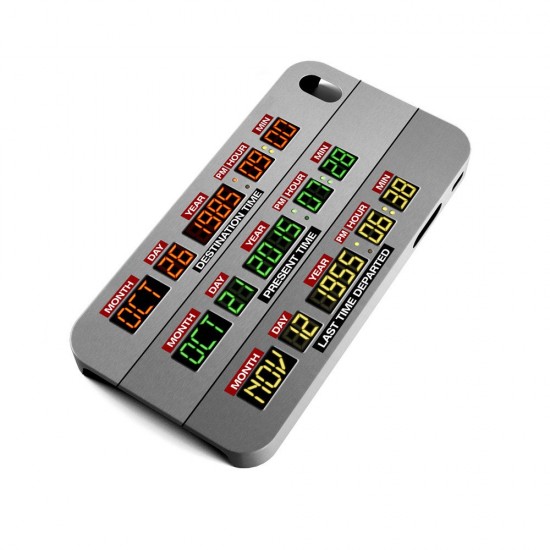 Back to the Future Delorean dashboard phone-case $16
Our phone cases are created using the very latest in 3D vacuum printing technology so that the image wraps around your phone rather than being printed on to a single flat sheet of metal which is then adhered to a rubber case. This allows us to produce a more professional looking product which can easily snap on and off your phone. Each phone case is presented in a card-backed GameDude blister pack.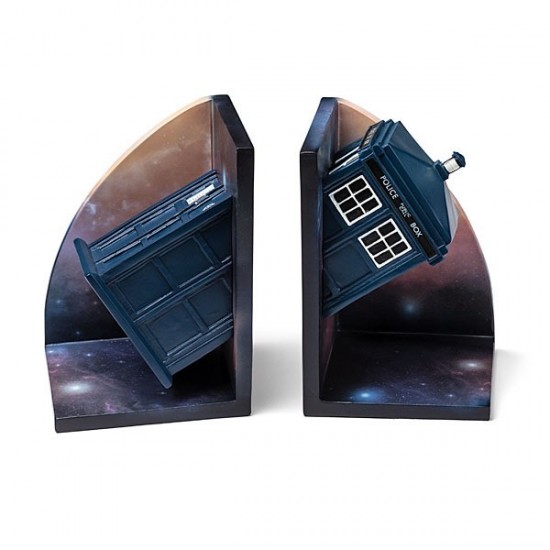 Doctor Who Bookends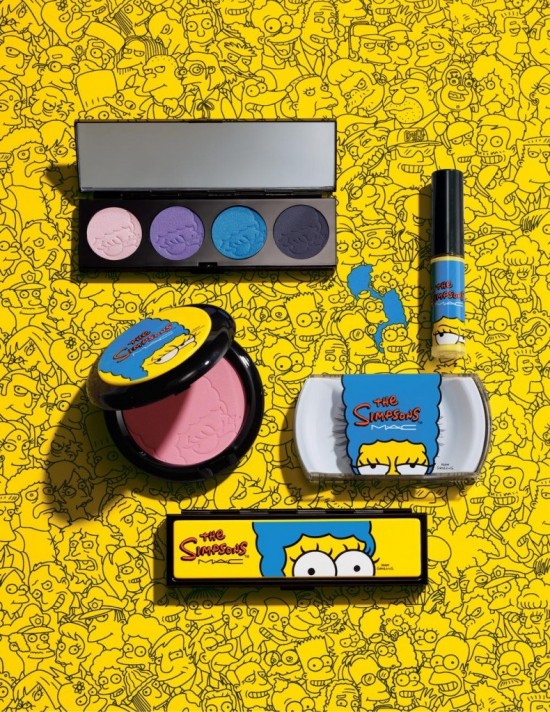 The Simpsons Collection Makeup Line From MAC Cosmetics Various
On the occasion of its 25th anniversary, M·A·C honours the one, the only, THE SIMPSONS. We are celebrating the country's favourite animated family and its beloved matriarch Marge with a vibrant colour collection that screams That Trillion Dollar Look. Our classic formulas and finishes you love are to blue dye for with an animated twist. All in limited-edition packaging that can only be described in one word: Eeeeexcellent.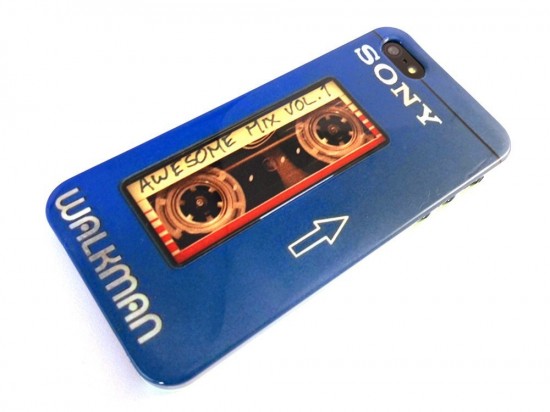 Awesome Mix Vol.1 x Sony TPS-L2 Walkman 1979 iPhone 5/5s Case $22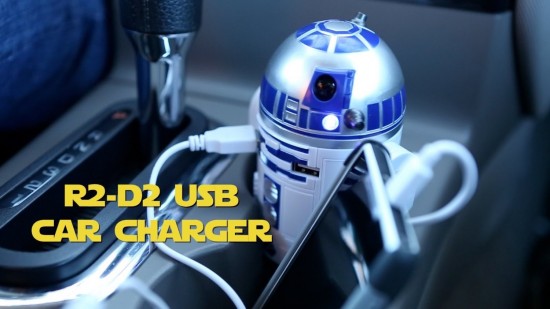 R2D2 USB Car Charger That Whistles & Beeps in Your Cup Holder $70
Officially-licensed Star Wars merchandise Compatible with anything that charges via USB (iPhones, smartphones, iPads, tablets, GPSes, etc.) as long as you have the cable Two (2) USB charging ports Each port provides 2.1 Amps (enough to charge 2 tablets simultaneously) R2-D2's dome rotates and lights up; he whistles and beeps (when power is connected and when your device begins to charge; force him to animate by pressing his center button which turns power to the ports on)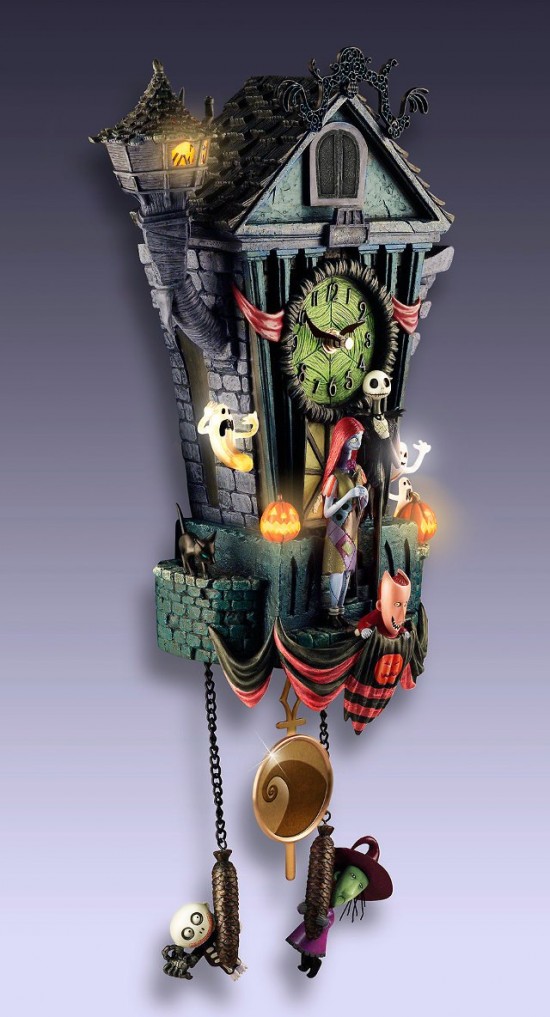 The Nightmare Before Christmas Cuckoo Clock $200
The spectacular spookiness that Tim Burton and Disney created in "The Nightmare Before Christmas" film comes to life as a fantastical cuckoo clock: The Nightmare Before Christmas Cuckoo Clock, specially designed and proudly presented by The Bradford Exchange This fully sculptural cuckoo clock is handcrafted to recreate the spooky charm of Tim Burton's imaginative classic Hand-painted in vivid, nightmarish colors to bring all the brilliance of Halloween Town and its creepy denizens to life It lights up! At the flip of the separate on/off switch, brilliant LED lights illuminate the windows of Jack's Tower, the ghosts and the pumpkins Jack Skellington and Sally stand in front of the Town Hall and Jack's Tower, while beneath them Lock cheers on Shock and Barrel as they hang from the clock's pinecone weights The Town Hall clock face, powered by an accurate quartz movement, boasts a spider web design and slightly off-kilter numbers, just like the Town Hall clock in the beloved film The swinging brass-toned pendulum is decorated with the Halloween Town Spiral Hill Sound and movement! Instead of a traditional cuckoo on the hour, this clock plays "This is Halloween" while Zero pops in and out of the doors atop the Town Hall Powered by 3 "AAA" and 1 "AA" batteries (not included) Edition limited to 295 crafting days, so order now! Accompanied by a Certificate authenticating your cuckoo clock is an original from The Bradford Exchange Measures 21" H, including pine cone weights; 53.3 cm H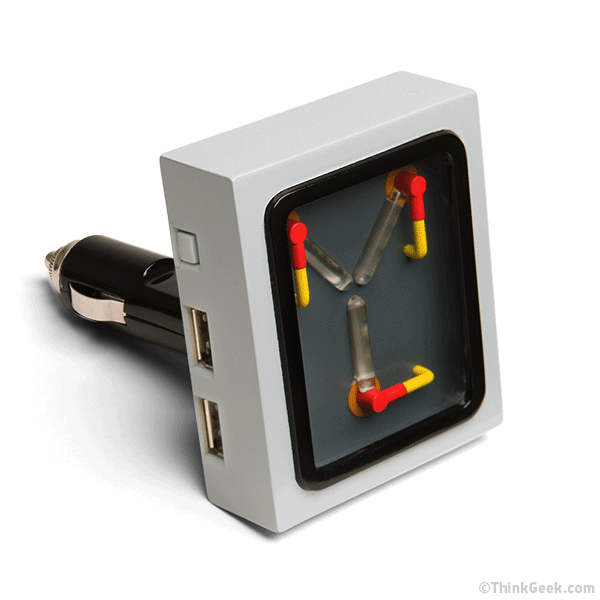 Back To The Future Flux Capacitor USB Car Charger $60
Each Flux Capacitor Car Charger has two USB ports, each capable of charging almost any USB powered device (it pumps out 2.1 Amps). But it also has that beautiful Flux Capacitor light sequence we all know and love. Even traffic jams (either terrestrial or aerial (if your car is powered by Mr. Fusion)) won't bother you because your device will be charging and the Flux Capacitor Car Charger's pulse will make you feel more important than anyone else. It's time to write your name in your underwear, Calvin, and get yourself a Flux Capacitor Car Charger in the present (so you can enjoy it in the future).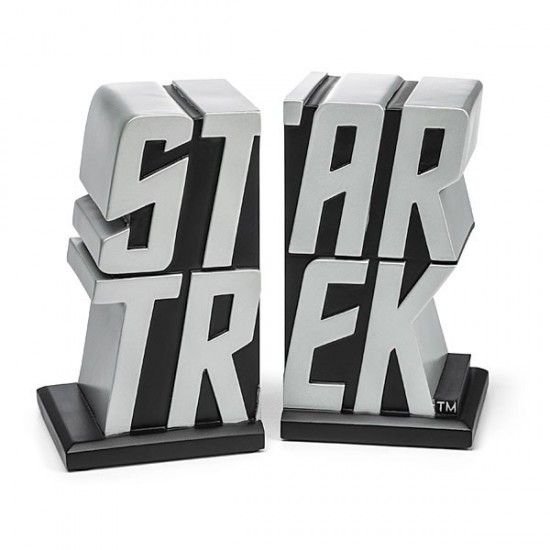 Star Trek Logo Bookends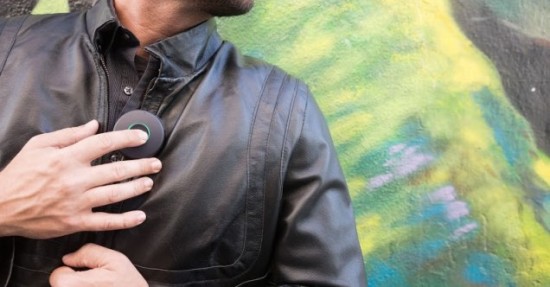 Someone Made a Real-Life Star Trek Communicator You Can Buy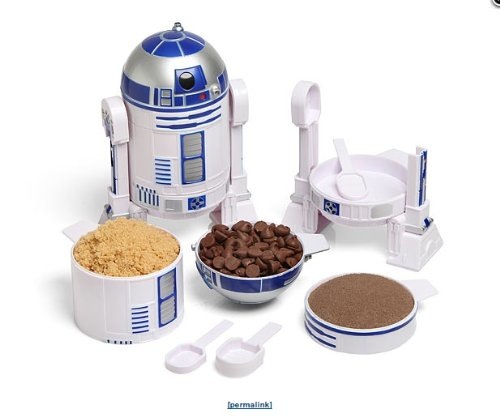 Star Wars R2-D2 Measuring Cup Set – Limited Edition $38
One of the fun things about using these R2-D2 measuring cups is that you get to play like you're a Jawa. See, you found this droid, and in order to make it useful, you're going to have to take it all apart. Utinni! But NOT with your ion blaster. Sorry. And we recommend an apron for the kitchen vs. those brown robes with the potentially flammable cuffs. This set of R2-D2 Measuring Cups disassembles into 4 measuring cups plus 4 measuring spoons and reassembles in a snap (fortunately, it's not as complicated as C-3PO). Each has its measurement written inside so you can't forget what they are and handles on the back that don't distract from R2's aesthetic. The only problem we can foresee with these is that if you show somebody else your R2-D2 Measuring Cups, you may have to install a restraining bolt to keep them from wandering off. Do not microwave. Not dishwasher-safe.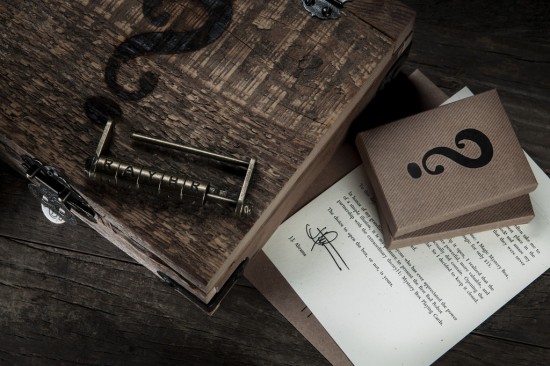 JJ Abrams x Theory 11 Mystery Box $150
A handcrafted, wooden lockbox made of 100-year-old reclaimed wood, containing 12 decks of Mystery Box Playing Cards. Each box is locked with an alphanumeric combination, and the lid is iron-branded with the Mystery Box emblem. The decks are housed in a handcrafted wood box made of 100 year old reclaimed wood. Each lockbox is iron-branded and locked with an alpha-numeric combination lock. The lock box includes a letterpressed note from J.J. Abrams enclosed in a kraft paper envelope stamped with a black wax seal. Each lockbox is handcrafted.
Theory 11's Mystery Box Bad Robot Playing Card Deck $10
Each deck is individually wrapped in letterpressed kraft paper, with the Mystery Box question mark emblem printed on the front. Art direction by J.J. Abrams and Jonathan Bayme. Bad Robot will donate $1 per deck purchased to 826 National, a non-profit dedicated to promoting creative writing in schools and workshops around the USA. Help us share the wonder.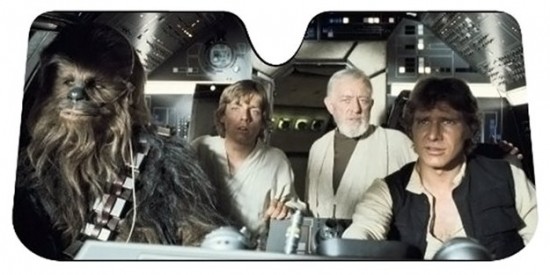 Star Wars Millennium Falcon Windshield Sunshade $15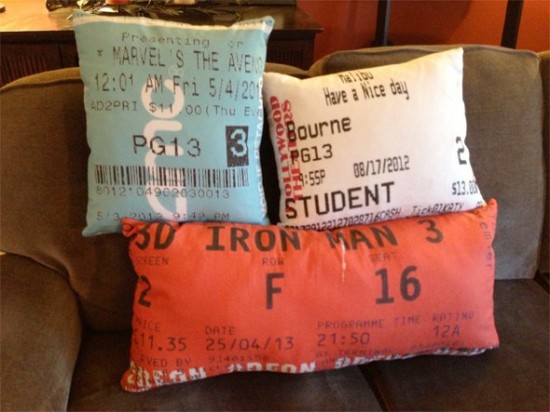 Turn Old Movie Ticket Stubs into Awesome Pillows for Any Cinephile Roughly $30 A Pillow In Costs: This is an arts and crafts project that will take some of your own time but it could be a very cool custom gift for your loved one.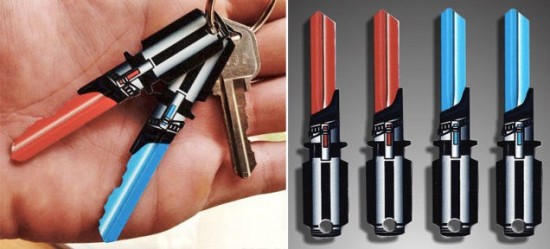 Lightsaber Replacement Keys: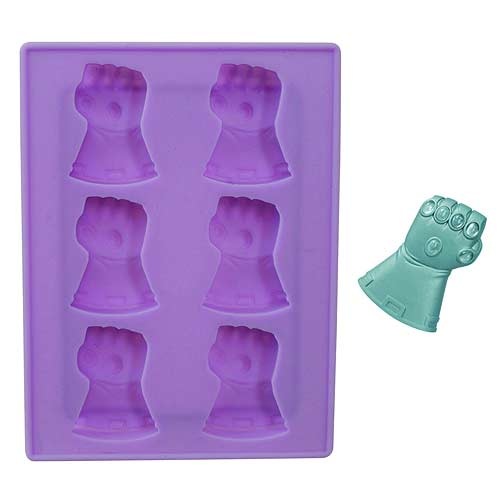 Marvel Infinity Guantlet Silicone Ice Tray $15: What Marvel fan wouldn't want Infinity Guantlet ice cubes? Note: This is a preorder for May 2015.
The Infinity Gauntlet is the most powerful weapon in the Marvel Universe, allowing the bearer to control time, space, and reality. And now it can cool your drink! Cast up to six ice cubes in the shape of the Infinity Gauntlet using this silicone tray, or fill the tray up with chocolate to make six tasty treats! Your guests won't know what hit them! Packaged in a full-color window box. The Marvel Infinity Gauntlet Silicone Ice Tray measures approximately 8-inches long x 6-inches wide.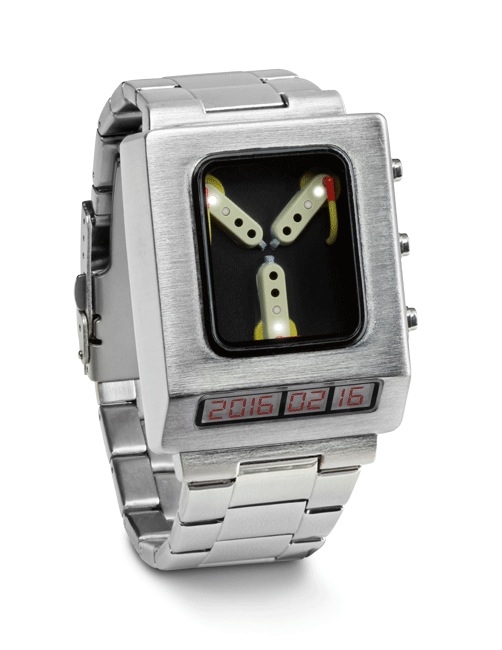 Back to the Future Flux Capacitor Wristwatch $50
Reading the time on the Back to the Future Flux Capacitor Wristwatch is pretty fun. Press the bottom button and then get ready to count lights. Time is divided into hours, minutes first digit, minutes second digit – so it looks confusing, but is very easy to read. (Example: 10 lights, 5 lights, 3 lights = 10:53 – and it repeats). At the same time, the time circuit LCD display will show you the date. But the Back to the Future Flux Capacitor Wristwatch just doesn't tell the time – with a press of the middle button, you can also activate "Time Travel" mode, where the Flux Capacitor will flux and the time circuit will display a random date. Will you travel to said date if you run 88mph? Actually, we're not sure. If you do, however, manage to do that, please send us a postcard.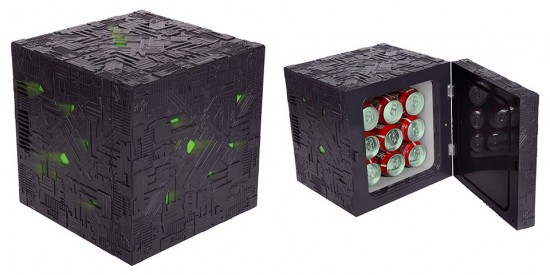 Star Trek Borg Cube Fridge $250
The Borg Cube Fridge looks, well, like a Borg Cube. It's small, so it won't take up a lot of space in your alcove, as you plug it into a standard 120V AC outlet. Plus, it can be powered by 12V DC power source, so when you pop off in a Borg Sphere for some cruising, you can bring your snacks with you. And yes, it does have a setting for cool and a setting for heat. With the Borg Cube Fridge, your great food will be contained until it can be assimilated... into your face! Product Specifications It's a Borg Cube – for your food! Glows green behind the Borg coating to look like the ship from Star Trek Green inside light, too! Has a warm and a cool setting for keeping food either warm or cold Officially-licensed Star Trek food technology A ThinkGeek exclusive! Rubber feet to protect surface Locking door to prevent spillage Capacity: 9 cans of soda (with a little extra room for bacon or something) Includes: Fridge, 4ft 110V AC power cord (for use in home), 12V DC power cord (for use in car) Cooling Capability: approx. 32-44°F Heating Capability: approx. 131-149°F Outer Dimensions: approx. 11.5" cubed! Inner Dimensions: approx. 6" x 7.5" x 8.25"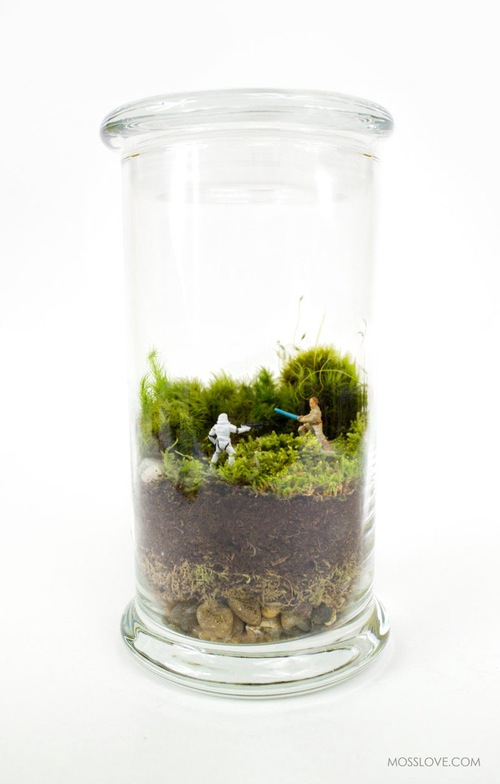 Star Wars Terrariums $34: A very cool custom hand made gift for your favorite Star Wars fan.
"I'll never join you!" Enjoy this one, you will. This vintage miniature Luke Skywalker is nestled in a live moss terrarium – just a mist every few weeks and some indirect light, and you've got a thriving little world! CONTENTS Fully assembled live moss terrarium in glass jar, approx. 6.625" tall (incl. lid) x 3.5" wide Separately packaged habitants (you get to do the honors!) Easy-to-understand unpacking and care sheet Small spray bottle Habitant poses and moss may vary, but all will be equally awesome.
Star Trek Phaser Remote Replica $150
This ST:TOS Phaser Remote lets you harmlessly blast your home entertainment system into submission. Recreated from 3D laser scans of the last known screen-used hero prop, it looks good, but it's also a fully-functioning programmable infrared remote control. And when we say "phaser" we aren't getting away with just giving you the Phaser I. Nope. It does include the Phaser I which functions as a standalone gesture-based universal remote control but also slots into its Phaser II pistol-grip base, which provides additional controls. You can store up to 36 programmable gestures: plenty to control all of your Earth-based entertainment equipment. The combined unit (Type I and Type II together) features a wide range of settings and beam strengths, including different Phaser firing sounds (including Phaser Overload sequence) and authentic Starship Enterprise sounds.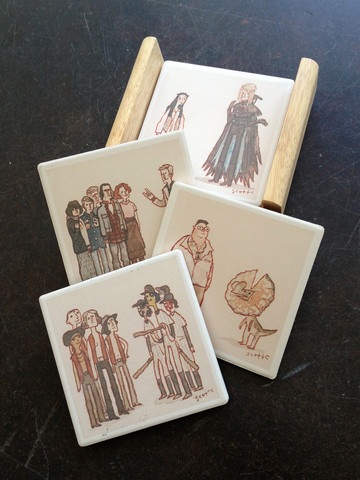 Scott C's Great Showdowns Coaster Set #2 $35
The coaster set includes 4 earthware drink coasters and wood holder. Each coaster is 4 x 4 x 1/4 inches. The set includes: Breakfast Club, Labyrinth, Jurassic Park, The Warriors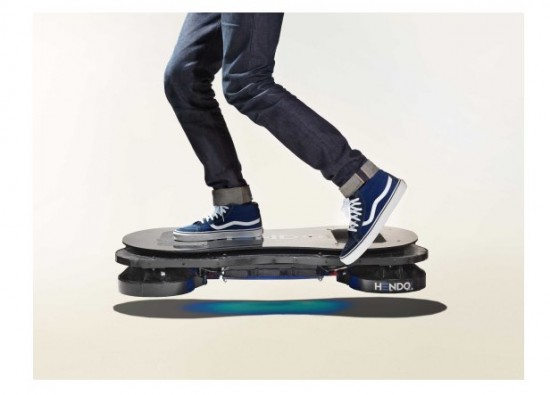 Hendo Hoverboard $10,000: Its almost 2015, so you should have your very own Hoverboard.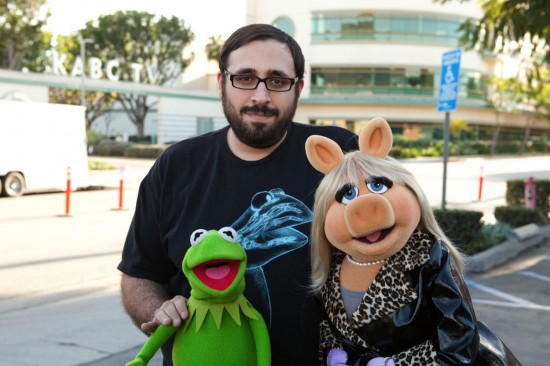 Thanks for reading the seventh installment of our Holiday Gift Guide, the final installment will hit later today. I spent a lot of time curating this list and am very grateful you made it this far and found it useful! If you're feeling extra generous this Holiday season, you can send me a gift off of my Amazon Holiday Wishlist. Thanks again and Happy Holidays!
Check Out The Other Parts of /Film's Ultimate Film Geek Holiday Gift Guide 2014: