'Big Hero 6' End Credits Scene Revealed In New Featurette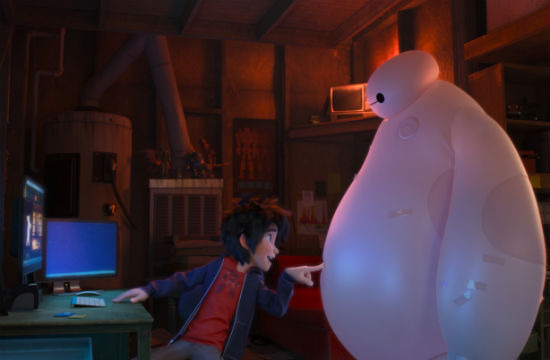 When I interviewed Big Hero 6 directors Don Hall and Chris Williams, I mentioned to them their Marvel adaptation was missing an end credits scene like other Marvel movies. As I walked out the door, Williams stopped me and said, "See it again once the film is in theaters." Which I did. And lo and behold, Disney Animation held back an awesome end credits scene just for paying audiences — most screenings right up until the release of the film did not have the tag.
The scene not only potentially sets up a sequel, it features a world class voice cameo. We won't spoil it above the jump, but below, we will do so, and even show you some footage. Learn about the Big Hero 6 end credits scene below.
SPOILERS FOR BIG HERO 6 FOLLOW
So at the end of the credits, Fred (T.J. Miller) walks into his house dejected. He misses his family, who is always away on their special island. His dad bears a striking resemblance to Stan Lee and when he touches the painting showing a family portrait, a secret room opens. Fred walks in —  he can't believe it, his parents are superheroes! Just then, his father, who looks like and is voiced by Stan Lee, walks in. Fred is stunned and his dad tells them they share the same attitude when it comes to laundry. The pair hug and the scene ends with dad telling Fred they have a lot to talk about.
Pretty awesome right?
Well Mashable has a new featurette featuring Stan Lee talking about his small role in the Big Hero 6 end credits scene which includes some footage.
Big Hero 6 End Credits Scene Revealed
I'd imagine, in the coming weeks, as Disney tries to squeeze an extra few dollars out of the Big Hero 6 box office (which has been solid) we might see this full scene. But, for now, this will have to do.
If you haven't seen Big Hero 6, do that, it's a great, heartfelt action film that's perfect for the holiday weekend.