You Can Buy Mondo's First 'Pulp Fiction' Poster On Black Friday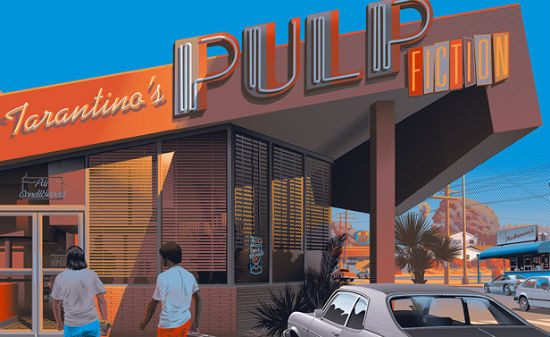 Oh I'm sorry, did I break your concentration? Mondo is finally releasing a poster for Quentin Tarantino's Pulp Fiction and I guarantee you can buy one.
On Black Friday, Mondo will release Pulp Fiction by Laurent Durieux as a timed edition. That means they'll make as many as they sell. You have from Friday November 28 through Monday December 1 to purchase the poster, with 10% of the proceeds from the sale going to the Sally Menke Fellowship.
There will also be a variant edition, on sale at a later time, which will be much more limited; 100% of the proceeds from that edition will go to the Foundation. Those prints will all be signed by Tarantino himself. See both Mondo Pulp Fiction posters below.
Here are Laurent Durieux's Mondo Pulp Fiction posters. The regular blue one, on the left, is available as a timed edition on Black Friday. The variant aqua edition will be available at a later date via @MondoNews.
Laurent Durieux Mondo Pulp Fiction
The only differences between the regular and variant are the blue and aqua colors are swapped, the licence plate of the Nova, and the billboard in the top left. Durieux filled the whole poster will cool nods to the film. It's a great piece. It measures 36 x 24 inches and will cost $60, plus shipping. Click here to buy the poster on Friday.
Here's some more information the poster, Menke and the foundation that the funds will go to.
Mondo is excited to announce a stunning screen print for Pulp Fiction from artist Laurent Durieux that will be available as a timed sale beginning on Black Friday (11/28) through 11:59 PM CT on Monday, 12/1. During that period the regular version of Durieux's art will be available for anyone who wants to purchase it. Mondo will donate 10% of the proceeds from the timed sale of the regular print to the Sally Menke Fellowship. The variant print will be signed by Quentin Tarantino with 100% of the proceeds going to the Sally Menke Fellowship. The online sale info for the variant print will be announced at a future date via @MondoNews.
Over many years, Sally Menke was an inspired mentor to Sundance Institute filmmakers and editors. She loved the editing room and spent hours with the Fellows, using her own experiences and skills to help the filmmakers bring their visions to life. Her many credits as an Editor and close collaborator with Quentin Tarantino include Pulp Fiction, Inglourious Basterds, Jackie Brown, Kill Bill and Reservoir Dogs. In 2011, the Sundance Institute created the Sally Menke Memorial Editing Fellowship to honor Sally's memory as well as her love of mentoring. The Fellowship is designed to support emerging narrative editors by furthering their understanding of craft, expanding their artistic community and providing momentum to their editing careers. Past Fellows include Alex O'Flinn (A Girl Walks Home Alone at Night), Julia Bloch (Blue Ruin), Debbie Berman (The United), and Joseph Krings (28 Hotel Rooms), while past mentors have included the accomplished editors Dylan Tichenor (Zero Dark Thirty), Jeffrey Ford (The Avengers, Crazy Heart), Joe Hutshing (Almost Famous), Barbara Tulliver (Signs), Jay Rabinowitz (The Tree of Life), Suzy Elmiger (Short Cuts), Tim Squyres (Life of Pi), and Christopher Tellefsen (Moneyball).
The artwork depicts the iconic diner that bookends Quentin Tarantino's masterpiece along with fun easter eggs from the film peppered throughout the environment. Laurent Durieux, a Brussels illustrator and graphic designer, gained widespread attention for a "jaw-dropping" print for Jaws in 2013 and quickly became one of Mondo's most sought after artists. More of his brilliantly detailed artwork can be found here.