'Star Wars: The Force Awakens' Trailer FAQ: Your Questions Answered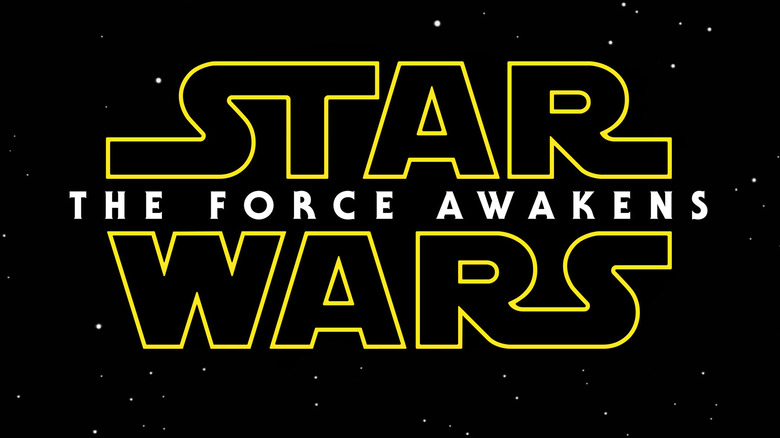 An early 88-second tease of Star Wars: The Force Awakens can be seen in 30 theaters (20 with IMAX screens, 10 without) across North America beginning Friday morning, November 28th. Because of this I'm getting a ton of questions on Twitter – what movies is it playing in front of, when will it be online, what is in the trailer – so I thought I'd put together a Frequently Asked Questions document to answer your Force Awakens trailer questions.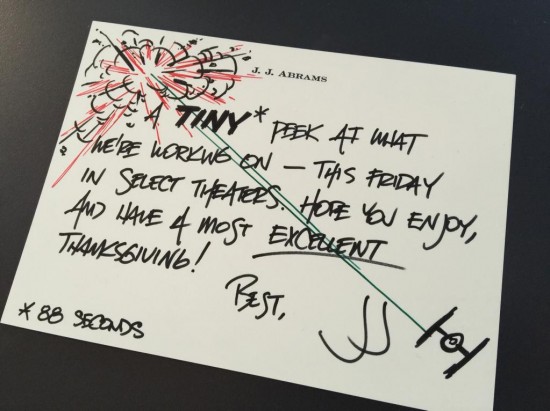 How Long Is the Trailer?
It is 88 seconds long, according to JJ Abrams' note. (Seen above.)
Will the Trailer Show New Footage or Is It Just a Teaser?
Technically, it is a teaser trailer as it runs less than 90 seconds in length, but it is expected to show the first footage from the movie, including the new characters and villain and feature new Star Wars music composed by John Williams. It's a big deal and you'll want to see it, not in a crappy pirated copy online but on the big screen.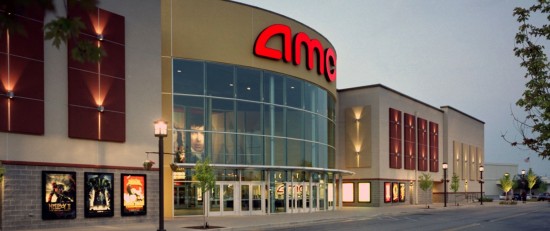 Where Can I See the Star Wars: The Force Awakens Teaser Trailer?
Lucasfilm has announced 30 movie theaters around North America which will show the teaser trailer before every screening. The list is below:
PHOENIX, AZ HARKINS TEMPE MARKETPLACE
LOS ANGELES, CA  AMC CENTURY CITY and EL CAPITAN
IRVINE, CA  REGAL SPECTRUM IRVINE 21
SAN FRANCISCO, CA  AMC METERON 16
SAN JOSE, CA CINEMARK OAKRIDGE 20
SAN DIEGO, CA REGAL MIRA MESA 18
TORONTO, CANADA CPX YOUNGE & DUNDAS
VANCOUVER, CANADA CPX RIVERPORT
DENVER, CO  AMC WESTMINSTER 24
WASHINGTON D.C. AMC TYSONS CORNER 16
MIAMI, FL CARMIKE PARISIAN 20
ATLANTA, GA REGAL ATLANTIC STATION
CHICAGO IL REGAL CITY NORTH
BOSTON MA AMC BOSTON COMMONS 19
DETROIT MI CINEMARK SHOWCASE 20
MINNEAPOLIS MN AMC SOUTHDALE
KANSAS CITY MO AMC STUDIO 30
NEW YORK NY AMC LINCOLN SQUARE 12 and 

REGAL UNION SQAURE
CLEVELAND OH CINEMARK CINEMARK 24
PHILADELPHIA, PA REGAL WARRINGTON 22
NASHVILLE, TN CARMIKE THOROUGHBRED 20
KNOXVILLE, TN REGAL PINNACLE
DALLAS, TX CINEMARK WEST PLANO 20
HOSTON TX REGAL MARQ*E STADIUM 23
AUSTIN TX ALAMO ALAMO S LAMAR
SALT LAKE CITY UT CINEMARK CINEMARK 24 WEST JORDAN
SEATTLE WA REGAL THORNTON PLACE 14
MILWAUKEE WI MARCUS BROOKFIELD 16
Is the Trailer Playing Just on Friday?
No. The trailer will be playing at these theaters beginning Friday morning November 28th through end of day Sunday November, 30th 2014. (No midnight screenings Thursday).
What Happens After Sunday November 30th 2014? Will the Trailer No Longer Be in Theaters?
StarWars.com has confirmed that the trailer will "be seen in theaters around the world this December." The Hobbit: The Battle of the Five Armies is a near guarantee.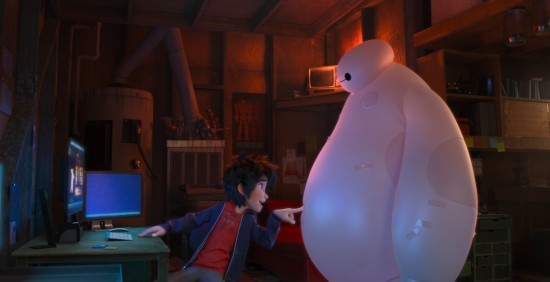 Which movies and showtimes will have the trailer attached?
The trailer will play in front of every showtime of every movie at these 30 theaters on Friday, Saturday and Sunday. AMC Theatres has confirmed this. This trailer debut is unprecedented.
Which Movie Should I See to Watch the Teaser Trailer?
Tickets in most cities are not yet on sale, but the early rumor is that theaters would have to agree to put Disney's Big Hero 6 as their earliest showtime, so the early matinee screening of the Disney Animation film might be your earliest bet. But if that's sold out, anything will work.

Will the trailer be shown during IMAX screenings or just normal movies?Yes, the trailer will play on all screens in these theaters, including IMAX. IMAX has confirmed that the following IMAX theaters will have the trailer this weekend:
SilverCity Riverport & IMAX — Richmond, BC
Edwards Irvine Spectrum 21 & IMAX — Irvine, CA
AMC Century City 15 & IMAX — Los Angeles, CA
Edwards Mira Mesa Stadium 18 & IMAX — San Diego, CA
AMC Metreon 16 & IMAX — San Francisco, CA
AMC Westminster Promenade 24 & IMAX — Westminster, CO
Muvico Parisian & IMAX — West Palm Beach, FL
Regal Atlantic Station Stadium 16 & IMAX — Atlanta, GA
Regal City North Stadium 14 & IMAX — Chicago, IL
AMC Loews Boston Common 19 & IMAX — Boston, MA
AMC Southdale 16 & IMAX — Edina, MN
AMC Loews Lincoln Square 13 & IMAX — New York, NY
Cineplex Odeon Yonge & Dundas & IMAX — Toronto, ON
Regal Warrington Crossing Stadium 22 & IMAX — Warrington, PA
Carmike Thoroughbred 20 & IMAX — Franklin, TN
Franklin Regal Pinnacle Stadium 18 & IMAX — Knoxville, TN
Edwards Houston Marq*e 23 & IMAX — Houston, TX
AMC Tysons Corner 16 & IMAX — McLean, VA
Regal Thornton Place Stadium 14 & IMAX – Seattle, WA
Muvico Parisian & IMAX — West Palm Beach, FL
AMC Studio 30 & IMAX — Olathe, KS
Will the Trailer Be Screened at Any Theaters Outside of North America?
This we don't know. The initial Reddit report claimed that the trailer would be shown at 100 theaters total, but the StarWars.com listing only lists 30 theaters based in North America. So there is the possibility that Disney is also planning an International announcement.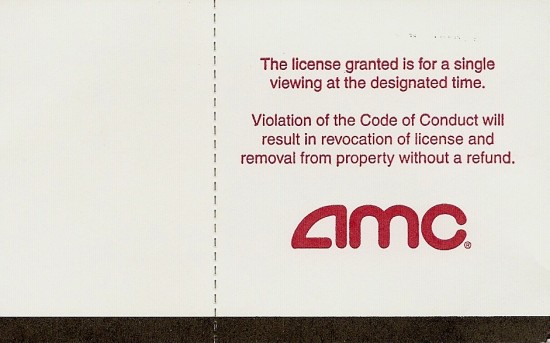 Can I Buy a Ticket to a Movie and Get a Refund After Walking Out Before the Film Starts?
Back in 1998, the trailer for Star Wars: Episode I – The Phantom Menace played before Meet Joe Black among other films and many fans packed the early screenings to catch the first glimpse of that new Star Wars film. After, several immediately left the theater and requested a refund. Some theater owners allowed the refunds but most of the big theater chains had signs posted warning patrons they would not refund ticket purchases after the trailers begin. There is no way to know how your local movie theater will handle it, but I wouldn't expect a refund if I were you.
Will I Be Able To See The Trailer More Than Once?
It really depends on the security at your theater. You'd imagine, with this being a big event in a small number of theaters, employees will be checking tickets outside each theater. That means seeing a 9 a.m. screening, getting up and sneaking into a 9:30 a.m. screening probably will not be possible without a ticket to both screenings. But if the theater is running like a normal Friday morning, theater hopping – while not encouraged – is probably possible.
When Will the Trailer Be Online?
Unfortunately, you can probably expect pirated versions of the trailer to appear online early Friday morning immediately after the first screenings on the East Coast. Just how vigilant Lucasfilm and Disney will be about these is yet to be seen. But it might be difficult to have people taking down uploads as they pop up with it being Thanksgiving weekend.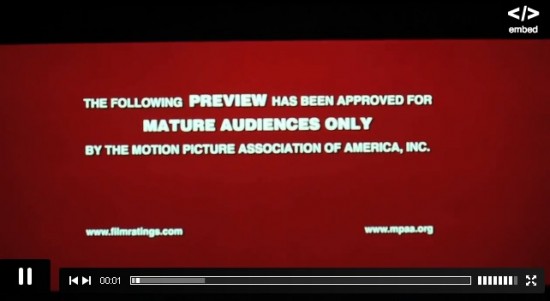 When Will The Trailer Be Officially Online?
We don't know. Since this is such a special event, you'd imagine the idea is to keep the trailer strictly a theatrical experience until sometime during the week following Thanksgiving Holiday weekend. Possibly on Monday or Tuesday. On the other hand, because of the inevitable bootlegs, there's also a chance it gets officially uploaded immediately. (Remember the Avengers: Age of Ultron trailer release?) Nowhere in the official announcement does it say the trailer will only be in theaters. Just that these are the only theaters playing it.
Why Should I Pay to See a Movie in the Theater When I Can Probably Watch a Version of the Trailer Online?
Because you love movies? You love the moviegoing experience. I personally wouldn't want to watch the trailer in a crappy pirated version — I want to see the first new Star Wars footage on the big screen, as JJ Abrams intended. If there's an official release, that decision might be a bit more difficult. Still, I expect many other Star Wars fans will also want to see it on the big screen and early morning screenings will be filled with like-minded film geeks. This is how I want to see this teaser trailer, in an energy and excitement of the movie theater.