'Match' Trailer: Patrick Stewart Charms Carla Gugino, Pisses Off Matthew Lillard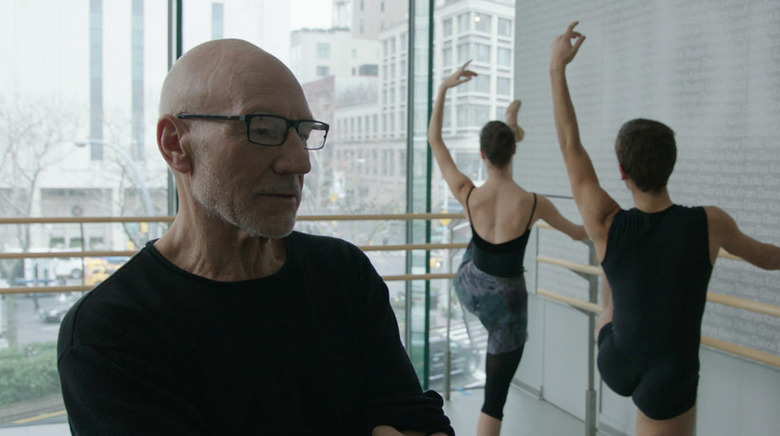 Everyone remembers Patrick Stewart had one very big movie out this year, but he also had a much smaller one making the festival rounds. Directed by Stephen Belber, Match stars Stewart as a Juilliard ballet instructor forced to reflect upon his life when he's interviewed by a married couple (Carla Gugino and Matthew Lillard) with ulterior motives. Watch the Match trailer after the jump.
Critics were so-so on Match as a whole when it premiered at the Tribeca Film Festival earlier this year. The movie is based on Belber's own play, and it doesn't look like he does a good job of translating it for film — it still looks like a play. Others noted that Gugino and Lillard weren't quite up to Stewart's level.
However, all of those same reviewers were unambiguously enthusiastic about Stewart's performance in it. "Stewart is a nonstop delight," gushed TheWrap. "Stewart is a treasure," raved The Playlist. HuffPo even tried to get some Oscar buzz going for Stewart with its headline, though Stewart's probably out of luck. As of right now Match is scheduled to open January 14, 2015, past the Academy Awards cutoff.
Iconic actor Patrick Stewart gives one of his most emotional performances in this character driven drama playing high-spirited Tobias "Tobi" Powell, a master dance teacher at Julliard with a lifetime of memories that have made him a loving and caring mentor.
When Tobi is interviewed by a graduate student, Lisa (Carla Gugino) about his days as a performer, he is forced to confront painful decisions he thought he had left in the past. With the fate of Lisa's emotionally shattered husband Mike (Matthew Lillard) in the balance, the three characters struggle to find a truthful, common ground, uncertain if their brief but intensely intimate connection will result in disaster and regret – or healing and liberation.