'Star Wars: The Force Awakens' Trailer: A Long-Awaited Return To A Galaxy Far, Far Away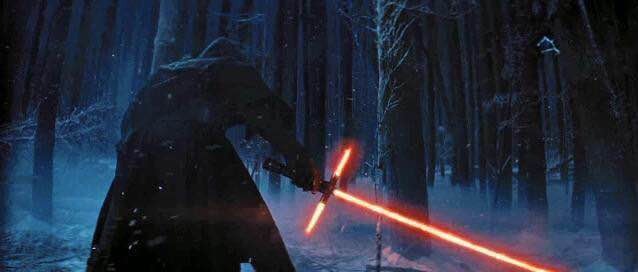 The Force is finally with us. Disney and Lucasfilm have debuted the first trailer for the latest chapter in the Star Wars saga. This is our first official look at footage from J.J. Abrams' highly-anticipated sequel, Star Wars: The Force Awakens. It might end up being the most highly anticipated movie of all time.
Picking up decades after Return of the Jedi, finally the fates of Luke Skywalker, Han Solo and Princess Leia will be revealed along with dozens of new Star Wars characters played by John Boyega, Daisy Ridley and so many others. No more waiting, no more worrying about when it will premiere; watch the Star Wars: The Force Awakens trailer below.
The trailer debuted on iTunes. Head there to see it in HD. (Or download the 1080p here)
Star Wars The Force Awakens Trailer
<
Here are a few high res images from the trailer.
The Millennium Falcon scene will be the scene that's in IMAX. But there's obviously so, so, so much more to discuss. John Boyega the Stormtroopers, Daisy Ridley and her speeder bike, that new droid, Storm troopers on a drop ship, X-Wings over the water and who, or what, is wielding that crazy lightsaber with a lightsaber hilt. I mean – come on!
Of course, you can also see the trailer on the big screen in theaters this weekend in front of every screening of every movie in 30 select theaters in North America. Find out more about that here. We'll have much, much more soon. May the Force be with you!
Co-written and directed by J.J. Abrams, the film stars John Boyega, Daisy Ridley, Adam Driver, Oscar Isaac, Andy Serkis, Domhnall Gleeson, Max von Sydow, Lupita Nyong'o, Gwendoline Christie, Harrison Ford, Carrie Fisher, Mark Hamill, Anthony Daniels, Peter Mayhew, and Kenny Baker.
Star Wars: The Force Awakens will hit theaters on December 18th, 2015.