'Star Wars: The Force Awakens' Trailer Debut Planned For Thanksgiving Week; First Theaters Revealed [UPDATED]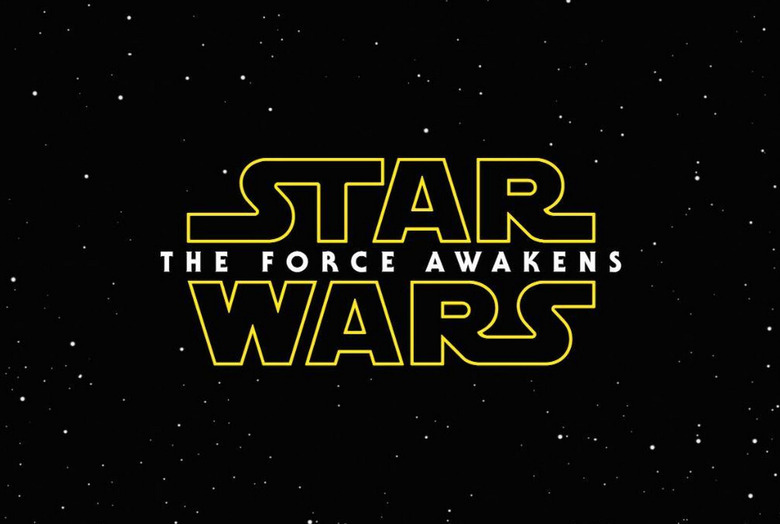 UPDATE: Regal Cinemas has revealed the first theaters that are showing the trailer. Check below to see if yours is on the list. The original story from 11/22 continues below.UPDATE 2: AMC Theaters and Cinemark have also revealed they are on board.
There has been more speculation about the Star Wars: The Force Awakens teaser trailer alone than there is for most movies at a whole. First we learned that it had been edited, and that John Williams had recorded new music for the trailer. Then there was a series of rumored descriptions. This week a report claimed that the teaser would premiere attached to The Hobbit: The Battle of the Five Armies, but we were able to exclusively debunk that rumor and tell you that Disney has "bigger plans".
So when will the Star Wars The Force Awakens trailer debut? This week. When and how? Thats a bit more complicated.
I have independently heard from very good sources that the Star Wars: The Force Awakens teaser trailer will be shown in a limited number of theaters during the Thanksgiving Holiday weekend. I know that there will be a limited amount of theaters participating in the "preview." I have not confirmed any more details other than that. Of course, LucasFilm and Disney will never address Star Wars rumors so there is no official confirmation from the studio, but my sources seemed very sure.
But there's more.
An (unsubstantiated) report was posted on Reddit yesterday claiming that a ninety second teaser trailer for Star Wars: The Force Awakens would debut next weekend in 100 theaters nationwide, in front of every showtime for every single movie.

According to the claim, Disney's agreement requires all of the 100 participating theaters to run a showing of Big Hero 6 as the earliest showtime for each day of the Holiday weekend.
If I had not been told the information at the top of this post from trusted sources, I would have completely written the reddit report off as fan-written bullshit — but its very possible this is THE PLAN. A trailer playing in front of every movie at those theaters during one of the biggest movie holiday weekends of the year — This is something unprecedented, and definitely fits our earlier report that Disney was planning something "bigger than that". But we have not been able to confirm the reddit report. Also note the Reddit report claims the trailer runs 90 seconds while previous reports pegged the length at 60 seconds. So there are some inconsistencies with this report.
There is also the possibility that the Reddit scooper got the story wrong and the trailer will instead be attached to a particular film in theaters during Thanksgiving weekend.
But take a breath –
I am very sure the Star Wars: The Force Awakens trailer will be publicly premiered this week on the big screen somehow.
Maybe it wont happen as the Reddit reports suggests, but it will happen. I'm very happy that the premiere will be done in theaters and not online, because I want the first new Star Wars footage to be presented in the biggest and best way possible — on the big screen, in a theater with other excited Star Wars geeks.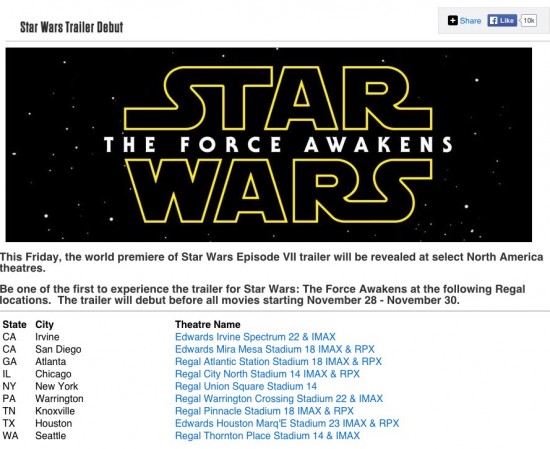 UPDATE: Our scoop has been confirmed. Regal Cinemas put up a page saying these nine theaters will have the trailer, on every movie, November 28-30. Expect further announcements this week. While there are only nine theaters on this list, this is just Regal's set — we've heard there will be at least 100 theaters, perhaps more, with the trailer.
CA Irvine Edwards Irvine Spectrum 22 & IMAX
CA San Diego Edwards Mira Mesa Stadium 18 IMAX & RPX
GA Atlanta Regal Atlantic Station Stadium 18 IMAX & RPX
IL Chicago Regal City North Stadium 14 IMAX & RPX
NY New York Regal Union Square Stadium 14
PA Warrington Regal Warrington Crossing Stadium 22 & IMAX
TN Knoxville Regal Pinnacle Stadium 18 IMAX & RPX
TX Houston Edwards Houston Marq'E Stadium 23 IMAX & RPX
WA Seattle Regal Thornton Place Stadium 14 & IMAX
Regal Cinemas has since pulled down the above information and replaced it with this screen: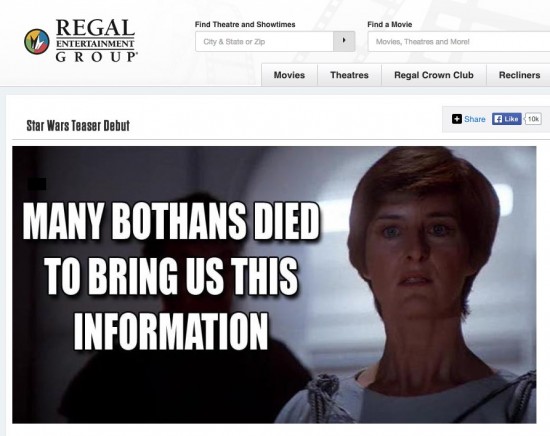 Looks like they pushed the button too early.
UPDATE 2: AMC and Cinemark are in as well.
We can confirm that a teaser for @StarWars: The Force Awakens will play at select AMCs this Friday! Locations soon! pic.twitter.com/nPpaQONHQQ

— AMC Theatres (@AMCTheatres) November 24, 2014
"I find your lack of faith disturbing." #TheForceAwakens trailer is coming to select Cinemark theatres. Details soon! pic.twitter.com/hhcppbJKGn

— Cinemark Theatres (@Cinemark) November 24, 2014