The Best Collectible, Toy And Game Gifts Of 2014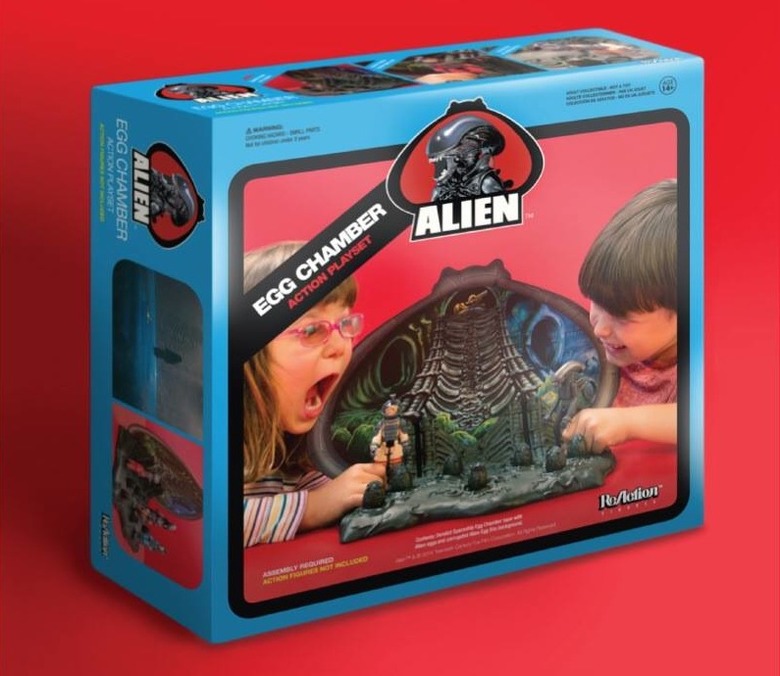 We may receive a commission on purchases made from links.
Welcome to the third part of /Film's Ultimate 2014 Film Geek Holiday Gift Guide. We hope we can help you find gifts for your pop culture-loving loved ones and friends (or, maybe even yourself).
This guide includes a ton of cool gifts, including a wide range of books, graphic novels, toys, collectibles, music, movies, games, art and other fun gifts, the majority of which were released this year. I've also tried to include a wide range of prices, from small stocking stuffers to blu-ray box sets to huge expensive collectibles for most of us to drool over. Everything included in the guide is something I either recommend, have been recommended by trusted friends, colleagues and readers, or something that just looks damn cool.
Monday we published the first installment which focused on books, and yesterday we featured the best graphic novels. If you missed either installment you can still access them by clicking the links in the the previous sentence. We'll be posting the final two installments on Thanksgiving and Black Friday. Sorry, there was just too many items for one post. Today we bring you a look at some of the coolest Collectibles, Toys and Games released this or last year that your pop culture-loving loved ones and friends might enjoy as a gift this Holiday season.
Note: All prices mentioned are rounded to the nearest dollar and were accurate on the week this feature was published.
Collectibles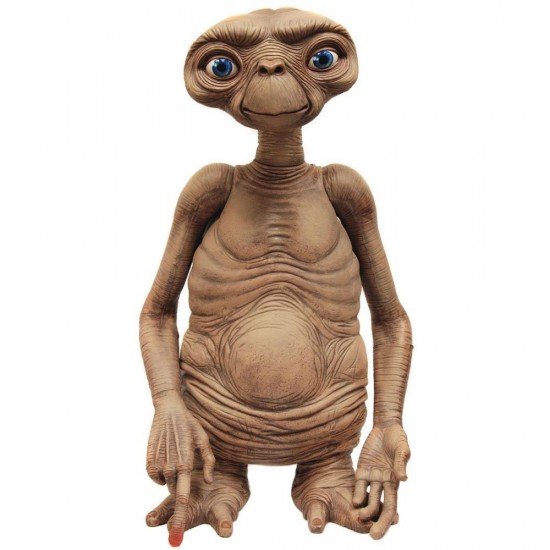 E.T. Stunt Puppet Replica Statue $400: This is probably the biggest collectible I own. Its huge, its in my office and everyone wants to take photos with ET. ITs made out of a light foam rubber and latex, which explains why its so much cheaper than most other life-size replicas (which can run from $2000-$10000) but it doesn't look cheap at all.
An almost life size re-creation of the E.T. Puppet as he appeared in the beloved 1982 film. This foam rubber and latex figure stands nearly 3 feet tall and is hand painted with lifelike detail. This amazing sculpture is a must have for E.T. Fans and makes for a great centerpiece of your collection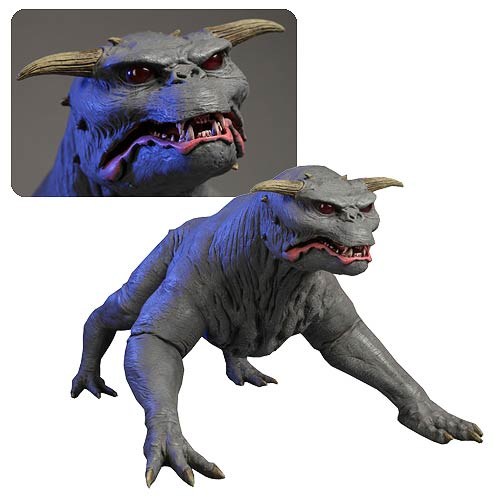 Ghostbusters Terror Dog Statue $200: Who doesnt want to own a terror dog?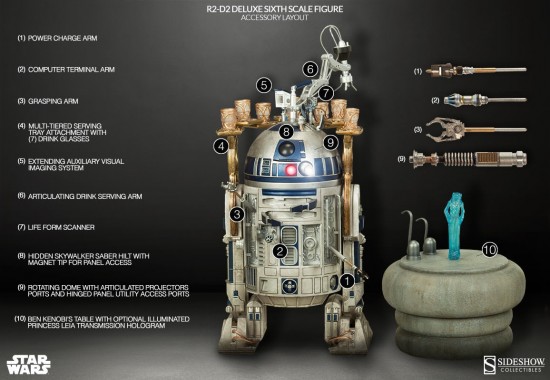 R2-D2 Deluxe Sixth Scale Figure by Sideshow Collectibles $150: This is the most detailed scaled R2-D2 figure ever released.
Joining the Star Wars Heroes articulated figure collection, Sideshow Collectibles is proud to present the R2-D2 Deluxe Sixth Scale Figure. Everyone's favorite droid from the galaxy far, far away is ready for adventure with intricate articulation and fantastic detailing. The feisty blue and white astromech rolls right off the big screen, with sequencing lights and a swiveling dome that features various moveable ports and hinged panels. Prepared to assist the Rebel Alliance, it's full speed ahead for the starship mechanic, with rolling treads and a retractable third leg enabling tripedal travel. Additionally, Artoo features a hidden Skywalker lightsaber hilt with a magnetic tip that allows access to a range of his internal gadgetry, including periscope, life-scanner, and multiple articulated arms for performing various intergalactic duties. Recreate all of your favorite movie moments with special bonus accessories, including Ben Kenobi's round table, Leia's secret holographic transmission, and a multi-tiered beverage tray for R2's one-time server gig on Jabba the Hutt's luxury sail barge!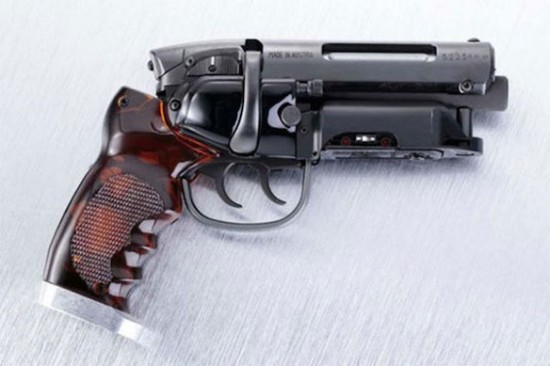 Blade Runner Tomenosuke Blaster PRO Limited Edition Blaster Replica $900: A great collectible for fans of the Ridley Scott Sci-fi classic.
After undergoing a few revisions to the design, this new Blaster Pro edition replica of the firearm used by Harrison Ford in the film is "the most accurate version of this blaster ever offered,' complete with light-up LEDs, a double trigger, and five bullets to take down runaway replicants.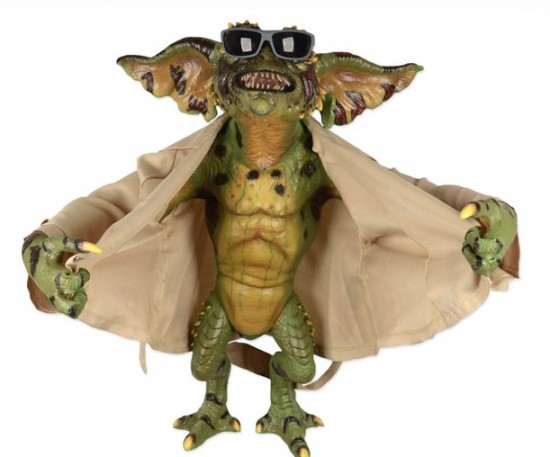 Gremlins 2: Flasher Gremlin Life-Size Puppet Replica $339: This one I don't own, but NECA used the same painted rubber and latex process they used to create the above life-size ET replica. I've seen this at Comic Con and it looks sweet.
Would you like to own an authentic, full-size replica of the Flasher Gremlin stunt puppet from Gremlins 2: The New Batch? This hand-painted rubber and latex figure stands nearly 30-inches tall and features a fabric trench coat and removable sunglasses, all entirely faithful to Flasher's on-screen wardrobe in the movie. Strictly limited to only 1,000 pieces worldwide, the Gremlins 2 The New Batch Flasher Gremlin Life-Size Stunt Puppet Prop Replica comes with a metal display stand. It's a sensational addition to your Gremlins collection!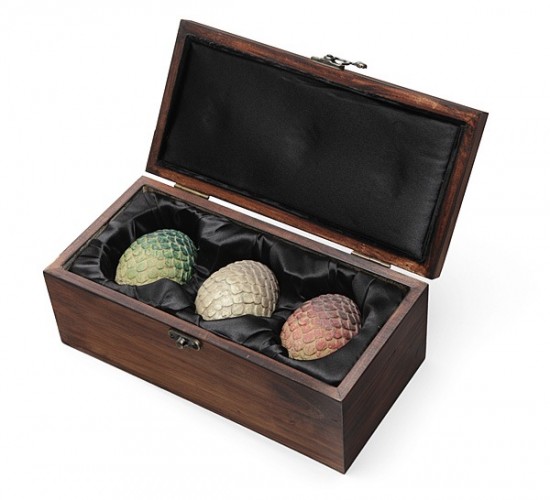 Collectible Dragon Egg Box with Eggs $100: A fine collectible for fans of the Game of Thrones television series or books.
Collectible wooden dragon egg box (with 3 eggs) Officially-licensed HBO's Game of Thrones merchandise Exterior of hinged box has Targaryen sigil silkscreened on in red and white on top and brass fittings, including a latch Interior of box has black satin over a form shaped to the eggs so they won't move Materials: Cunninghamia wood box, silk lining, resin eggs, brass fittings Dimensions: Box – 9 3/4" long x 4 3/4" wide x 3 3/4" tall; Eggs – 3" tall x 2 1/4" diameter Weight: Box (with eggs) – 2 lbs., 12 oz; Each egg – 10 oz.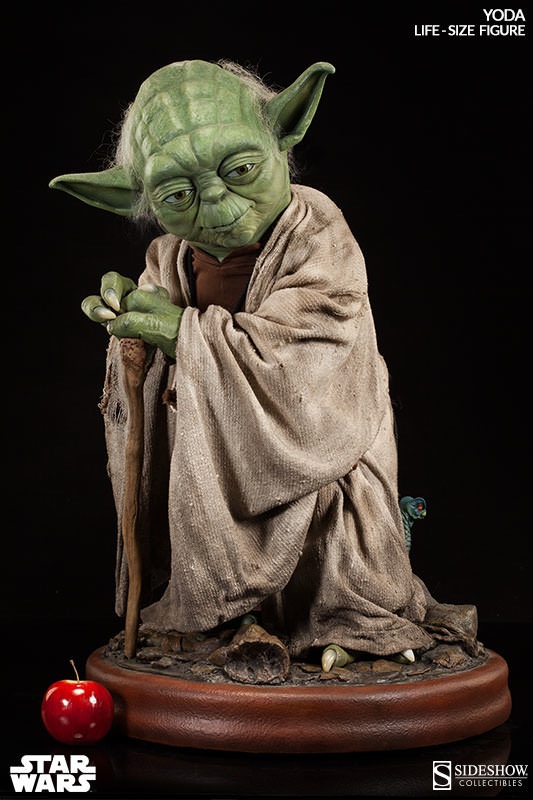 Yoda Life-Size Figure by Sideshow Collectibles $2500: Oh how I would love to own this, but its $2000 out of my price range.  Some lucky Star Wars fans will get to have Yoda on display in their geekspaces. And yes, I'm jealous.
Continuing a much celebrated Star Wars Life-Size legacy collection, Sideshow Collectibles is proud to present the Yoda Life-Size Figure. The Force is strong with this one! Capturing Luke Skywalker's wise and powerful mentor in astonishing detail, Master Yoda appears in his meticulously tailored Jedi robes, resting serenely against his cane as he contemplates the mysteries of the Force. Sideshow's artists have perfectly captured the magic of Frank Oz's original puppet in this magnificent replica, with features so realistic that you'll expect him to spring to life at any moment. Standing 32 inches tall on a Dagobah themed environment base (complete with colorful morp critter), Sideshow's life-size Yoda replica is a dream come true for any Star Wars collector!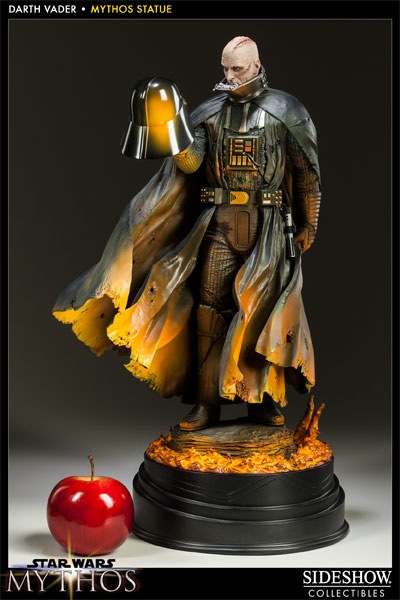 Darth Vader Polystone Statue by Sideshow Collectibles $350: I just love Sideshow's Mythos line of Star Wars statues. This Vader sculpt is very detailed and super cool looking.
Sideshow Collectibles proudly presents the Darth Vader: Dark Contemplations Statue from our Star Wars Mythos line. This unprecedented portrayal of the Dark Lord of the Sith captures Darth Vader's return to Mustafar. The heat and flames of that volcanic planet steel the resolve of Lord Vader as he considers the rage and loss contained by the fearsome mask in his hand. Three portraits, a younger Anakin, an older Anakin, and the masked version complement an equal number of interchangeable arms that allow the collector to illustrate this tale in a variety of ways. At twenty-one inches in overall height, the Darth Vader: Dark Contemplations Statue is a most impressive centerpiece for any Star Wars display.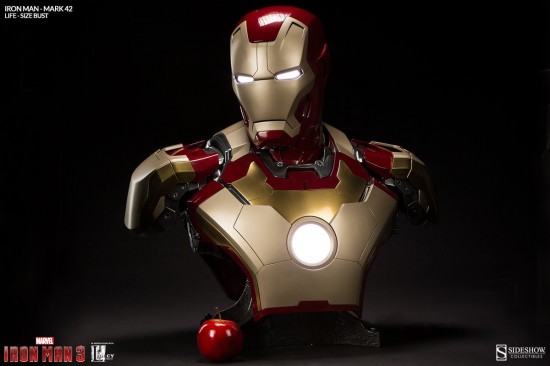 Iron Man Mark VII Iron Man Legendary Scale™ Figure by Sideshow Collectibles $1000: all of the Sideshow Iron Man life size busts are awesome. If you cant own one of their $6000 life size figures, this is the next best thing — but still expensive.
Straight out of Tony Stark's hall of armor, Sideshow Collectibles and Legacy Effects are proud to present the Iron Man Mark 42 Life-Size Bust from Marvel's hit film, Iron Man 3. Created in tandem with the Hollywood special FX team responsible for all of the live-action suits in the Iron Man trilogy, this full scale replica bust captures every detail of the Mark 42 using the original molds developed for the film. Measuring just over two feet tall, Stark's latest 'bouncing badass' armor is brought to life with a stunning high gloss paint application, and brilliant white LEDs to light his eyes and arc reactor. From the man who builds neat stuff, has got a great girl, and occasionally saves the world, the Iron Man Mark 42 Life-Size Bust will be an outstanding addition to any Marvel or Iron Man collection. As Tony Stark would say, "everybody needs a hobby."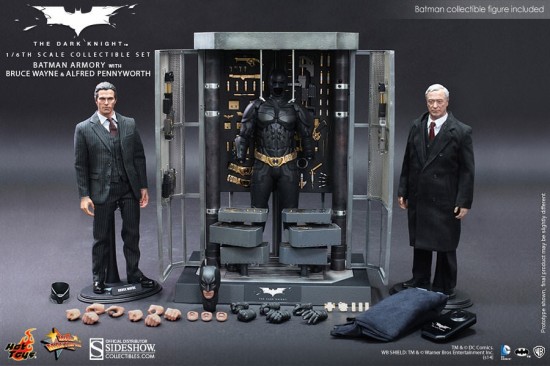 Batman Armory with Bruce Wayne and Alfred Batman Sixth Scale Figure by Hot Toys $385: I'm not a huge fan of the Hot Toys human figures as they look a little too "dollish" to me, but the Batman armory that comes with this set looks too cool.
Hot Toys are excited to present the highly anticipated Batman Armory with Bruce Wayne and Alfred Pennyworth sixth scale figure set from the 2008 film, The Dark Knight. Fully equipped with light-up features, functioning doors and shelves, and meticulous attention to detail, Batman's specialized armory stores all of his state-of-the-art weaponry and gadgets. Also included in this set: A screen accurate Batman sixth scale figure with patented Parallel Eyeball Rolling System (PERS), four newly sculpted interchangeable expressions, along with a detailed fabric costume with armor based on the costume design from the film and large collection of finely sculpted weapons and accessories. The Bruce Wayne sixth scale figure, featuring a newly designed, screen accurate portrait of Christian Bale as Master Wayne, and a finely tailored fabric costume with striking details. The Alfred Pennyworth sixth scale figure, featuring a newly designed, screen accurate portrait of the renowned Academy Award winner, Sir Michael Caine as Alfred, and a finely tailored fabric costume with striking details.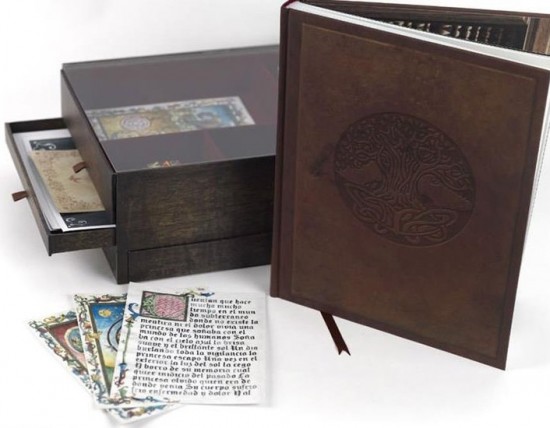 Guillermo del Toro Cabinet of Curiosities: Limited Edition $600: I own the book that comes with this set, and its a great tabletop book. The set includes a bunch of replicas and comes in a very nice looking package.
Guillermo del Toro's Cabinet of Curiosities brings together the inspirations, personal notebooks and passions of the renowned writer-director. This visionary filmmaker's expression and distinct visions can be explored with commentary, interview text, annotations and journal entries. The visual history of del Toro's work and personal archive showcases his fascination with monsters. Designed in a replica of a cabinet, this deluxe anthology brings together reproduced journal pages, sketches, props, and more from the imaginative genius who created such accomplishments as: Cronos, Hellboy, Pan's Labyrinth as well as numerous other films and novels. The ultimate limited edition collectible book contains a foreword by James Cameron, an afterword by Tom Cruise, and contributions from other luminaries, including Neil Gaiman and John Landis, among others.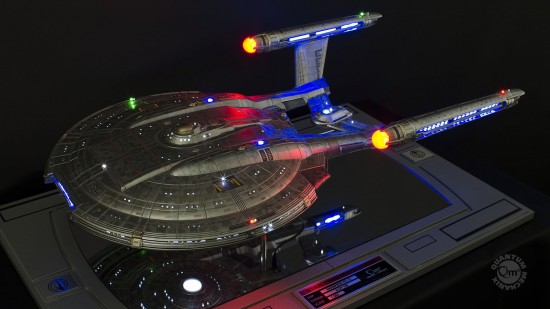 QMx's Star Trek Enterprise NX-01 Artisan Replica $4000
With breathtaking grace, the dual-nacelled Enterprise established United Earth as a legitimate interstellar power and was the first human-made starship to hit warp 5. Now the ship under Captain Jonathan Archer in the Star Trek series, Enterprise, can be yours. QMx is pleased to offer this starship built to the exact specifications and dimensions of the CG studio model. Our screen-accurate Artisan replica is 1:350 scale. And, as an added bonus, each NX-01 will come with a dedication plaque signed by the ship's creator Doug Drexler, one of the best-known, most-prolific and most-admired designers in science-fiction television. Custom Electronics & Lighting Custom-built electronics in the QMx Enterprise NX-01 control a complex lighting system that boasts more than 150 LEDs, including torpedoes and phaser arrays with sound effects. Other high-quality LEDs illuminate: Warp and impulse engines Rotating Bussard collectors Navigational and deflector arrays Anti-collision and formation signals Interiors Superior Construction The body of the Enterprise NX-01 Artisan Replica is constructed of the best materials available. It has been carefully finished and hand painted with multiple layers of metallic automotive paint to create a textured Aztec pattern. Creating this real miniature from a CG model was both challenging and enjoyable. Our Enterprise NX-01 Replica sits on a mirrored base that's perfect for showing off the details on the underside of the ship – framed with a faux metal hull plate and bracketed by four plaques. Plaques on either side of the ship include the ship's name and edition number. Purchasers may request the following customizations of the base: Change of Color — Champagne, steel, copper or bronze, or a combination of these colors. Center Insert — May be mirrored, gloss black or white. Custom Engraving — You may have the base inscribed with a phrase of your choice, for an additional charge.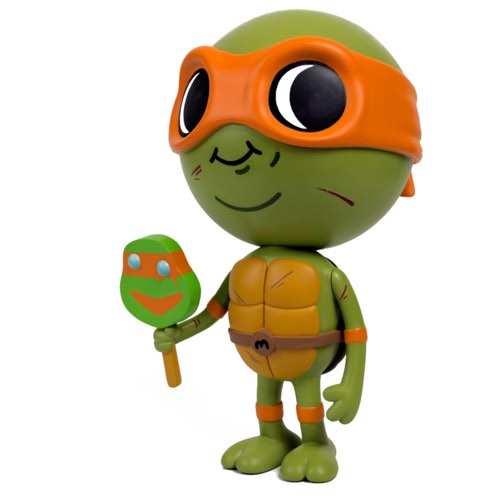 Lil' Mikey Vinyl Figure from Mike Mitchell and Mondo Toys $85: I'm not a huge fan of Mike Mitchell's Just Like Us series of art, but people love em. I will say this, while I think the series is too cartoony for my tastes, this figure is awesome — it is a perfect adaptation of Mike's artwork. I think I'd buy a ton of figures based on the series if Mondo produces them.
Based on artist Mike Mitchell's series, Just Like Us, Lil Mikey is a direct translation of his take on Michelangelo. Featuring an articulated head, and accurate TMNT ice cream on a popsicle stick. Note: this item will not ship until 1st Qtr 2015. Shipping date is approximate.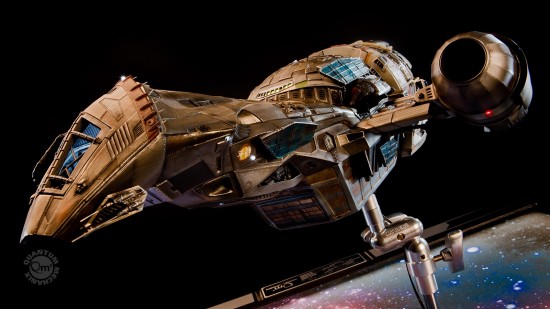 QMx's Serenity Film-Scale Artisan Replica $7496: Another dream buy for any Whedon fanatic.
Quite simply, this is the biggest, most-detailed, most-impressive replica of Serenity ever created. QMx has spent the last decade in the tireless pursuit of this ship right here. And while we've produced many fine versions of Captain Mal's boat before, we couldn't help but feel there was just that little bit more we wanted to add, that extra bit of shiny we wanted to include. We wanted nothing less than to create the ultimate version of Serenity. Because until we achieved that, we can't truly say we've done the finest ship in the Verse justice. What you see before you here the culmination of that dream. No detailed spared, no interior left unbuilt, this is the version of Serenity never to be eclipsed. Fact is, the only way to do better will be to wait 500 years and buy your own Series 3 Firefly! Screen-Accurate Details Created from the digital files of the Serenity from the sci-fi TV series, Firefly. The QMx FX Cinema Arts model shop created the 3-D files, prototyped and 3-D printed this replica. Then QMx artisans did all the mold work and casting to make this screen-accurate replica of Serenity at 1:124 scale. Our Serenity Film-Scale Replica features: Incredible complexity. More than 250 parts — cast and laser cut. Extra strength. Steel skeletal structure and internal brass structure for main engine rotation. Interior bling. More than 100 LEDs controlled by a 12-volt system. Multi-layered colors. A total of 25 different colors of high-quality studio paints. No decals. All graphics on Serenity are painted on by hand, even Serenity's logo. Exquisite details. Miniature bridge with crew members, galley with furniture and cargo bay with cargo. Movable parts. Manually operable cargo bay door and hinged reactor vent covers. Wireless remote. Custom electronics created by QMx FX Cinema Arts with a four-channel remote control. Effects include: Interior lighting for the bridge, galley and cargo bay, and illuminates docked shuttles. Active formation lights Rotating gravity rotor lights Reactor housing illumination with a hard burn and twinkling firefly effect. Cool display. Serenity's lighted display base is a box stand with a Translight inset of a nebula. It features a 12-inch steel stand that adjusts at a variety of angles for optimal display. Pro prop crate. Each Serenity is shipped in custom-cut foam and stored in a hand-built wooden apple crate, just like what the pros use to safeguard their props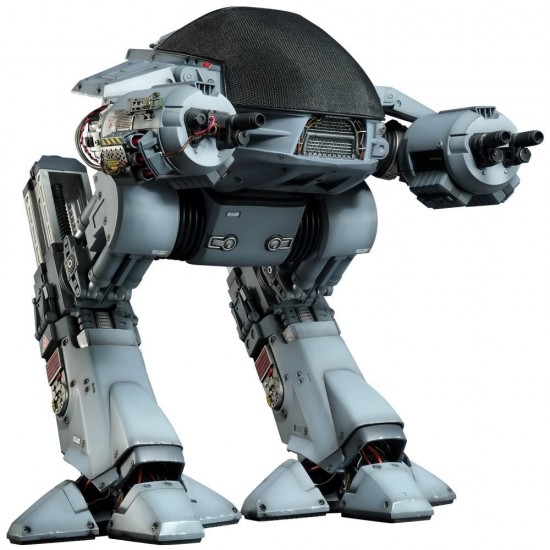 Robocop ED-209 Sixth Scale Figure by Hot Toys $371: I have this set up in my living room and everyone who comes over always comments on how cool it is.
Hot Toys presents the iconic Robocop baddie Speaks 3 memorable quotes along with different sound effects Includes interchangeable battle damaged arm Improved articulation in the arms, legs, and claws to better simulate the robot's movements Approximately 35 cm (nearly 14 inches) tall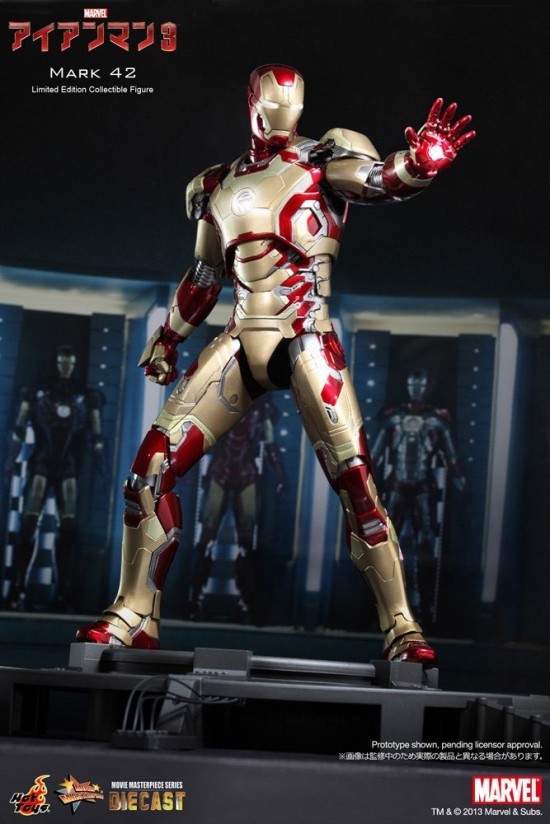 Iron Man Mark XLII (42) Iron Man Sixth Scale Figure by Hot Toys $345: All of the Hot Toys Iron Man figures are incredible and this one is no exception.
Authentic likeness of Mark XLII from Iron Man 3 Approximately 31 cm tall with over 36 points of articulation Features battle damaged head sculpt with helmet, featuring authentic likeness of Robert Downey Jr. as Mark XLII Includes 3 interchangeable palms, regular armor, and battle armor Button Cell batteries required (included)
Toys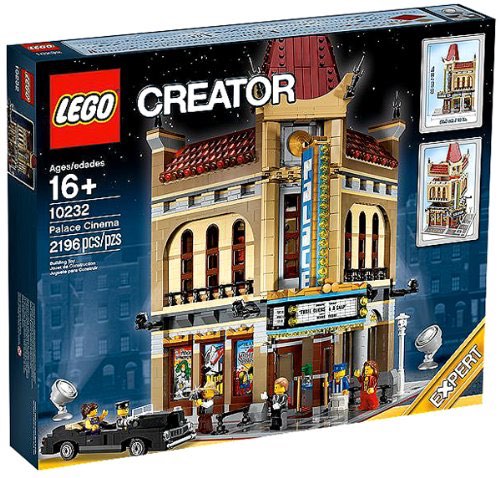 LEGO Creator: Palace Cinema $149: This is a really big fun set to build and display:
It's premiere night at the Palace Cinema. Illuminate the night sky with the spotlights as the child star arrives in a fancy black limousine. Gather the crowd on the star-studded sidewalk, then head into the detailed lobby with a concession stand and ticket area. Take the grand staircase into the theater with a large screen, movie projector and reclining chairs for 6 minifigures. Introducing the latest addition to the LEGO Modular Buildings series, the highly detailed, 2-story Palace Cinema corner building. This collectible model features a sidewalk of the stars, brick-built entrance doors, posters, sign frontage, a tower with spires and rooftop decorations. Includes 6 minifigures: child actress, chauffeur, female guest, male guest, photographer and cinema worker.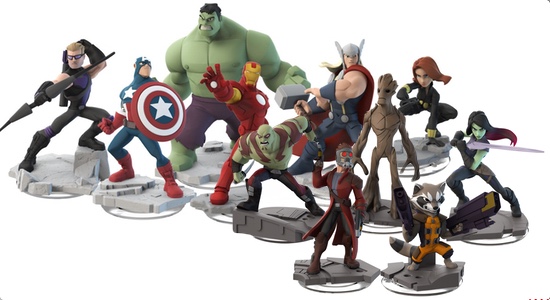 Disney Infinity Marvel Figures $14/each: I don't even have the Disney Infinity game but I own a bunch of the Pixar and Marvel figures — they just look cool.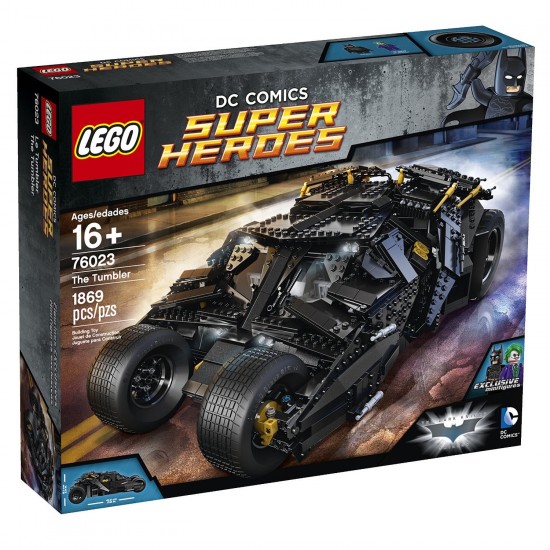 Features an armored exterior, adjustable top wings, detailed interior and huge rubber-tread racing tires Batman and The Joker minifigures are new and exclusive to this set! Model includes new LEGO front wheels Includes a fact sheet about the Tumbler vehicle used in The Dark Knight Trilogy movies featuring Batman Tumbler measures over 5" (15cm) high, 15" (40cm) long and 9" (24cm) wide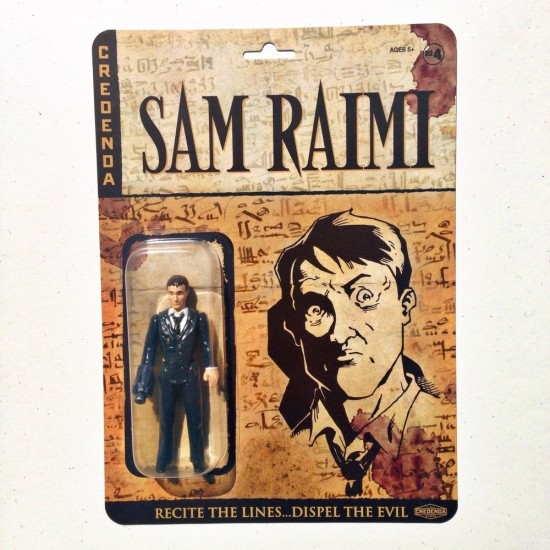 SAM RAIMI, THE DIRECTOR OF DEMONS! Action Figure
$65: This very limited edition action figure was a New York Comic Con exclusive and Credenda Studios is selling their few leftovers online. This could be a great gift for someone obsessed with director Sam Raimi.
"Fed up with the poor state of current horror films and how CGI has taken over to tried and true tradition of prop making is Raimi, Sam Raimi...And this time he means business. Raimi is here to take out the garbage with the vengeance of 100 flesh-possessing demons. All those that oppose him will be met with a Super 8 Close Up!" Sam Raimi action figure coming in at 3.75" tall. Completely hand-made and hand-painted by Beau Greener of Credenda Studios. The head was digitally sculpted by Tyler Ham in order to capture the closest likeness of Sam Raimi. The illustrations are by Steve Willhite, a local comic book illustrator. Edition of 50 NOTE: These are the leftovers from New York Comic Con. So once they're gone they're gone!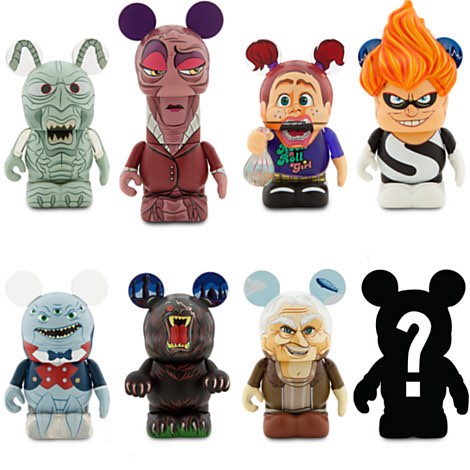 Pixar Villains Vinylmations $13/each blind box
Single-pack Vinylmation Villains 5 Series 3" vinyl collectible figure Each blind-boxed package contains one of seven different designs in this series. You won't know which one you've got until you open the box! Figures in this series include: Syndrome – The Incredibles (Artist: Enrique Pita), Mordu – Brave (Enrique Pita), Thumper – A Bug's Life (Marvin Lao), Charles Muntz – Up (Gerald Mendez), Darla – Finding Nemo (Gerald Mendez), Waternoose – Monsters, Inc. (Marvin Lao), Dean Hardscrabble – Monsters University – with neck extension (Enrique Pita), plus Mystery Figure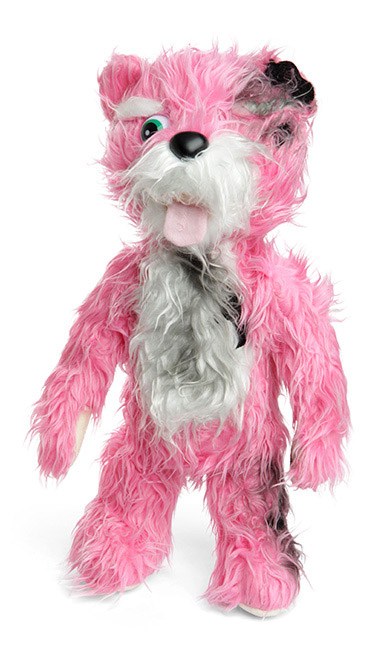 Breaking Bad 18in Teddy Bear $27: A great gift for Breaking Bad fans — a good yet cheap display item.
It's the Ultimate Breaking Bad collectible, the one fans have been clamoring for, the Pink Teddy Bear plush prop replica. Mezco's life size figure replicates the Pink Teddy Bear as seen in numerous episodes. The Pink Teddy Bear fell into Walter White's swimming pool during the Wayfear 515 aircraft explosion. Continuing to show up in different episodes this is one of the most recognized breaking bad figures. Collectors everywhere will see this as a must have!  Stands 18" Tall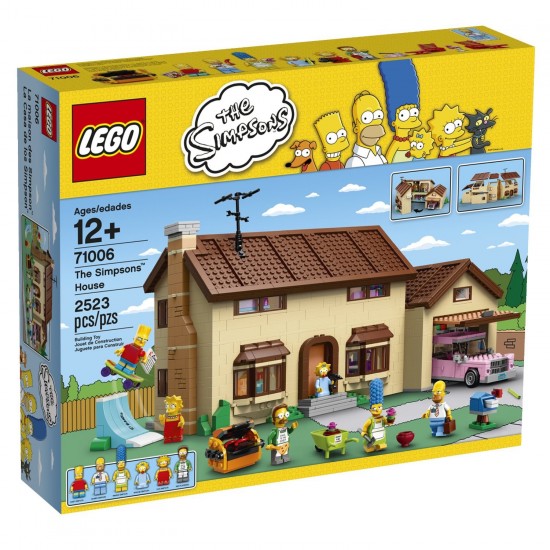 LEGO Simpsons: The Simpsons House $200:
The perfect set for fans of LEGO brick building and The Simpsons! Includes 6 minifigures: Homer, Marge, Bart, Lisa, Maggie and Ned Flanders Remove the roof and top floor to access the different rooms inside House is hinged in the middle for easy access The Simpsons House measures over 9" (23cm) high, 16" (42cm) wide and 9" (24cm) deep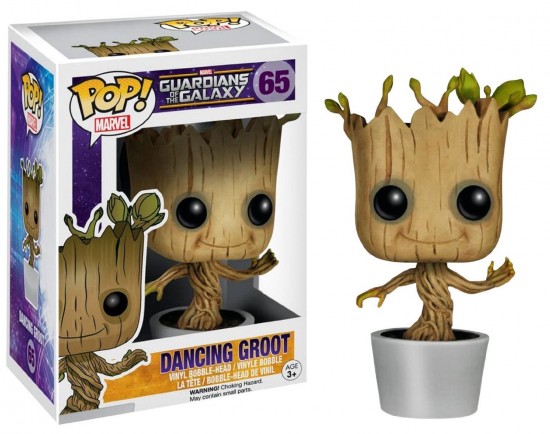 Funko POP! Marvel: Dancing Groot Bobble Action Figure $10: No it doesnt really dance but if you're hoping to give a dancing groot to a Marvel fan for Christmas, this is your only official choice.
From the Guardians of the Galaxy film comes this Guardians of the Galaxy Dancing Groot Pop! Vinyl Bobble Figure! The Guardians of the Galaxy has been around since 1969 and with a movie finally made, Marvel gives the superhero team the Funko Pop! Vinyl treatment! This Guardians of the Galaxy Dancing Groot Pop! Vinyl Bobble Figure can dance along to your "Awesome Mix" on a desk or on your car's dashboard with his bobbling head! The Dancing Groot Pop! Vinyl figure makes an essential addition to any Guardians of the Galaxy fan's collection! Ages 14 and up.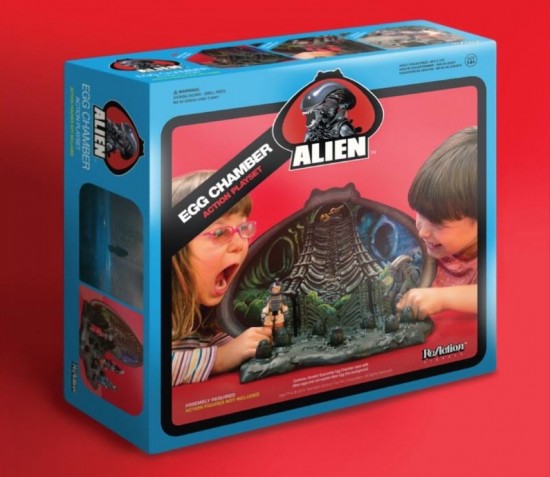 Comic-Con 2014 Exclusive ReAction Figures Alien Egg Chamber Playset Blue Box $500: This retro Alien action figure playset was a San Diego Comic Con exclusive, and since it was so hard to get, it has a high price on the after market. But it might be worth it for an insane Alien fan.
 Look kids! Now you can relive the excitement of the Nostromo Crew's journey into the Derelict Alien Spaceship! Venture with Kane deep into the mysterious Egg Chamber ReAction Playset and pose your sturdy ReAction Figures on the detailed, egg-covered base. Inspired by the playsets of the 1970's and packaged in an era appropriate photo box, the playset provides the perfect backdrop for all of your ReAction Adventures. The playset comes complete with classically styled action base made from durable hand-cast resin and corrugated cardboard, full-color Alien Egg Silo backdrop that slides into the base for display. ReAction Figures sold separately.
Celebrate 30 years of ghost-busting action with the iconic Ghostbusters Ecto-1 car! Selected by LEGO Ideas members (formerly known as CUUSOO), this fun and iconic vehicle from the blockbuster '80s movie is fully loaded with all the paranormal detection equipment needed to track down those ghastly ghosts. It also features cool Ghostbusters logo decoration, removable roof, tracking computer and seats for 3 minifigures. This unique set also includes a fascinating booklet containing building instructions, selected images and behind-the-scenes details about the classic Ghostbusters movie. So if there's something strange in your neighborhood, strap on your proton pack and get ready to help Peter Venkman, Ray Stantz, Egon Spengler and Winston Zeddemore bust some ghosts! 4 minifigures with proton packs included.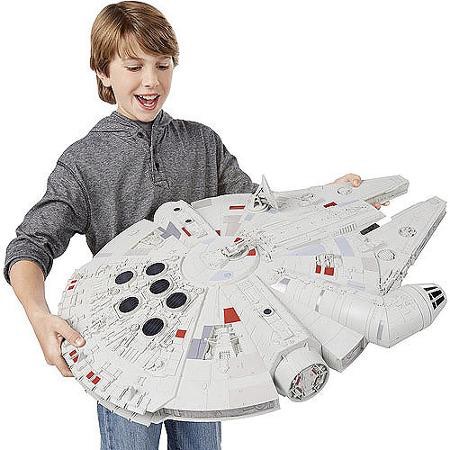 Star Wars Rebels Millennium Falcon Vehicle $60: This toy is over 2 and a 1/2 feet long!
Head for the stars with this awesome Star Wars Rebels Millennium Falcon Vehicle. It makes an impressive display piece for Star Wars fans of all ages. This iconic spaceship took part in some of the most momentous events in the galaxy, including the epic Battle of Hoth, making a last-minute escape as Imperial troopers attacked the Rebel base. This incredibly detailed Star Wars vehicle is 2.5' long and features a rotating radar dish to detect Imperial ships, as well as a cannon that turns, lifts and lowers. It also comes with a label sheet and instructions. This Millennium Falcon vehicle can complete exciting solo runs alone or can be combined with other toys from the Star Wars Rebels series to reenact some of the most amazing scenes from the films or create brand new ones of your own.
Escape From New York Retro Reaction Figures $9: Part of Funko's line of retro looking action figures.
Kurt Russell's Snake Plissken from the 1980s action flick Escape from New York gets the ReAction treatment! Standing 3 3/4-inches tall, this articulated figure of the former Special Forces operator is the perfect size for desk display at work or at home. The Escape from New York Snake Plissken ReAction Retro Action Figure from Super7 and Funko comes with machine gun and pistol accessories. It makes a solid collectible for any fan of the John Carpenter classic!.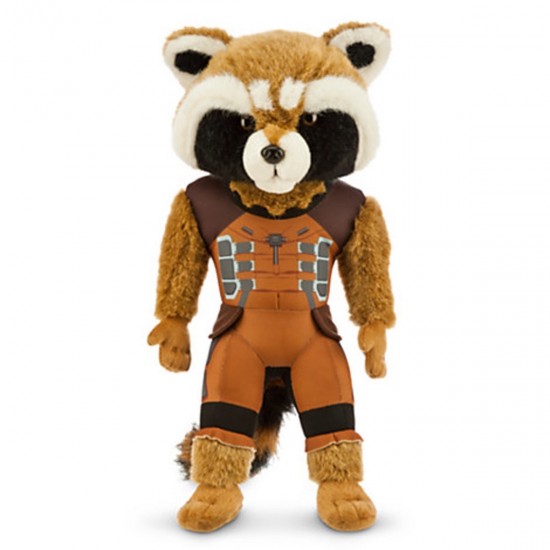 Rocket Plush from Marvel's Guardians of the Galaxy $23: A great looking plush for your favorite Guardians of the Galaxy fan.
Despite his diminutive stature and raccoon-like appearance, the scrappy mercenary known as Rocket possesses a remarkable mastery of munitions and battle tactics. Until recently he has been content to roan the stars in search of adventure and fast cash with his partner in crime, Groot. But when an ominous threat leaves the entire universe at risk, Rocket must bring his mechanical genius and genenuity to bear as a member of the Guardians of the Galaxy!

Simpsons Greatest Guest Stars Action Figures $13-17: I bought the Penn & Teller figures from this set and have them on display in my office.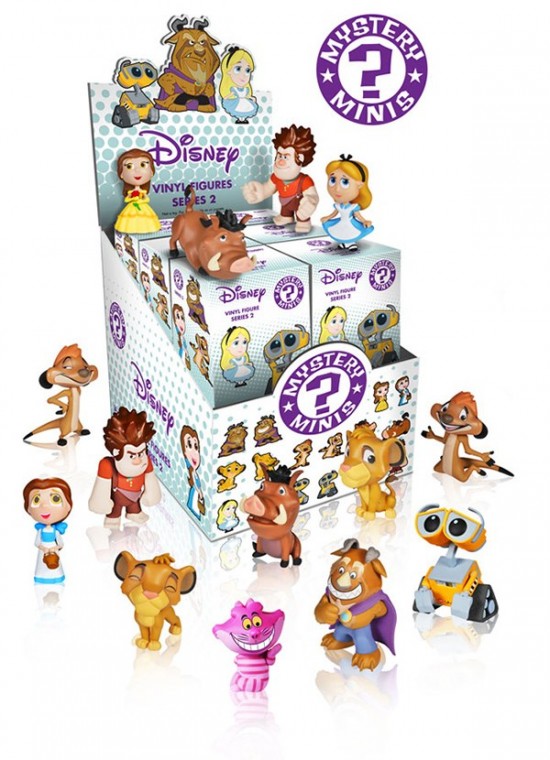 Funko's Disney Mystery Minis $9 each blind box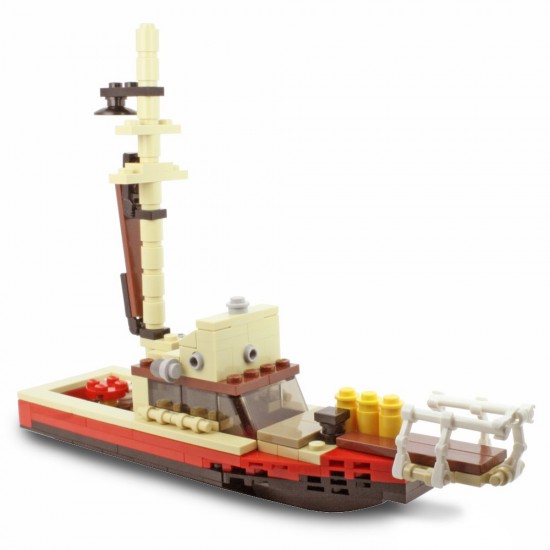 Ichiban Toys Jaws Orca Custom Lego Set $29: This is a fan created lego kit recreating the Orca ship from Jaws. I bought the Back to the Future time machine from Ichiban before LEGO decided to make an official set.
A single tweet made this happen – the idea of the boat from Jaws instantly got us excited about launching a new boat kit. It was also an ideal design to allow a lot of "play area" with minifigures. It was great fun designing it and just as much fun playing with it afterwards. Just watch out for sharks! Captain the boat with the ship's wheel on the top deck. Perfectly positioned for your captain minifigure! Ample space on the pulpit for your crew member to harpoon that shark from. He can even hold on to the railings! The rear includes a red seat that actually swivels! Nice spot for some fishing! Includes three barrels! Full of details including a mast lamp, porthole and more! THIS KIT INCLUDES: 164 pieces. These are all brand-new genuine LEGO elements. "Orca" sticker printed on high quality glossy sticker paper! Professionally designed full-color step-by-step instruction sheet printed on smooth, high-quality 28lb paper! Packaged in a collector's quality box.
Games
If you came here looking for video game gifts, I'm sorry. I'm not a video gamer anymore, and have in recent years gotten sucked into table top gaming. So I thought I'd share some fun movie and television based board games with you, alongside some current favorite releases or interesting bits like the first one on this list...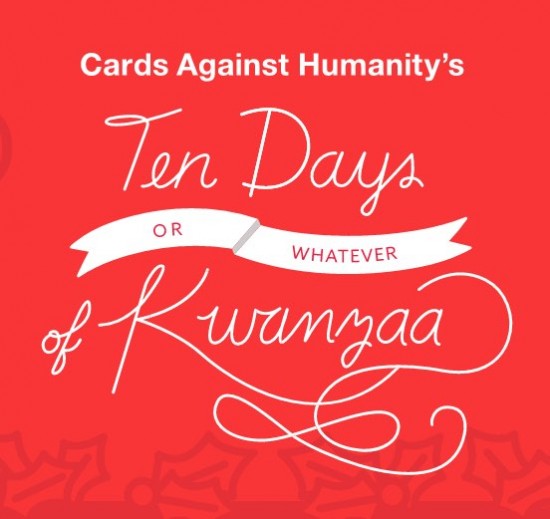 Cards Against Humanity's The Ten Days or Whatever of Kwanzaa $15: I did this last year and it was great to get ten mystery gifts over ten days. Most of the gifts involved Holiday themed cards for the Cards Against Humanity game, including one custom printed with my own name. It also included a full micro game unrelated to Cards Against Humanity. What will the CAH guys give us this year? Only $15 to find out.
Give us $15 and we'll send you ten mystery gifts for the ten days or whatever of Kwanzaa. Click to learn more. You give us $15 now. We'll prepare ten mystery gifts for you. You'll receive ten gifts in the mail during December. Only 250,000 slots available, one per person.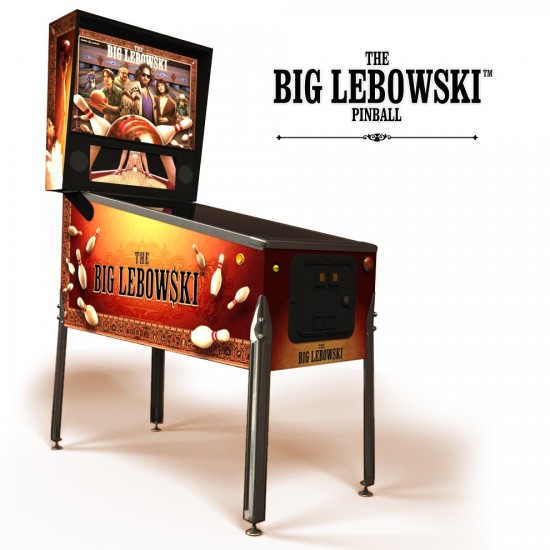 The Big Lewbowski Pinball Machine $9000 (preorder for April 2015): The ultimate expensive gift for a Big Lebowski fan.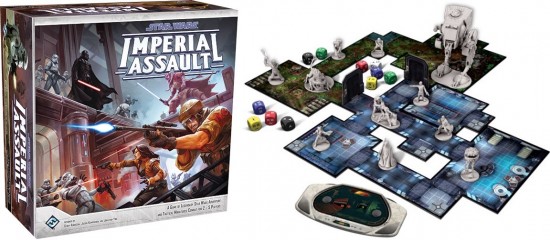 Star Wars Imperial Assault $69: This is my most anticipated board game of the year. Star Wars Imperial Assault is a miniature-style board game inspired by the game system found in Descent: Journey's in the Dark. While I've never played Descent, I've been a fan of other campaign-styled dungeon crawlers like Plaid Hat Games' Mice & Mystics series. Imperial Assault offers two different game modes: An epic expansive RPG-style adventure campaign, as well as competitive, customizable 2-player head-to-head experience.
Imperial Assault casts you and your friends into the climatic events following the Death Star's destruction above Yavin 4, and offers two full game experiences within the Star Wars saga. In the campaign game, you and up to four other friends play a series of thrilling missions woven together in a narrative campaign, and in the skirmish game, you and your opponent muster your own strike teams and battle head-to-head over conflicting objectives. Whether you play as a hero of the Rebellion and fight alongside iconic characters like Luke Skywalker and Han Solo, or command the seemingly limitless armies of the Galactic Empire, you'll enter the Star Wars universe in Imperial Assault. As an added bonus, Imperial Assault includes the Darth Vader Villain Pack and the Luke Skywalker Ally Pack. These figure packs mark the first expansions for Imperial Assault, adding sculpted plastic figures with new campaign and skirmish missions.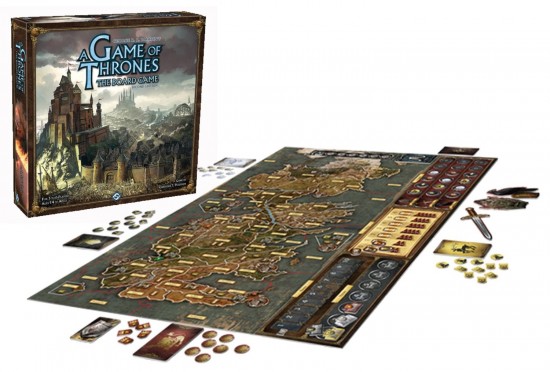 A Game of Thrones: The Board Game Second Edition $42 I have yet to play this game but everyone tells me its one of the best television series to board game adaptations and if you're a fan of the books or show you'll love it.
A board game based on A Game of Thrones, a novel now adapted to an HBO series 3-6 players take command of the Great Houses of Westeros Updated second edition, incorporates elements of past expansions Features a streamlined rulebook and updated art Includes welcome new enhancements like Tides of Battle cards and player screens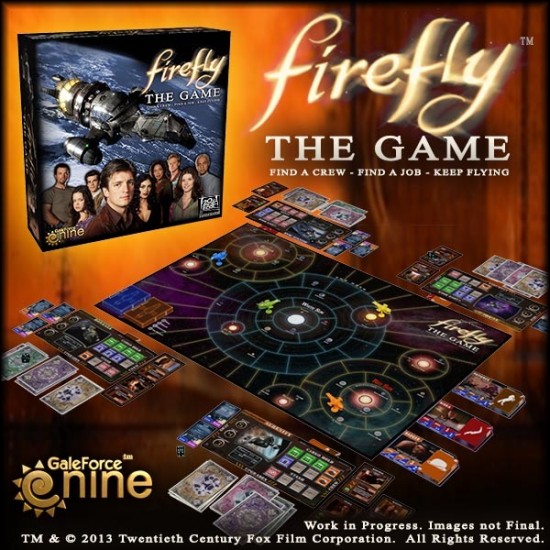 Firefly: The Game $42: This is a fun game, and you'll definitely get more out of it if you are a fan of the series. You basically live in the Firefly universe and must make your way in the verse. You decide who joins your crew, if you're going to be lawful, or take illegal missions. They have also released a few expansion packs which add greatly to the game including a combat option.
Firefly, the popular Fox television series created by Joss Whedon, comes to life in a new boardgame from Gale Force Nine. Compelling characters, great storytelling and an evocative universe have made Firefly a fan favorite for over a decade. Now fans of the television show and board games can chart their own course with Firefly: The Game. In Firefly: The Game, players captain their own Firefly-class transport ship, traveling the 'Verse with a handpicked crew of fighters, mechanics and other travelers. As a captain desperate for work, players are compelled to take on any job – so long as it pays. Double-dealing employers, heavy-handed Alliance patrols and marauding Reavers are all in a day's work for a ship's captain at the edge of the 'Verse.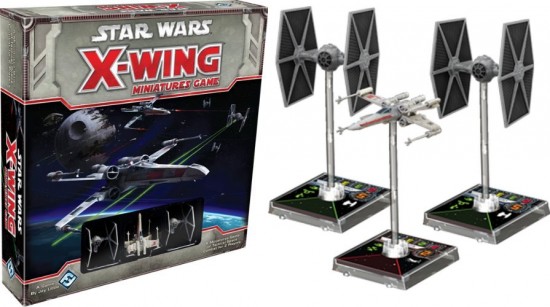 Star Wars X-Wing Miniatures Game Core Set $29: This is a great two person game. Its a minitures war game with you controlling either the Imperials or Rebels. The only problem with this game is that the core set only comes with two tie fighters and 1 x-wing. Fantasy Flight Games has released a ton of more ships, including HUGE ships, and the game gets better the more you have. You can have fun with the core set, but you'll quickly want more — and its a big deep money hole.
X-Wing is a tactical ship-to-ship combat game in which players take control of powerful Rebel X-wings and nimble Imperial TIE fighters, facing them against each other in fast-paced space combat. Featuring stunningly detailed and painted miniatures, X-Wing recreates exciting Star Wars space combat throughout its several included scenarios. Select your crew, plan your maneuvers, and complete your mission! The X-Wing starter set includes everything you need to begin your battles, such as scenarios, cards, and fully assembled and painted ships. What's more, X-Wing's quick-to-learn ruleset establishes the foundation for a system that can be expanded with your favorite ships and characters from the Star Wars universe.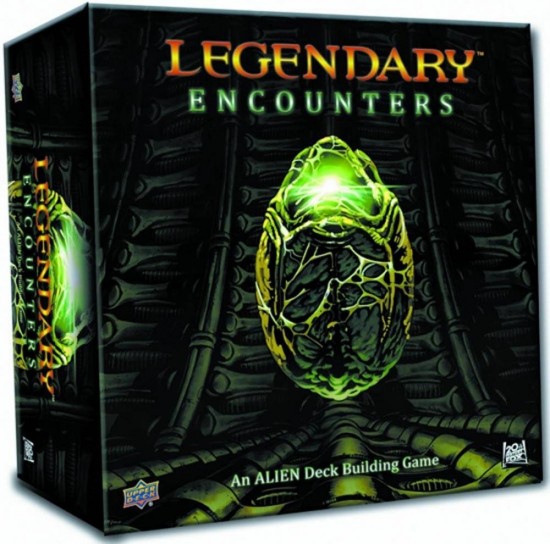 Legendary Encounters: An Alien Deck Building Game $51: I havent played this card game but it comes highly recommended by trusted friends in the gaming industry. If you like the Alien series, you can play through each of the movies in mission based games.
Own the first ever Alien Deck Building Game! Use Legendary moves from battling Super Villains to battling chest-bursting, face-hugging, acid-for-blood-having Aliens. This game features some of Alien's greatest protagonists, including Ripley, Dallas, Bishop and Private Hicks, as they go to battle against some of the most terrifying creatures in the universe. Players must work with each other to defeat the terrifying Xenomorps! Each core set comes with 500+ playable cards featuring all original art. Also included is a Legendary Encounters Alien game mat to help organize the playing field. Product Breakdown: -500+ total Original Art Card Set -Full Color Game Board (mat) -Full Color Rule Book -Card inserts for easy organization -Customize your card organization with removable foam inserts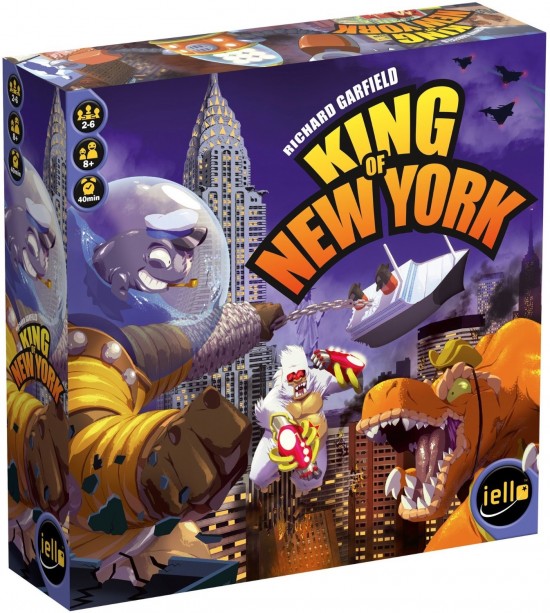 King of New York $39: This is the more strategic sequel to one of my favorite games, King of Tokyo. ITs a king of the hill style fight between monsters in the city of New York. If that sounds like fun and you like to roll dice, you'll probably love this game.
NEW CITY. NEW RULES. NEW MONSTERS. SAME FIGHT... TO BE THE KING! There's always something happening in the city that never sleeps. Maybe it's the lights, maybe it's the energy, or maybe it's the giant monsters trying to demolish the place! Get ready for Richard Garfield's follow up to the best-selling King of Tokyo! Who will be the King of New York? King of New York introduces lots of new ways to play, while still keeping the core ideas of King of Tokyo. There are Buildings to Stomp! Vengeful Military Units to Destroy! Six brand new Monsters! Every roll of the dice might mean that your monster feels the OUCH, as military units open fire. Will you grab the spotlight and become a celebrity Superstar? Or will you become the defender of the city and befriend Lady Liberty? Each of New York's boroughs has its own charms, but to truly rule the Big Apple, you have to control Manhattan. Defeat the other monsters and rule the city.... Become the King of New York!

Zombicide $66 This is a fun thematic minitures game, and its one of the games that got me into board gaming. Its a very cool looking game and is easy to suck tabletop newbies in, and the cooperative nature of the game will keep them fighting til the very end.

Cinelinx: A Card Game for People Who Love Movies $20: Cinelinx is like the Kevin Bacon game of card games. If you're a film geek, you'll love it — you are trying to play cards in your hand by connecting them to cards played on the table.
Cinelinx is a fast paced card game of connecting movies, actors, genres and more together to form cohesive links between them. With a dynamic play area based on every card played, the game constantly adapts itself to film fans of any level of skill or knowledge. Want to throw a wrench into things? Director's Cut cards can often hinder your friends or change the rules to keep things interesting. Now you finally have an outlet for that wealth of movie trivia building up in your brain! Cinelinx is a new take on movie trivia games and is the perfect way to test your movie knowledge and challenge your friends during your next movie or game night!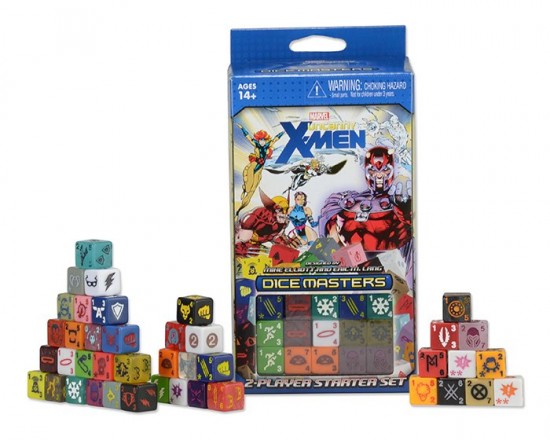 Marvel Dice Masters: The Uncanny X-Men Dice Building Game Starter Set $13: this is a fun dice drafting and battling game set in the Marvel universe. The box contains a bunch of X-Men heroes and villains and they sell packs for an addictively low price of $1 each to blindly collect more characters and dice to add to the game.
Showcasing fan-favorites like Wolverine, Magneto, Cyclops, Iceman, Psylocke, and the Sentinels, Marvel Dice Masters: The Uncanny X-Men features X-citing game-play that supports two players in epic dice battles! Featuring more than 30 new characters (and their respective dice), Marvel Dice Masters: The Uncanny X-Men brings X-cellent action to your next Dice Masters game! This 2-Player Starter Sets comprised of 44 custom dice, 38 cards, two dice bags, and the complete Dice Masters Core Rulebook – everything two players need to play Marvel Dice Masters.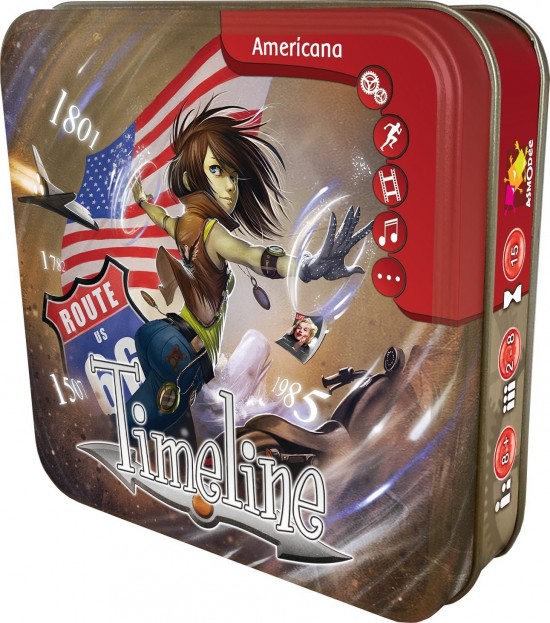 Timeline Music & Cinema and Americana $13/each: Timeline is a great and easy card game where you are trying to place all the cards in your hands on the table before the other players. The cards are placed in a timeline from oldest event to happen to newest, and you must place your card correctly in the timeline or else you get another card. They have like 7 different versions of thise game with different themes like Inventions, but I am reccomending Music & Cinema because obviously it fits out pop culture theme but also Americana because it features a lot of American popculture events.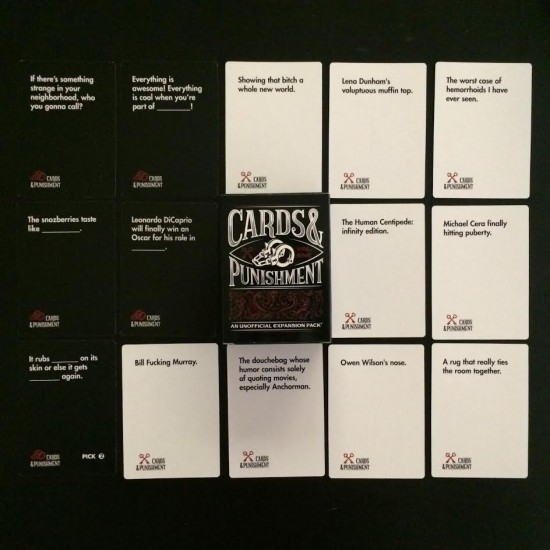 Cards & Punishment $14:Our friends have created a Cards Against Humanity unofficial expansion called Cards and Punishment. I mention it here because they have quite a few cards that feature pop culture references. Just a heads up, apparently the cards were printed on a very slightly larger cardstock than the normal CAH cards. You can still mix them into your playing deck but they are a very tiny bit larger.
Cards And Punishment is an unofficial, unauthorized, underground, black market expansion pack for the most excellent party game, Cards Against Humanity (TM). This deck includes 35 black cards and 80 white cards. It is not meant for use without the original game. First, buy their game. Next, buy all of their official expansion packs. After that, buy an overpriced sandwich for lunch. If you have any money left over, maybe consider impulse buying this pack. Cards Against Humanity (TM) is a trademark of Cards Against Humanity LLC and is in no way associated with Cards And Punishment.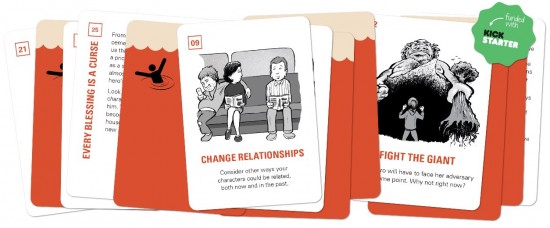 Writer Emergancy Pack By John August: Not really a game but a useful tool printed on a deck of cards. Hollywood screenwriter John August (Big Fish, Go, Frankenweenie) kickstarted this project. The deck of cards help writers break through writers block by presenting suggestions and exercises that will get the keyboard clacking agin.
Writer Emergency Pack contains 26 illustrated cards, each featuring a different idea for getting unstuck. The notion of using cards to help you write isn't new. Writers have long used tarot cards, looking for meaning in the illustrations, or decks like Oblique Strategies, with its koan-like prompts ("Repetition is a form of change"). The ideas in Writer Emergency Pack are designed to be less abstract, and more immediately useful. They're specifically tailored to people writing fiction, from novels to scripts, poems to plays. The cards focus on story, character, and conflict.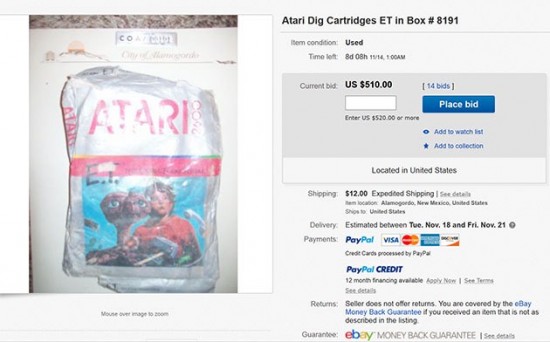 And one movie related video game entry: Atari 'E.T.' cartridges unearthed in landfill are up for auction on eBay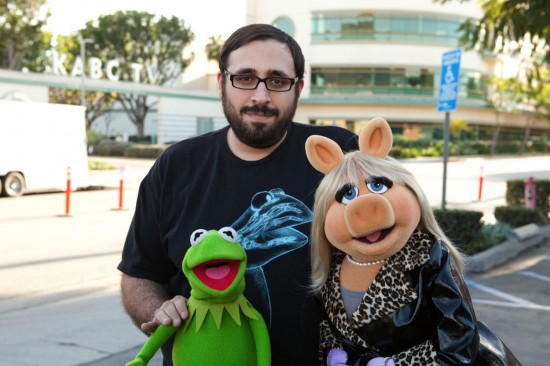 Thanks for reading Part 3 of our Holiday Gift Guide. I spent a lot of time curating this list and am very grateful you made it this far and found it useful! If you're feeling extra generous this Holiday season, you can send me a gift off of my Amazon Holiday Wishlist. Thanks again and Happy Holidays!
Check Out The Other Parts of /Film's Ultimate Film Geek Holiday Gift Guide 2014:
Come back tomorrow for our Holiday Gift Guide to Art, Posters and Screenprints!