Sequel Bits: 'Dawn Of The Planet Of The Apes', 'How To Train Your Dragon 3', 'Now You See Me 2'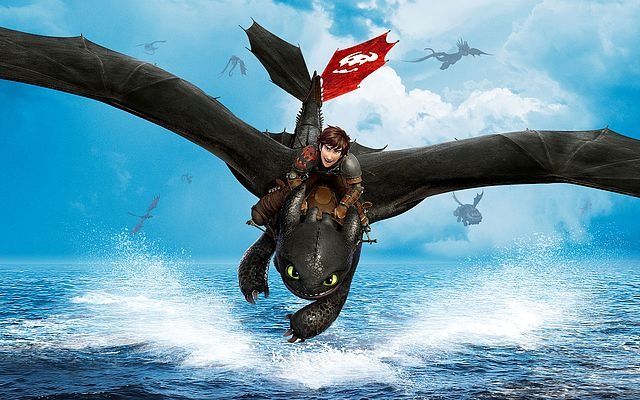 We've got some sequel-related odds and ends to take you into the weekend. After the jump:
Jennifer Aniston makes a Horrible Bosses 3 casting suggestion
Scooby-Doo and WrestleMania will team up once more
Den DeBlois gives a How to Train Your Dragon 3 status update
Producer wants Jonathan Levine to write Warm Bodies 2
That "leaked" Ghostbusters 3 script from 2009 is a fake
Now You See Me 2 makes room for Sanaa Lathan
Andy Serkis says the Apes franchise might go beyond a trilogy
Flip through some Night at the Museum 3 character posters
I just flew on an airplane with him, we all did. We think we recruited him to be in number three as the new boss. He might have said yes and I don't think he knows it. Could you imagine being on an airplane and being bombarded by the three boys and me and all of us going 'So you're going to be the new boss?' And I was like, 'He is?'. Apparently he said, 'Yes, apparently I am.' He was very excited to sort of digress with us.
Aniston's suggestion doesn't sound like a serious one, but who knows? If it helps Cumberbatch decide, Aniston has already declared she'd do "anything" to shoot Horrible Bosses 3 in London. [London Evening Standard]
The Scooby gang is joining forces with the WWE once more. WWE Studios and Warner Bros. Home Entertainment have announced a sequel to Scooby-Doo! WrestleMania, following the success of the previous film on home video. Specific details are being kept under wraps, though we do know Hulk Hogan will be among the cast. [Variety]
How to Train Your Dragon 3 is moving along, slowly but surely. Director Dean DeBlois reveals he just pitched the outline to DreamWorks this past week. Not that the studio didn't know what to expect. "Yeah, I think from the moment that they agreed to my pitch that the second film should be the middle act of a trilogy then we always knew that there would be a third film," said DeBlois. "In fact, I've been pitching an in-progress outline of the third film for the last two and a half years."
The third film is expected to pick up with Hiccup as an adult, in a world where there are no more dragons.
Just by concept there's something really compelling and emotionally powerful to the idea that this trilogy will complete with the dragons somehow going away, why they went away, and what the mystery is that surrounds that. Could they come back? Who caused it? What transpired? All of that is very compelling to me. [...]
I'm a great lover of stories where unlikely characters cross paths and have such a lasting impact on each other's lives that they are changed and the trajectory of their lives have been altered, no matter how brief that intersection was. I think that element is very compelling to me as well.
Really the whole interview is worth reading if you're a fan of the How to Train Your Dragon franchise. [Den of Geek]
Jonathan Levine might return to the world of the undead. Producer Bruna Papandrea reveals Warm Bodies author Isaac Marion is currently working on a sequel, and she hopes Levine will return to write the movie adaptation. However, she doesn't sound so sure about his interest in directing, and Levine has plenty of other projects on his plate in the meantime. We'll have to wait and see how this one shakes out. [Badass Digest]
Have you seen details from an early draft of the Ghostbusters 3 script floating this week? Well, don't believe everything you read on the Internet, because it turns out that screenplay is 100% fake. [Bloody Disgusting]
Director Matt Reeves is already planning the third film in the Planet of the Apes prequel series, and according to Andy Serkis there could be even more films beyond that.
It might be three films. It could be four. It could be five. Who knows? The journey will continue. It might not necessarily be summarized or completely fulfilled in this next one. The point being, eventually we know that we're going to end up back at The Planet of the Apes, but whether it's this film or not, I don't know.
Indeed, Serkis doesn't even know where the next story begins.
To be honest, it's very, very early in where we choose to drop our anchor in the next film, so it could be five years after the event. It could be the night after the events of where we left Dawn, so it's very difficult to know where the story is going right at this moment because it's being written as we speak. I know part of the desire for Matt to do this next movie about continuing the enjoyment of seeing these apes evolve.
[MTV]
Now You See Me 2 has charmed another great actress into joining its cast. Sanaa Lathan has signed on to play FBI agent Natalie Austin, joining newcomers Lizzy Caplan, Jay Chou, and Daniel Radcliffe. Returning from the first film are Jesse Eisenberg, Mark Ruffalo, Woody Harrelson, Dave Franco, Morgan Freeman, and Michael Caine.
The sequel picks up a year after the original and follows the Four Horsemen as they get involved in a dangerous new heist, spearheaded by a dangerous new enemy. Jon M. Chu is directing. [Deadline]
Fox has unveiled seven character posters to introduce the colorful cast of Night at the Museum: Secret of the Tomb. Mostly, they just tell you that someone in the Fox advertising department had a really great time coming up with some truly groanworthy puns.