Bryce Dallas Howard In Talks For 'Pete's Dragon'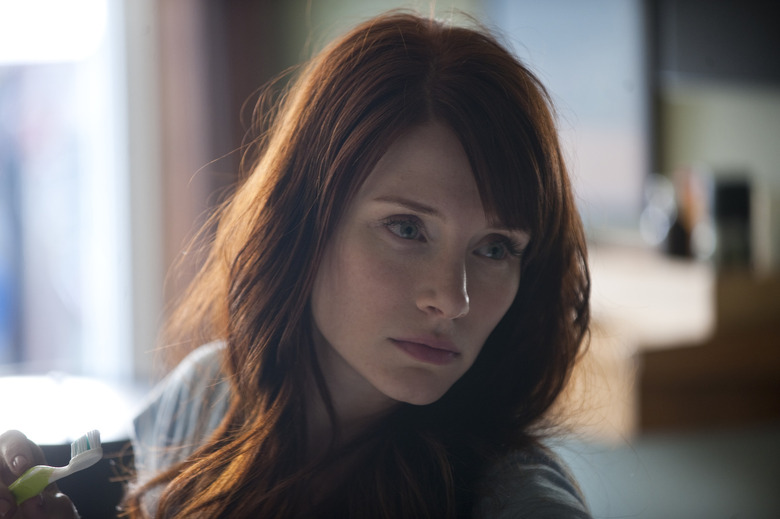 Jurassic World star Bryce Dallas Howard is about to log some time with a different kind of big, scaly beast. She's just entered talks for Pete's Dragon, David Lowery's remake of the 1977 Disney original. Robert Redford, Oona Laurence, and Oakes Fegley also star.
Hit the jump for more details on the Bryce Dallas Howard Petes Dragon casting, plus new details on the film's New Zealand shoot. 
The Pete's Dragon script by Lowery and Toby Halbrooks is set "against the backdrop of loggers cutting down a forest. Pete (Fegley) is a boy whose parents died in car crash, and has been subsequently raised by Elliot, the titular dragon in the threatened forest." Unlike the original, the remake will not be a musical.
Laurence will play Pete's human friend, the daughter of the mill owner. Redford was cast last month as a local who tells fantastical tales about dragons that no one believes. The title character, Pete's dragon Elliot, will be played by CG magic.
Other roles remaining to be cast include the greedy brother of the mill owner, and a forest ranger who finds Pete. That last character sounds like a possible fit for Howard, but details on her role have not been revealed. THR reports only that Howard will be the female lead.
The CG / live-action hybrid is expected to shoot between January and April 2015 in New Zealand's Stone Street Studios — the same place where The Hobbit films are based. Other locations around New Zealand will also be used including the Bay of Plenty, Wellington, and the Canterbury region.
Howard has not been seen on the big screen since 2011's 50/50 and The Help, but she'll be back in a big way next year with Jurassic World. Her other previous credits include The Twilight Saga: Eclipse, Terminator Salvation, Spider-Man 3, and Lady in the Water.