'Cheap Thrills' Director To Make 'You'll Be The Death Of Me' For Lionsgate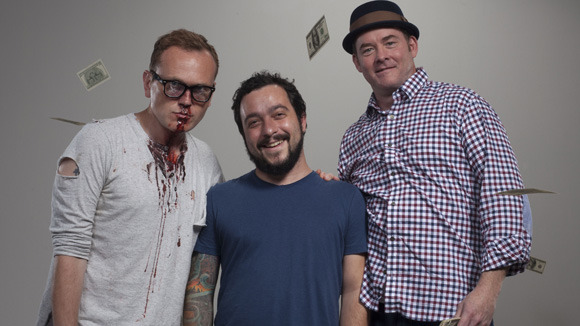 Cheap Thrills was one of the films on the massive list of 50 great films to see in 2014, and the director of that movie is now signed to do a new film with Lionsgate. E.L. Katz (center, above, with his Cheap Thrills cast) who also did the first entry in The ABCs of Death 2, will make the comedy/thriller You'll Be the Death of Me, for Lionsgate and Mandeville Films.THR reports the Mark Hammer script is about "two single New Yorkers as their budding romance is complicated by a masked knife-wielding psychopath." Todd Lieberman is producing at Mandeville.  Cheap Thrills is more thriller than comedy, but there are some hearty and uncomfortable laughs in that film. In that movie Katz twisted the comic talents of David Koechner into new shapes. So the idea of him doing a more overtly comedic thriller film is a great concept.
Mandeville films also did Warm Bodies, and started working on this film when Lionsgate bought Mark Hammer's spec script in 2013. (Hammer also wrote the 2011 Black List entry Two Night Stand, which became a film this year directed by Max Nichols starring Miles Teller and Analeigh Tipton.) Going back to news of the script sale there aren't many more details on the story, just the slightly different logline "Nothing can spoil falling in love in New York City, but a masked knife-wielding psychopath hell bent on keeping you single can certainly make falling in love more difficult."